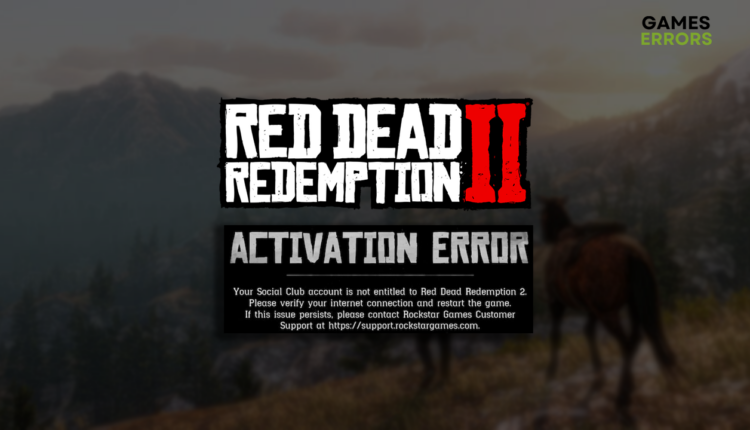 RDR2 Activation Error: Here Is What to Do
Investing a lot of hours in RDR2 only to see that suddenly your account is not entitled to the game is very annoying! Let's find the most suitable solution for your case. 👾
Are you experiencing the RDR2 activation error when launching the game? The good news is that you are not alone. Many gamers complain about similar issues. Even better, we investigated the case and devised a list of steps to eliminate this annoying error so you can play this excellent action adventure without interruptions!
If you get a blue screen instead of the activation error, learn how to fix Red Dead Redemption 2 BSOD.
Activation Error
Your social club account is not entitled to RDR2.
Why do I get the RDR2 activation error?
You get the RDR2 activation error due to poor internet connection, temporary issues with the game or home network, corrupted game files, using an unreliable DNS, problems with your IP address, Windows Firewall blocking the game or Social club from launching, low CPU usage, or other related issues.
How do I fix the activation error in RDR2?
Get started by applying the following fixes and checks:
Check your internet connection: Head to the Google Speed Test page and check if your internet connection is working and what are the speeds and latency.
Restart RDR2: Many gamers claim that restarting RDR2 usually solves their activation error.
Restart network devices: Click the restart button on the back panel of your router or modem. Wait for a few minutes and try running Red Dead Redemption 2.
Proceed with the step-by-step solutions listed below.
1. Use Google DNS
Time needed: 5 minutes
Using an unreliable DNS might result in the game client and Social Club having a poor communication with the game server. This can easily lead to the RDR2 Activation Error, so we advise you take over the control and manually set Google DNS as the default.
Using the Windows Key + R shortcut, open the Run dialog, type control, and hit OK.

Click on View network status and tasks.

Click on the Change adapter settings.

Right-click the internet network you use and select Properties.

Double-click Internet Protocol Version 4 (TCP/IPv4).

Enable Use the following DNS server addresses and add:

➡ 8.8.8.8 for the Preferred DNS server
➡ 8.8.4.4 for the Alternate DNS server

Click OK and restart your PC.
2. Use a VPN
Some gamers claim the only way to get around the Activation Error is through a VPN. It can be tricky here, as you must have a reliable VPN so you don't sacrifice performance.
We advise you give it a shot with ExpressVPN. This reliable provider offers you connections through servers in more than 90 worldwide countries. This will ensure low latency and fast speeds!
3. Allow the game and Social Club through the Firewall
Apply the steps below for Red Dead Redemption 2 and repeat the same for Social Club. This way, Windows Firewall won't recognize them as a threat when launching RDR2.
Click on the Windows icon, type Windows Defender Firewall, and open it.

Click on Allow an app or feature through Windows Defender Firewall.

Click on Change Settings and Allow Another App.

Select Browse and navigate to the RDR2 installation folder.
Click on the RDR2 executable file (.exe) and select Open.
Check the checkbox in columns Private and Public in the RDR2 row and hit OK.
Restart your PC.
Extra steps
If you still experience the RDR2 activation error, try to do the following:
🚀 Launch RDR2 from Steam or Epic Games: Many users claim this bug occurs only when using the Rockstar launcher. Instead, they launch the game directly or from the game distribution platform.
🎮 Run another game before RDR2: Some gamers claim that the error doesn't occur if they first run and close another title before launching Red Dead Redemption 2.
💻 Insert a flash drive: Although we didn't believe it at first, it turned out that inserting a flash drive before launching RDR2 removed the activation error for some gamers!
🔎Verify game files: Follow our guide for game file verification to find and replace potentially corrupted game files quickly.
Related articles:
Conclusion
In conclusion, resolving the RDR2 activation error can be easy if you initially check your network and restart the game and home network. Don't forget to verify game files, and if the error still occurs, proceed with changing the DNS, using a VPN, like ExpressVPN, and allowing RDR2 and Social Cub through the Firewall.
From the category of fixes that work, nobody knows why we highlight launching the game through the game distribution platform, running another game before RDR2, and inserting a flash drive. Hopefully, you managed to find the most convenient and effective solution for yourself!