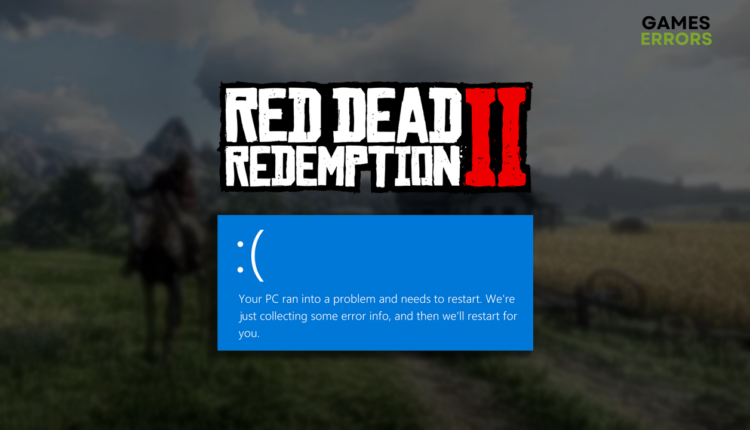 Red Dead Redemption 2 BSOD: What Is It and How to Fix It
The blue screen of death isn't scary anymore because we are on your side! Continue reading to fix the issue! 🚀
Seeing the Red Dead Redemption 2 BSOD can mean many things, none being good for your gaming experience. This is why we decided to categorize them and provide you with a way to troubleshoot the blue screen of death in RDR2 quickly.
Are you looking for a way to optimize your PC for gaming? Learn how to increase FPS in games!
Why is Red Dead Redemption 2 getting a blue screen?
Red Dead Redemption 2 is getting a blue screen due to compatibility issues with startup services, faulty overclock settings, poor system specifications, corrupted game files, an outdated GPU driver, pilled-up cache files, missing Visual C++ dependencies, lack of free disk space, or a faulty RAM stick.
How to fix Red Dead Redemption 2 BSOD?
Here are some easy and efficient ways to troubleshoot BSOD in Red Dead Redemption 2:
Disable overclock settings: Many gamers claim that having any overclock settings can cause RDR2 BSOD, so we advise you to disable them when playing the game.
Check system requirements: If your PC doesn't meet RDR2 system requirements, you must upgrade it, especially if you lack RAM.
Proceed with the solutions listed below to resolve RDR2 BSOD.
1. Update the GPU driver
Time needed: 5 minutes
An outdated GPU driver will limit your graphics card performance which can lead to BSOD in RDR2. To allow your graphics card to perform fully and avoid crashes, and other annoying interruptions update your GPU driver.
Click on the Windows icon, type Device Manager, and open it.

Double-click on the Display Adapters section.

Right-click on your GPU and select the Update driver option.

Select the Search automatically for drivers option.
Install the GPU driver update.
Restart your PC
Are you annoyed by constantly updating the GPU driver manually? We found a great tool called Outbyte Driver Updater, which makes driver management seamless and the gaming experience much better as you forget about errors and BSODs in games.
⇒ Get Outbyte Driver Updater
2. Delete cache files
RDR2 and the game distribution platforms you use store cache files locally on your PC. These files help the game launch and run smoother but can also cause issues if corrupted. This is why we advise you periodically delete cache files.
Use the Windows Key + R shortcut to open the Run dialog, type %localappdata%, and hit OK.

Use the CTRL + A shortcut to select all files in the folder.
Press the Delete key on your keyboard to delete all the files in the folder.
➡ If prompted to confirm, click on Yes.
➡ If some files can't be deleted, click on Skip.

3. Install Visual C++ dependencies
Games on Windows require Visual C++ dependencies to launch and run without interruptions. If your RDR2 crashes on startup and gives BSOD, check if you have the latest Visual C++ installed on your PC. If not, update it by following the steps below.
Open the official page for the Visual C++ Redist Packages download.
Click on the Link and download vc_redist suitable for your operating system architecture.
➡ X86 is for 32-bit systems.
➡ X64 is for 64-bit systems.

Run the installation package and follow the steps.
Restart your PC.
Extra steps to fix the RDR 2 BSOD error:
If you are still struggling with Red Dead Redemption 2 BSOD, try to:
🧹 Perform a Disk Cleanup: Click on the Windows icon, type Disk Cleanup, and open this Windows app. Delete all unnecessary files to free up space and avoid compatibility issues.
💽 Free up some space: Ensure you have at least 15% of the disk space free for temporary files to be used for virtual memory by Windows
💻 Check your RAM: Try removing one stick and playing RDR2 like that if you have multiple RAM sticks. If the BSOD doesn't occur, the problem is the faulty RAM.
🔎Verify game files: Follow the instructions to find and repair corrupted RDR2 files on any game distribution platform.
🔬Perform a Clean Boot: Here are the complete instructions for performing Clean Boot so only the necessary Windows services start with your PC.
Related RDR2 Articles:
Conclusion
The bottom line is that the Red Dead Redemption 2 BSOD can be fixed by updating the GPU driver, deleting cache files, and installing Visual C++ dependencies. Don't forget to check if your PC meets system requirements and disable overclock settings. Additionally, performing a Clean Boot and verifying game files is a good idea, as well as checking for faulty RAM. Good luck in fixing BSOD in RDR2!