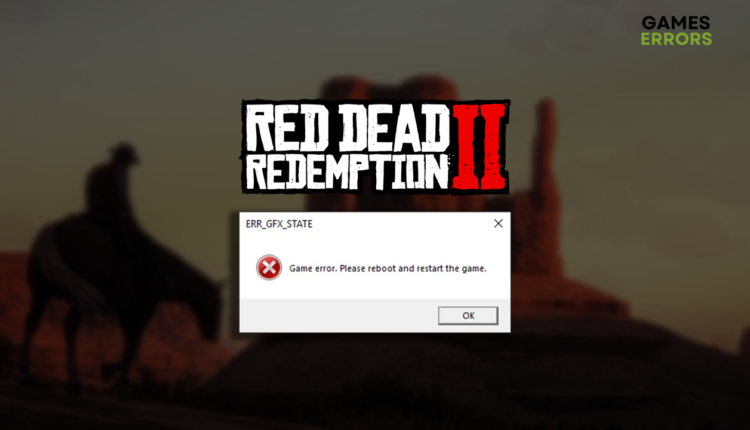 RDR2 Err_Gfx_State: How to Fix It Quickly in 4 Ways
This annoying error has many causes, so let's eliminate them one by one! 💪
Many gamers face frequent issues with the RDR2 ERR_GFX_STATE, preventing them from launching or enjoying one of the most popular Rockstar titles. We were decisive in investigating this matter, and as a result, we created an ultimate list of the most common causes and suitable solutions for fixing the GFX State error in Red Dead Redemption 2.
What is GFX state error?
ERR_GFX_STATE in RDR2 is a graphics processing-related error occurring due to compatibility issues with background apps, corrupted game files, problems with DirectX 11, an outdated GPU driver, deteriorated RDR2 settings, missing Visual C++ dependencies, enabled overclock settings or pilled-up temporary files.
How do you fix GFX state error in Red Dead Redemption 2?
To fix the Red Dead Redemption 2 Err_Gfx_State error, try applying these quick checks and fixes:
Proceed with the step-by-step solutions listed below.
1. Change launch options
Cache files are designed to help the game launch and run smoother. However, if cache files are corrupted, you can use a launch options command to ignore them so ERR_GFX_STATE doesn't occur in RDR2.
Launch Steam.
Right-click on Red Dead Redemption 2 and select Properties.
Scroll down to the Launch Options in the default General tab.
Paste -ignorepipelinecache and close Properties.

Launch RDR2.
2. Update the GPU driver
Time needed: 5 minutes
An outdated graphics driver won't support your graphics card in the initial graphical processing, which can lead to the ERR_GFX_STATE. To avoid this, you must install the latest GPU driver.
Click on the Windows icon, type Device Manager, and select this tool from the search results.

Double-click on the Display Adapters section.

Right-click on your GPU and select the Update driver option.

Select the Search automatically for drivers option.
Install the driver update.
Restart your PC.
There is an easier and more reliable way to keep the GPU driver up-to-date! Use Outbyte Driver Updater to automatize the complete process, from scanning to installing the latest driver updates!
⇒ Get Outbyte Driver Updater
3. Delete RDR2 settings
Some gamers discovered that deleting settings prevents RDR2 error GFX state from occurring. Initial loading after deleting these files will take a minute longer than the files generated, but it is a small price for being able to play Red Dead Redemption without this annoying GFX state error.
Use the Windows Key + E shortcut to open File Explorer.
Navigate to This PC > Documents > Rockstar Games > Red Dead Redemption 2 > Settings.
This is the default location. If you changed it, navigate to your Rockstar Games folder.
Select all files beginning with sga_, right-click on them, and select Delete.
Don't delete bin files!

Launch RDR2 and wait for the game to regenerate settings files.
4. Install Visual C++ dependencies
Visual C++ dependencies are necessary for Windows games. Usually, they are installed with the game, but if your system requires a newer version, you might have to install them manually. By doing so you might solve the GFX state error in RDR2.
Open the official page for the Visual C++ Redist Packages download.
Click on the Link and download vc_redist suitable for your operating system architecture.
➡ X86 is for 32-bit systems.
➡ X64 is for 64-bit systems.

Run the installation package and follow the steps.
Restart your PC.
Extra steps to fix Red Dead Redemption 2 ERR_GFX_STATE:
If none of the solutions provided above managed to solve the error GFX state in RDR2, here are some additional methods to troubleshoot RDR2 ERR_GFX_STATE:
❌ Disable overclock settings: Many gamers report that Red Dead Redemption 2 isn't working well with overclock settings enabled.
🧹 Perform a Disk Cleanup: Click on the Windows icon, type Disk Cleanup, and open this app. Run the cleanup and restart your PC after.
📁 Reinstall RDR2 on C drive: If nothing else works out, we recommend you uninstall the game, restart your PC, and perform a clean RDR2 installation on your main drive.
🔬Close unnecessary background processes: Before launching the game, close all apps visible in the taskbar to prevent compatibility issues.
🔎Verify game files: This way, you will find and repair potentially corrupted game files without reinstalling RDR2.
Related Articles:
Conclusion
In conclusion, the RDR2 ERR_GFX_STATE can be resolved by changing launch options, updating the GPU driver, deleting RDR2 settings, and installing Visual C++ dependencies. Initially, you can close background apps, verify the integrity of game files and install the latest DirectX 12.
Don't forget to disable overclock settings and perform a Disk Cleanup. Reinstall Red Dead Redemption 2 on your main drive as a last resort. We wish you the best of luck in troubleshooting and enjoying the story of the Van der Linde gang.