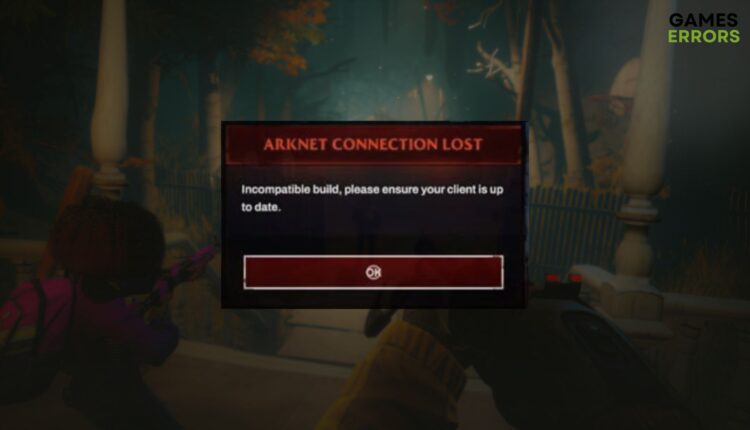 Redfall Incompatible Build Error: How to Fix
Update or repair the Redfall's game files if it keeps showing the incompatible build error ✅
X
INSTALL BY CLICKING THE DOWNLOAD FILE
The incompatible build error on Redfall is affecting a lot of users' gaming experience. But tweaking the right things can solve this issue and improve the situation.
This vampire action-adventure game has decent visuals and a storyline. But, after getting released, gamers are having a lot of performance issues. Particularly, Redfall's low FPS and the incompatible build error are making the experience worse.
What is the incompatible build error on Redfall?
The incompatible build error is a problem that appears when you try to play Redfall. When it appears, you may see the following error message:
ARKNET CONNECTION LOST

Incompatible build, please ensure your client is up to date.
This problem may make playing this title impossible for some users.
If you are interested, learn how to get rid of low GPU usage on Redfall.
What causes Arknet connection lost: incompatible build error on Redfall?
As this is a relatively new problem, it's hard to determine the reason. However, due to the nature of this error, it seems any of the following issues may cause this problem:
Corrupted game components: If the game files are corrupted, or related components have some problem, you may encounter the incompatible build error on Redfall.
Network issues: Network problems also may be the reason behind this issue.
Server problem: If the remote server is down, you also may encounter incompatible build errors.
How can I fix Redfall incompatible build error?
Before taking the main steps to troubleshoot the Arknet connection lost incompatible build on Redfall, we suggest you ensure the following things:
Check Redfall's Twitter account to know whether a server issue is going on.
Make sure you have a stable internet connection.
Ensure that you are playing a genuine copy of the game.
Confirm that the operating system is not very outdated.
Now, go through the following methods to fix this problem:
1. Update the game files
To fix the incompatible build error on Redfall, update the game files by following these methods:
Open Steam or the game client you are using.
Go to the game library.
Right-click on Redfall and go to Properties.
Go to the Updates tab.
Set the preference to High priority.
Relaunch Steam.
Now, Steam will automatically update this game with the highest priority. In Epic Games Launcher and Xbox app, you will see an update button for this game if there is an update available.
2. Repair Redfall
Time needed: 3 minutes.
You must repair the game files if you want to fix Redfall's Arknet connection lost incompatible build error.
Keep patience until it finishes the process.
If you purchased the games from Epic Games, the repairing process is slightly different. Open the Epic Games Launcher and go to the Library. Click on the three horizontal dots under Redfall and go to Manage. At last, click on Verify.
For the Xbox app, right-click on Redfall and go to Manage. Then, navigate to the Files tab and click on Verify and Repair.
Besides fixing the incompatible build error, this method is also helpful in fixing Redfall crashing issues.
3. Update the client
Launch Steam.
From the Microsoft Store, you can update the Xbox app. Epic Games Launcher doesn't have a manual update option. It will be updated automatically.
Now, launch Redfall and see whether it has fixed the incompatible build error or not.
4. Re-install Redfall
Go to the game library.
Then, click on Install.
Choose the installation location and then click on Next.
Give it some time to finish the process.
You can re-install this item on the Xbox app and Epic Games launcher in a similar way. It should solve the Arknet connection lost incompatible build error on Redfall.
If you still get the same error, you should update Windows 11 or 10 to the latest version. Also, disable your antivirus, firewall, and any VPN and proxy apps. Then see whether it helps or not.
Learn how to fix Redfall stuck on the loading screen if necessary.
This article has explained the steps to fix Redfall's incompatible build error. If you have any questions, let us know in the comment box.
If you encounter any issues or errors while playing your favorite games and require support, feel free to contact us here. Our team is always ready to assist you and ensure your gaming experience is seamless and enjoyable.