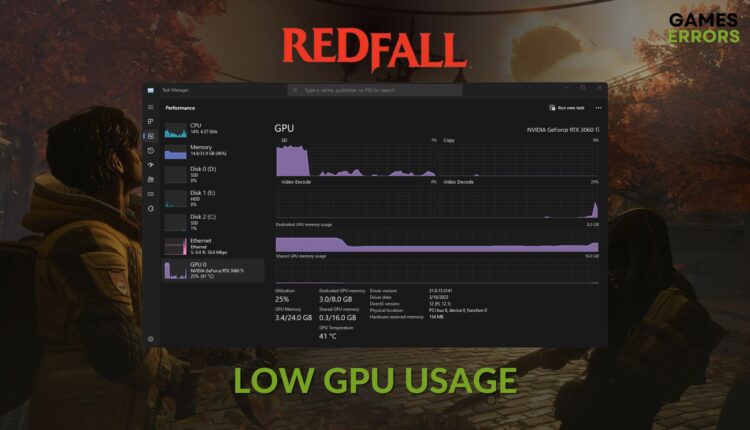 Redfall Low GPU Usage: The Proper Methods to Fix The Problem
Update or re-install the GPU driver and do these things to fix low GPU utilization while playing Redfall 🎯
If you notice low GPU usage while playing Redfall, it is not a big deal. But, if the performance is terrible because of this issue, that's a big problem. However, this article has the solution you need.
Abnormally low graphics card utilization is not common. Particularly for a high-end game like Redfall, this thing should not happen. Still, this unfortunate thing can arise and affect your gaming experience. Luckily, there are some effective solutions.
You can learn how to fix Redfall's low FPS problem if necessary.
What is causing low graphics card utilization while playing Redfall?
Very low GPU usage issue may occur when any of the following things exist on your Windows 11 o 10 computer:
Display driver: Outdated or corrupted drivers may prevent your PC from properly utilizing GPU power while playing a video game like Radfall.
Improper settings: Incorrect or problematic settings on your PC and the game also can be the reason.
Problematic components: Outdated, buggy, or corrupted game components also may prevent your GPU from performing well when you play this game. It's also a reason Redfall may not launch on your PC.
CPU Bottleneck: If your CPU is not powerful enough to work smoothly with your GPU, you may experience similar problems.
How can I fix Redfall low GPU usage problem?
Before going through the main methods, we recommend you do these three things:
Install DirectX Runtime and Visual C++ packages and restart your PC.
Ensure that you have not underclocked your GPU.
Make sure that the cooling system and PSU are sufficient enough.
Now, take the following steps to fix low GPU usage on Redfall:
1. Update graphics card
Open the Start Menu, type Device Manager, and hit Enter.
Double-click on Display Adapters.
Click on Search automatically for drivers.
Complete the process and restart your PC.
Outbyte Driver Updater is an excellent tool for updating graphics drivers on your computer. This app can automatically scan and update all other drivers in the background without your manual interaction. As a result, you will always get a better gaming performance.
⇒ Get Outbyte Driver Updater
2. Enable high-performance mode
Windows may keep GPU usage low during Redfall gameplay to save energy. In this case, you should enable the best performance from the power settings to fix this problem. Here are the steps to follow:
Press Win + I on the keyboard to open Windows Settings.
Close the Settings.
3. Repair Redfall's game files
Open Steam or the game client you are using.
Go to the game library.
Right-click on Redfall and then go to Properties.
Go to the Local Files tab.
Then click on Verify integrity of game files.
Keep patience until it finishes the process.
You will get a similar Verify and Repair option in other game clients too. For the Xbox app, right-click on Redfall, and go to Manage. Then, click on Verify and Repair from the Files tab.
For Epic Games Launcher, go to the Library. Click on three horizontal dots under Redfall and go to Manage. Then, click on Verify.
This method will also help if Redfall keeps crashing on your PC.
4. Roll back the GPU driver
Open the Device Manager like method 1.
Right-click on the graphics driver and then open its Properties.
Follow any onscreen steps to finish the process.
5. Re-install the GPU driver
Time needed: 2 minutes
If you notice GPU usage is very low and it's not increasing while playing Redfall, completely reinstall your graphics card driver.
Restart Windows.
Visit AMD, Intel, or NVIDIA driver download page.
Download and install the driver on Windows.
Restart your PC.
Now, run Redfall, start playing, and look at the GPU usage on Task Manager. You should not encounter the problem again. However, if it still occurs, we suggest you play this game with the highest settings. Then, see what happens.
You also can consider re-installing Redfall and updating Windows to the latest version. In case it's a CPU bottleneck issue, upgrade the processor.
If you are interested, learn what to do when Redfall remains stuck on the loading screen.
This article has just shown how you can fix Redfall's low GPU usage problem. If you have any questions, let us know in the comment box.