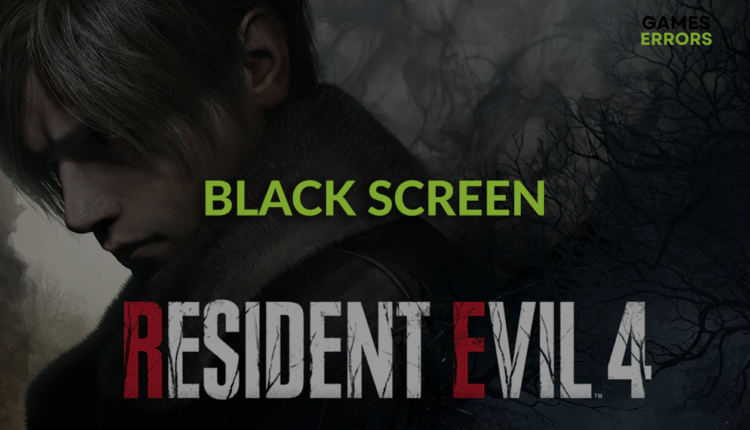 Resident Evil 4 Remake Black Screen: Fix It Quickly
We know how to illuminate the black screen you get when you want to play RE4R! 💡
X
INSTALL BY CLICKING THE DOWNLOAD FILE
Resident Evil 4 Remake black screen is an annoying problem that can move the nerves of every passionate gamer. Luckily, we did our homework, found the most common causes of this problem, and paired them with quick solutions you could apply.
If the game doesn't get loaded, read how to fix Resident Evil 4 Remake stuck on the loading screen.
Why do I get Resident Evil 4 Remake black screen?
You get RE4R black screen due to outdated GPU drivers, faulty game files, resource-draining background apps, disabled dedicated GPU, and other known bugs on Windows. Perform checks, apply solutions and fixes to solve the issue, and enjoy the remake of this iconic survival horror game.
How to fix Resident Evil 4 Remake black screen?
Start with a couple of quick fixes and checks:
Restart your PC and run RE4R as an administrator using the executable file.
Check if your PC meets at least the minimum system requirements for RE4R.
Use the ALT + Tab shortcut to switch between apps when the problem occurs.
If you have more than one GPU, ensure your dedicated GPU is enabled.
If none of the fixes helped you solve your issue with RE4R black screen, proceed with the following solutions.
1. Update GPU driver
Time needed: 5 minutes.
An outdated GPU driver will likely cause a black screen in Resident Evil 4 Remake. Use the Device Manager or another driver updater tool to update your driver.
Click on the Windows icon, type Device Manager, and open it from the search results.

Double-click on the Display adapters section.

Right-click on your GPU and click on the Update driver from the dropdown menu.

Choose the Search automatically for drivers option in the Update Driver Wizard.

The Wizard will search for available GPU driver updates.

Install drivers by following the steps prompted by the Wizard.

If no updates are found, close Device Manager and use another driver updater tool to double-check if there is a GPU driver update.

Restart your PC to apply changes.
There are many out there, but the driver updater tool of our choice is DrverFix. This portable and swift tool will scan, update and monitor GPU and other device driver updates with minimal effort from your side.
2. Install the Visual C++ packages
Like many games, RE4R needs Visual C++ packages to run properly. Usually, these are installed with the game, but they might sometimes not work properly. Luckily, there is a way to install them manually.
Head to the official page for the Visual C++ Redist Packages download.
Click on the Link to download vc_redist suitable for your OS architecture.
➡ X86 is for 32-bit systems.
➡ X64 is for 64-bit systems.

Double-click on the installation package and follow the installation steps.
Restart your PC and run RE4R.
3. Verify game files
Corrupted game files can cause the game not to load properly, resulting in Resident Evil 4 Remake black screen. Steam has a system for verifying game files, which is easy to use.
Open Steam, click the Library button, and select Home from the dropdown.

Find Resident Evil 4 Remake in the Library, right-click on it, and choose Properties.

Click on the Local Files section in the menu on the left and select the Verify integrity of game files… button.

👉 Steam will inform you if corrupted game files are found and how to proceed when the process is completed. This is a much faster and easier alternative to reinstalling the whole game.
4. Disable background apps
You should close all of the apps before running the game. This will ensure all of the resources are dedicated to the game. Additionally, many users report that overlays made by third-party apps cause this issue, so either disable them in app settings or close the app.
Use the CTRL + Shift + ESC shortcut to open Task Manager.
Find the apps you don't need when playing the RE4R in the Processes tab.
Right-click on the app and select the End task option.

⚠ Important: Don't close apps in which you have unsaved progress. Never end Windows or antivirus software processes since this can cause system issues and security vulnerabilities.
Extra steps
Some extra steps you can take to resolve Resident Evil 4 Remake black screen issue are:
Change your monitor refresh rate to 60Hz.
Disable Microsoft Services and perform a clean boot and then run the game.
Update your Windows.
Reinstall the game if nothing else solves the issue.
Related articles:
Conclusion
Hopefully, you will no longer see the Resident Evil 4 Remake black screen. Enjoy playing the game, and let us know what fixed the issue for you. If you have any other issues, give us some details in the comment section, and we will do our best to assist you.
If you encounter any issues or errors while playing your favorite games and require support, feel free to contact us here. Our team is always ready to assist you and ensure your gaming experience is seamless and enjoyable.