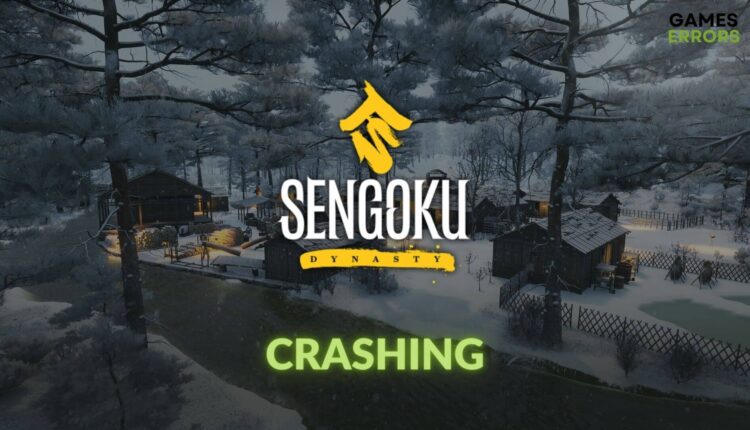 Sengoku Dynasty Crashing: How to Fix
Crashing issues can ruin your gaming experience on games like Sengoku Dynasty. To resolve this problem follow the suggestions from this article 👇
The new game Sengoku Dynasty may keep crashing on your system if there is something wrong. However, by taking the appropriate steps, you can easily eliminate this problem.
This multi-genre RPG open-world game has many elements and gameplay mechanisms. From solo to co-op multiplayer, you can build your dynasty in the ways you prefer. However, if Sengoku Dynasty crashes, you may lose the excitement of the gameplay. So, learning what to do in such unwanted situations is the best idea.
Having performance issues on this game? Check out this guide on how to fix the low FPS problem on Sengoku Dynasty.
Why is Sengoku Dynasty crashing on my PC?
Behind this problem you are encountering, these are most likely the reasons:
System requirements: If your PC doesn't meet the system requirements of this game, it can be a reason behind the crashing issues.
GPU driver problem: Outdated or incompatible graphics drivers can cause crashing issues on Sengoku Dynasty.
Problematic settings and components: Corrupted game components and inappropriate settings on Windows and the game itself can trigger this annoyance.
Background services: Your antivirus, firewall, game booster, and many other apps are known to cause crashing issues on games like Sengoku Dynasty.
How do I fix the Sengoku Dynasty crashing problem?
To make the troubleshooting methods more effective, we suggest you do these things first:
Then, try the following fixes to get rid of crashing issues on Sengoku Dynasty:
1. Clear shader cache
Press Win + I to open Windows settings.
Click on Temporary files.
Tick DirectX Shader Cache.
Click on Remove files.
It may take a while to complete the process. Learn how to fix Sengoku Dynasty is not running if necessary.
2. Update the GPU driver
Time needed: 2 minutes
To troubleshoot crashing issues on Sengoku Dynasty, you should update the GPU driver before doing anything else. In most cases, it is the most sufficient solution.
Click on Search automatically for drivers.
Finish the process.
Restart your PC.
W suggest you use a tool like Outbyte Driver Updater to update the GPU driver. This powerful app can detect outdated drivers in the background and automatically keep them up to date.
⇒ Get Outbyte Driver Updater
3. Tweak graphics preferences and power settings
Enabling high-performance mode can also fix the crashing problem on Sengoku Dynasty. To do it, follow these steps:
Press Win + I to open the Windows Settings.
Click on Graphics.
Select Sengoku Dynasty and then click on Options.
Restart your PC.
Now, run Sengoku Dynasty and see if it keeps crashing.
4. Disable the overlay feature
Open Steam.
Go to its Settings.
Navigate to the In-game tab.
Relaunch Steam.
If you have any other app that has an overlay feature that can appear on top of this game, disable this feature there too. After disabling the overlay, start playing Dengoku Dynasty and see if it still crashes or not.
Check out this guide on how to fix the infinite loading screen problem on Sengoku Dynasty if necessary.
More methods:
For some users, the problem may not go away entirely. If you are one of them, try the following solutions as well:
To get more suggestions, see this guide on how to fix games crashing on a PC.
If you can apply the above solutions properly, it will fix Sengoku Dynasty crashing problems. In case the issue still appears occasionally during the gameplay, lower the graphics quality. It will help. Do you have a question? Feel free to let us know in the comment box.