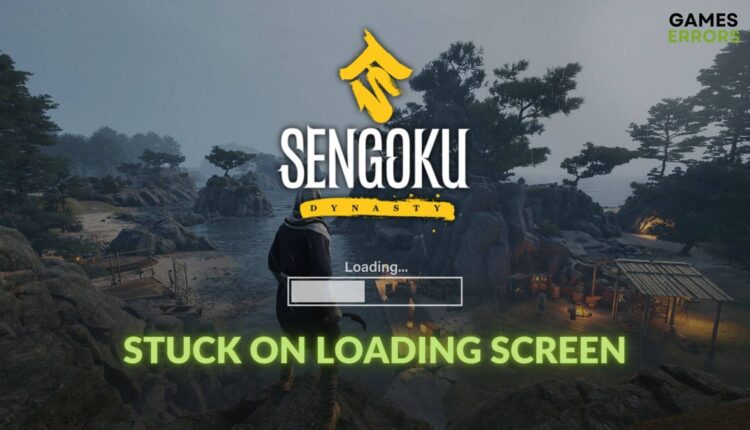 Sengoku Dynasty Stuck on Loading Screen: Best Fixes
If Sengoku Dynasty gets stuck while loading, the dream of ruling your in-game dynasty also will stop. So, learn these solutions to get rid of this problem 😎
If the new game Sengoku Dynasty is stuck on the loading screen on your PC, you should take some steps to resolve this problem. This article has described those steps and featured some helpful information.
Undoubtedly, Sengoku Dynasty is an exciting open-world RPG that can entertain gamers with its immersive gameplay. However, due to some technical issues, you may find that this game is taking forever to load on Windows 11 or 10.
Check out this guide to stop Sengoku Dynasty from crashing if necessary.
What causes the infinite loading screen problem in Sengoku Dynasty?
If the Sengoku Dynasty takes an infinite amount of time in the loading screen, often you may find these reasons as the most common ones behind this issue:
Graphics driver problem: Faulty or outdated GPU driver can cause Sengoku Dynasty's loading screen to get stuck.
Inadequate Settings: If there is something wrong with any related settings on Windows or the game itself, it may be the reason why you are having infinite loading screen problems on Sengoku Dynasty.
Problematic components: For corrupted or problematic game components, you may encounter this problem as well.
Else, problematic disk drives can also be why you are getting this issue. The solutions mentioned in this article will work for most situations.
How can I fix Sengoku Dynasty stuck on loading screen?
Before delving into the main troubleshooting methods, proceed with these preliminary steps:
After completing the above steps, try the following methods to resolve your problem:
1. Update the GPU driver
Time needed: 4 minutes
If the Sengoku Dynasty is stuck and you are experiencing an infinite loading screen problem, update the GPU driver to the latest version to fix this issue.
Click on Search automatically for drivers and finish the update.
After updating, restart Windows.
To update the GPU driver, use a tool like Outbyte Driver Updater. It is because this tool is very powerful compared to the device manager and can install the most accurate version of the GPU driver.
⇒ Get Outbyte Driver Updater
2. Enable high-performance mode and tweak graphics preference
Press Win + I on the keyboard to open Windows Settings.
Navigate to Graphics.
Click on Sengoku Dynasty and then click on Options.
Restart your PC.
If you encounter Sengoku Dynasty not launching problem, this method will also work for that situation.
3. Disable the overlay feature
Open the Steam desktop app.
Navigate to its Settings, as shown in the screenshot.
Go to the In-game tab.
Relaunch Steam.
Also, disable the overlay from GeForce Experience or any other similar apps if required. It should fix the infinite loading screen problem on Sengoku Dynasty.
More methods:
In case the problem is too stubborn to go away, the following methods may help you as well:
Do you have poor gaming experience due to frame dropping problem? Check out this guide on how to troubleshoot the low FPS problem on Sengoku Dynasty.
After trying the above solutions, you should be able to fix Sengoku Dynasty stuck on the loading screen. In some cases, the problem may still persist. In that situation, try to re-install the GPU driver or consider upgrading the PC hardware if required. Do you have any questions? Feel free to ask us in the comment box.