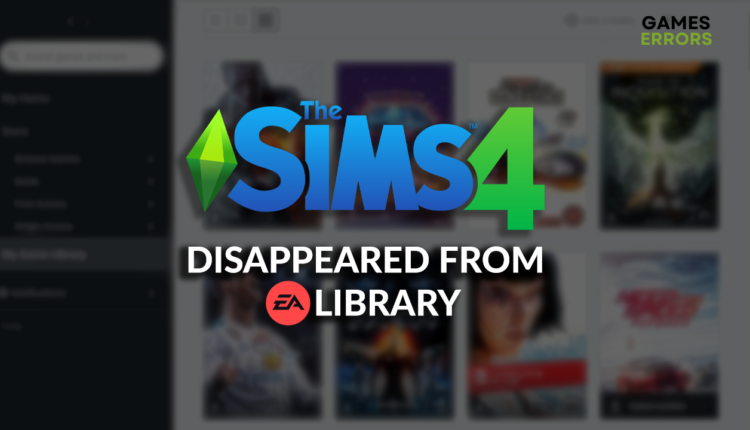 Sims 4 Disappeared From EA Library [Solved]
Besides chasing your Sims characters, you need to chase the game itself! We are here to help.👾
If you are looking for an explanation for why Sims 4 disappeared from EA library, you are in the right place! We investigated this strange issue, made conclusions, and listed the most valuable fixes to bring Sims 4 back into your EA library.
Are you wondering how to make game modifications work in this social simulation game? Read what to do when mods don't work in Sims 4.
Why has my Sims 4 suddenly disappeared?
Sims 4 suddenly disappeared from your library due to temporary issues with the EA app, problems with your network devices, pilled-up cache files, logging into your account without Sims 4, or EA server issues. Additionally, if you just claimed the game, there is a chance it is still not added to your account.
How to fix Sims 4 disappeared from EA library?
Apply these initial checks and fixes:
Check what you purchased: If you just claimed Sims 4 but can't see it in the games library, there is a chance you bought a DLC, like Horse Ranch. You must have the entire game before purchasing DLC.
Restart the EA App: Start by restarting your PC, and if the EA app automatically launches, close it. Find the EA Desktop App shortcut and open it to solve temporary issues.
Restart your network devices: EA Support team recommends you find your router and modem and press the restart button on the back panel.
Proceed with the step-by-step solutions for returning Sims 4 to your EA library.
1. Check Order History
Time needed: 3 minutes
This solution includes checking if the game was added to your account. It is for gamers who recently added Sims 4 to their EA Account. Although the game is free-to-play, it will appear in the Order History if successfully added.
Open the EA Account portal in your browser and enter your login details.

Alternatively, you can use the sign-in option for your EA Account.

Go to the Order History tab of My Account.

Click on the Send Security Code button when asked to verify your identity

Copy/paste your security code from your email inbox and hit Submit.
Look for the transaction related to the Sims 4 purchase.

If the status is processing, you must wait until it is completed for it to appear in your EA Library.
2. Clear cache files
If you already have a game for some time, and Sims 4 suddenly disappeared from the EA library, you can try clearing the cache files on your PC and re-launching the EA App to check if the game returns.
Use the Windows Key + R shortcut to open the Run dialog, type %localappdata%, and hit OK.

Use the CTRL + A shortcut to select all files in the folder.
Press the Delete key on your keyboard to delete all the files in the folder.
➡ If prompted to confirm, click on Yes.
➡ If some files can't be deleted, click on Skip.

Extra steps
If Sims 4 is still not visible in your EA library, try to:
👾 Check the account: Sometimes gamers have multiple EA accounts and aren't logged into the one with the Sims 4. Check if this is the case for you.
📧 Contact EA support: If nothing up until now returned Sims 4 in your library, proceed with contacting the EA support team for Sims 4 and seek assistance for your issue.
⏳ Wait for the fix: EA servers sometimes have issues processing requests, and it can cause Sims 4 to disappear from the EA library. Since this problem is not on your end, we advise you to wait and try again.
Related articles:
Conclusion
Hopefully, you aren't playing the detective and investigating why Sims 4 disappeared from EA library. Once again, clear the cache files, and restart your network devices and the EA app to lower the chance of temporary issues on your EA account. If you just claimed the game, wait until it is added to your account and the library.
Additionally, if EA servers are overloaded and experiencing technical difficulties, you must wait until they are up and running to play Sims 4 from your EA library. Good luck, and enjoy Sims 4!