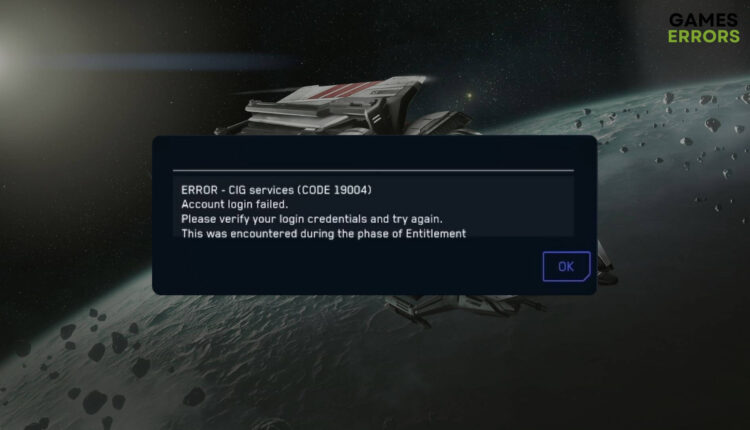 Star Citizen Error 19004: Best Ways to Fix This Problem
Reset the launcher and log in again if Star Citizen is constantly showing error 19004 🚀
X
INSTALL BY CLICKING THE DOWNLOAD FILE
Are you constantly getting Star Citizen error 19004? If yes, don't worry. You can easily solve this problem.
Star Citizen is a perfect example of a space trading and combat simulation game. The gameplay mechanisms have attracted a lot of gamers. But, if you cannot access the game due to an error code like 19004, you will miss the excitement. Luckily, you can get rid of this issue.
What is the Star Citizen 19004 error code?
The error code 19004 is a common problem that Star Citizen gamers may encounter while signing in. If you face this problem, you won't be able to play this title in any way unless you take the proper steps.
Usually, this error code is a network-related problem. It may occur due to connection problems, DNS issues, improper settings on the PC, antivirus, Firewall, RSI server problems, etc.
How can I fix the Star Citizen 19004 error code?
First, you must ensure that your PC meets the system requirements of Star Citizen. Then, ensure the following things:
Make sure that the disk drive where you have installed Star Citizen has enough available free disk space.
Visit the Star Citizen's service status page or down detector to determine if the source of the problem is from your end or not.
Ensure that you have a stable internet connection.
Now, you can follow these effective methods to solve the error code 19004 with Star Citizen:
1. Disable Proxy
Press Win + I on the keyboard to open Windows Settings.
Toggle off Automatically detect settings.
Delete any proxy profiles you see.
Restart your PC.
2. Whitelist Star Citizen in Firewall
In the Windows search box, type Windows Security and hit Enter.
Navigate to the Firewall & network protection.
Go to Allow an app through the Firewall.
Click on Change settings.
Check the boxes in the Private and Public columns for Star Citizen and RSI Launcher.
Save the settings.
Restart your PC.
Now, launch Star Citizen and see if you still get the error code 19004 or not.
3. Change DNS
Go to the Windows Settings.
Navigate to the Network & internet and go to Wi-Fi or Ethernet, depending on your connection.
Select Manual.
Enable IPv4.
Restart your PC.
4. Reset the RSI Launcher
Time needed: 3 minutes.
Resetting the RSI Launcher is one of the most working solutions to fix Star Citizen error 19004.
Launch the game and see if it works.
5. Run internet troubleshooter
Open the Windows Settings.
Go to Other troubleshooters.
Finish the troubleshooting process.
6. Delete Star Citizen's local profile data
According to a number of users, deleting the local data of the game can help to solve this error. However, you may lose your game progress if there is something wrong. So, take a backup before following these steps:
Press Win + R on the keyboard to open Run.
Find and go to the Star Citizen folder.
Back up and delete all of the contents.
Relaunch the game and see if you still get the error or not.
Hopefully, now, you will be able to access and play this game. If not, there may be something wrong.
Extra steps:
Verify and repair the Star Citizen game files from the RSI Launcher.
Try from a different network or use a VPN to see if it helps.
Update Windows to the latest version.
Update the network driver. If necessary, use DriverFix.
Re-install the game and see if it helps.
This article has explained the methods that can help to get rid of the Star Citizen error 19004. Let us know in the comment box if you have any better suggestions.
If you encounter any issues or errors while playing your favorite games and require support, feel free to contact us here. Our team is always ready to assist you and ensure your gaming experience is seamless and enjoyable.