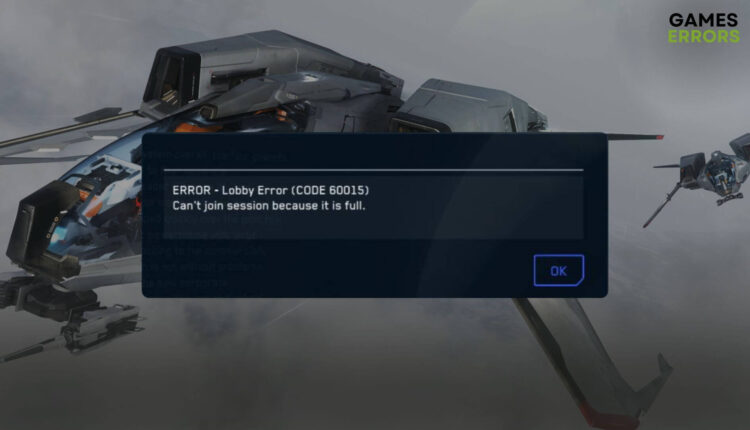 Star Citizen Lobby Error 60015: Easily Bypass This Problem
To fix the Star Citizen Lobby error code 60015, correct the region settings and follow these methods ✅
X
INSTALL BY CLICKING THE DOWNLOAD FILE
If you are experiencing the Star Citizen lobby error 60015 randomly, you are at the right place. This article will describe the best troubleshooting methods to fix this problem, along with other helpful information.
In Star Citizen, Lobby is an excellent feature. It allows gamers to interact with others in a social environment. But, if anything wrong happens, like the sudden appearance of the error code 60015, it will completely ruin your experience. It also can prevent you from entering the main game.
What is causing the error code 60015 in the Star Citizen lobby?
This problem with Star Citizen can be too stubborn to fix. But if you know what causes the error code 60015, you will be able to fix it. Usually, you may get this problem due to the following reasons:
Server problem: In most cases, the root of the problem can be the RSI's server. If there is maintenance going on or something is wrong, you may end up getting error codes like 60015.
Internet configuration problem: Your internet problem due to poor connection or improper configuration can be another reason.
Proxy: VPN or Proxy can be the reason too.
Antivirus and Firewall: Sometimes, your Antivirus and Firewall may create conflict, which can cause this issue as well.
How do I fix the Star Citizen Lobby error 60015?
If you cannot play the main game just because of the Star Citizen Lobby error 60015, you should do the following things before starting the main troubleshooting process:
Go to the Star Citizen service status page or the Down Detector to see if there is a server problem or not.
Restart your PC.
Ensure that you have a stable internet connection and you are not using any proxy or VPN.
Keep trying a few times and see if you can access the main game or not.
After doing the above things, if applicable, follow these methods to get rid of the Lobby error code 60015 in Star Citizen:
1. Update the network driver
In the Windows Search box, type Device Manager and hit Enter.
Expand Network adapters.
Right-click on your network driver, and click on Update driver.
Select Search automatically for drivers and finish the update process.
To update any type of driver on Windows, you should use DriverFix. Unlike the device manager, it can find the most recent version of the compatible drivers and install it on your PC. It is extremely helpful in troubleshooting various game-related errors.
2. Change country and region
Time needed: 2 minutes.
Right now, changing or correcting the country and region settings is the most common and effective solution to fix Star Citizen lobby error 60015.
Visit the Star Citizen website, click on Account, and sign in with your credentials.

Next, change the region.
Now, launch Star Citizen.
3. Whitelist Star Citizen in the Firewall
Open the Start Menu.
Type Windows Security and press Enter.
Go to the Firewall & network protection.
Click on Allow an app through the Firewall.
Click on Change settings.
Check the Private and Public for Star Citizen and RSI Launcher.
Save the settings.
Restart Windows.
Now, launch the Start Citizen and see if the error code 60015 still exists or not. If the problem still occurs, disable your antivirus or firewall and see if it helps.
4. Modify DNS
Press Win + I to launch the Windows Settings.
Select Manual.
Toggle the switch on for IPv4 or IPv6, depending on your DNS or connection type. Usually, it's IPv4.
Restart your PC.
5. Reset the Network
Open Windows Settings.
Go to Network Reset.
Click on Reset.
Restart your PC.
Now, you run Star Citizen and go to the lobby and see if you still encounter the error 60015 or not. In some cases, you may still face the problem. In this case, re-install the game and the RSI launcher completely. Also, update Windows to the latest version. It will help.
If you are interested, learn how to solve Star Citizen error 19004.
This article has explained the ways to fix Star Citizen lobby error 60015. In the comment box, you can tell us which method has worked for you.
If you encounter any issues or errors while playing your favorite games and require support, feel free to contact us here. Our team is always ready to assist you and ensure your gaming experience is seamless and enjoyable.