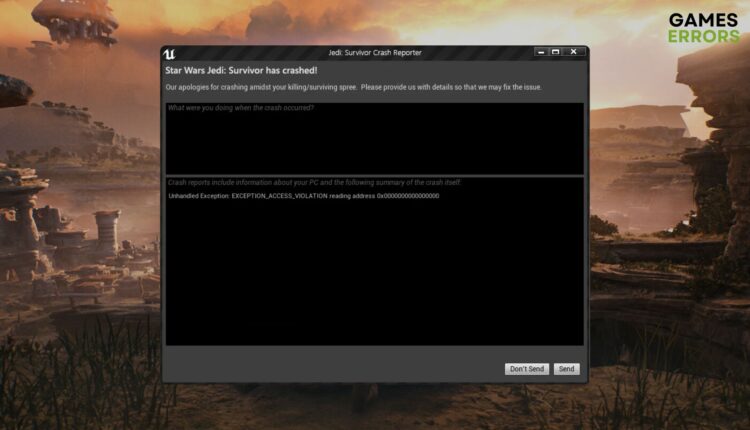 Jedi Survivor EXCEPTION_ACCESS_VIOLATION: Fix it Now
Re-install the latest GPU driver to solve EXCEPTION_ACCESS_VIOLATION error on Jedi: Survivor 🎯
X
INSTALL BY CLICKING THE DOWNLOAD FILE
If you suddenly encounter the Jedi Survivor unhandled exception: EXCEPTION_ACCESS_VIOLATION reading address 0x0000000000000000 error while playing, don't worry. This article will guide you on how to fix this issue.
For the sci-fi action-adventure game lover, this new Star Wars Jedi is the center of attention right now. After being released, many gamers got a smooth experience. However, a significant number of users have opposite experiences due to various issues, including 0x0000000000000000.
You can learn how to fix Star Wars Jedi: Survivor crashing if needed.
What is EXCEPTION_ACCESS_VIOLATION error on Star Wars Jedi: Survivor?
This error may occur due to any of these reasons:
System requirements: If your PC doesn't meet the system requirements of this game, you may get an EXCEPTION_ACCESS_VIOLATION error.
GPU driver issue: Outdated, missing, or corrupted graphics driver can be another reason. It also may cause low GPU usage on Star Wars Jedi: Survivor.
Problematic game files: Outdated or corrupted game files and components can also cause this problem.
How to fix Star Wars Jedi: Survivor unhandled EXCEPTION_ACCESS_VIOLATION?
First, you must do the following things before going through the main methods:
Now, follow the methods mentioned below to get rid of this EXCEPTION_ACCESS_VIOLATION on Star Wars Jedi Survivor:
1. Update the graphics card driver
Press Win + R to open Run.
Type devmgmt.msc and click on OK to open Device Manager.
Expand Display Adapters.
Right-click on your graphics card and choose Update driver.
Click on Search automatically for drivers.
Finish the process.
Restart Windows.
If you want to update drivers to troubleshoot problems or improve gaming performance, we suggest you use Outbyte Driver Updater. It can find the most recent version of official game-ready drivers, which effectively enhances your experience.
2. Repair Star Wars Jedi: Survivor
Repairing the game files is a very practical way to fix EXCEPTION_ACCESS_VIOLATION on Jedi: Survivor.
Open Steam.
Go to your game library, as shown in the screenshot.
Navigate to the Local Files tab.
Click on Verify integrity of game files.
Give it some time to finish the process.
This method also helps if SW Jedi: Survivor won't launch on your PC.
3. Re-install the graphics card driver
Time needed: 5 minutes
Uninstalling the GPU driver and then installing the latest version is the most effective method to fix EXCEPTION_ACCESS_VIOLATION on Star Wars Jedi: Survivor.
Right-click on your GPU, for example, NVIDIA GeForce RTX 3060 Ti, and then click on Uninstall device.

After uninstalling, restart your PC.
Visit AMD, Intel, or NVIDIA driver download page, depending on your graphics card model.
Download the driver.
Install it on your PC.
According to most gamers who encountered and fixed the problem, this is the most effective method for this error you can try.
If you still encounter the problem, we suggest you re-install the game. Also, update Windows to the latest version. In case your GPU is incapable, consider upgrading to a better one.
Learn the ways to fix the low FPS problem on SW Jedi: Survivor if necessary.
This article has explained how to fix Star Wars Jedi: Survivor's EXCEPTION_ACCESS_VIOLATION error and why it occurs. If you have any better methods, let us know in the comment box.