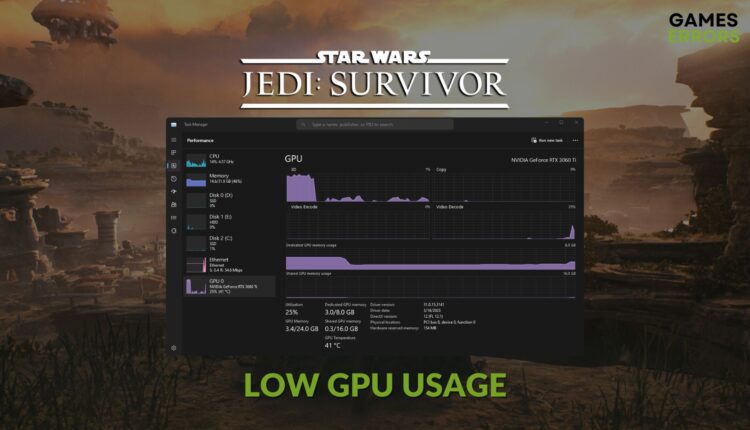 Star Wars Jedi Survivor Low GPU Usage: Most Effective Fix
Update or re-install the GPU driver if you notice Star Wars Jedi: Survivor not using GPU ✅
You may go through low GPU usage issues while playing the new Star Wars Jedi: Survivor on your Windows 11 or 10 PC. But, if you can trigger the right things, the problem will disappear.
Like other recently released titles, this new Star Wars game requires a powerful graphics card to run smoothly. However, things can go weird if this sci-fi action adventure title fails to utilize the computing power of your PC. Luckily, there are solutions.
If interested, learn how to fix low FPS issues on Star Wars Jedi: Survivor.
What is causing low GPU utilization while playing Star Wars Jedi: Survivor?
Any of these things can cause low graphics card usage problems for this game:
Outdated graphics driver: Without a proper driver for your GPU, any game or application may fail to take full advantage of graphics power.
CPU bottleneck: An RTX 4080 and a mediocre core i5 processor are not a good match. The processor won't be able to exchange expected data with the graphics card. As a result, you will always experience low GPU usage issues while playing Star Wars Jedi: Survivor.
Improper settings: Any unsuitable settings on Windows and the game also can lead you to this type of problem.
Third-party services: Some third-party apps and services also can create this situation on your PC.
Learn how to fix Star Wars Jedi: Survivor won't launch if necessary.
How can I fix Star Wars Jedi: Survivor's low GPU usage problem?
We have prepared the most effective methods to solve the very low graphics card utilization issue on Star Wars Jedi: Survivor. But, before getting started, quickly complete the following steps:
Install the DirectX Runtime and the Visual C++.
Ensure that you have not under-clocked your GPU by using any specific tool.
Make sure that the PSU is powerful enough to support both CPU and GPU.
Ensure that the cooler has no problem.
After confirming the above things, go through the methods mentioned below to get rid of the main problem:
1. Update GPU driver
Time needed: 2 minutes
Updating the graphics driver to the latest version is one of the most effective ways to fix the low GPU usage problem of Star Wars Jedi: Survivor.
Click on Search automatically for drivers.
Go forward and finish the process.
Restart Windows.
To update the graphics card driver, you should use a tool like Outbyte Driver Updater. It helps to update the drivers more conveniently and accurately. As a result, you will get a smoother gaming experience.
⇒ Get Outbyte Driver Updater
2. Uninstall suspicious apps
Press Win + I on the keyboard to open Windows Settings.
Locate the problematic app and then click on three horizontal dots next to it and then click on Uninstall.
In this way, uninstall all other suspicious programs.
3. Enable high-performance mode
Enabling high-performance mode may help to fix the low GPU usage issue in Star Wars Jedi: Survivor. To do it, follow these steps:
Close the Settings.
4. Repair the game files
Open Steam.
Go to the game library.
Right-click on Star Wars Jedi: Survivor, and then click on Properties.
Go to the Local Files tab.
Click on Verify integrity of game files.
Give it some time to finish the process.
In EA App, go to the Library. Then, click on the three dots on the game's thumbnail and then click on Repair.
This method will also work if Star Wars Jedi: Survivor gets stuck on the loading screen.
5. Roll back the GPU driver
In Device Manager, expand the Display Adapters.
Right-click on the GPU driver and then go to the Properties.
Navigate to the Driver tab.
Complete the process and restart your PC.
6. Re-install the GPU driver
Right-click on your GPU driver and choose Uninstall device.
Restart Windows.
Visit the official GPU driver website, for example, AMD, Intel, or NVIDIA driver download page.
Choose your GPU model and click on Search.
Download and install the driver.
Restart your PC.
Launch the Star Wars Jedi: Survivor and see whether you still experience low graphics card usage problems.
Extra steps:
In case the problem still exists, follow these methods too:
Play the game with higher settings.
Re-install the game.
Update Windows to the latest version.
Re-install Windows if needed.
If nothing helps, try to understand whether it is a CPU bottleneck issue. If yes, upgrade to a better processor.
You can learn about the ways to fix crashing issues on Star Wars Jedi: Survivor if necessary.
This article featured helpful tips for fixing Star Wars Jedi: Survivor's low GPU usage problem. Feel free to let us know if you have any questions or suggestions.