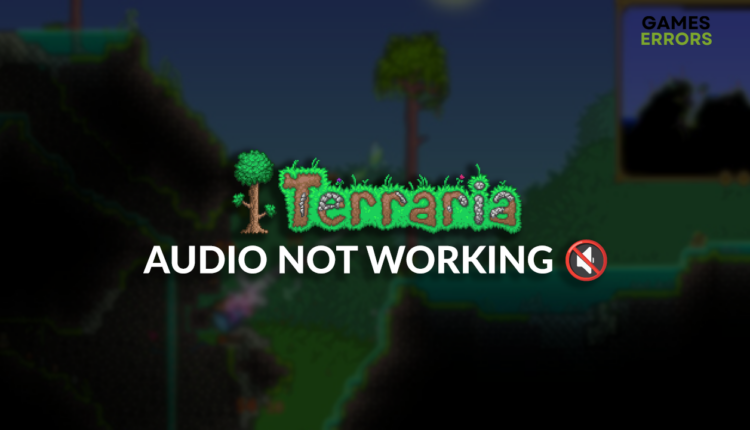 Terraria Audio Not Working: Fix It Quickly
Playing Terraria without the audio ruins the whole vibe of the sandbox experience. Let's dig up some answers on how to troubleshoot it! 🔊
Are you missing out on the experience due to the Terraria audio not working problem? We did our part, finding the causes and solutions, so now it's your turn to bring them to reality and resolve Terraria audio problems once and for all.
If you also struggle with making your controller work, learn what to do when Terraria isn't recognizing a controller.
Why is Terraria audio not working?
The Terraria audio not working problem is related to faulty game modifications, muted sound on your PC, a defective audio device, misconfigured config.json file, an outdated audio driver, messed up Windows Audio Services settings, unnecessary background apps, and startup services, compatibility issues with other peripherals, obsolete Windows, or other bugs with Terraria.
How to fix Terraria audio not working?
Here are some easy checks and fixes to apply:
Disable game modifications: Launch Terraria and hold the left Shift key on the loading screen. This will prevent mods from loading. If the audio works now, you have a faulty mod stopping the audio.
Volume up the sound: Click on the speaker icon in the taskbar and set the slider to maximum.
Check the audio in other games and apps: If the audio problem occurs in other games and apps, you might want to try another audio device or check the connection between it and your PC.
Proceed with these solutions to resolve the Terraria audio not working problem.
1. Reset config.json file
This file saves user configurations but can also get messed up, preventing Terraria from producing audio.
Use the Windows key + E shortcut to open File Explorer and navigate to the My Games folder.
The default location of the folder C:\Users\USERNAME\OneDrive\Documents\My Games

Open the Terraria folder, and then find and open the ModLoader folder.
Rename config.json file to backup-config.json (if there is a problem, you have a backup.)
Launch Terraria, and you should see the Select Language menu.
This means you successfully reset the config file!
2. Update the audio driver
Time needed: 5 minutes
The audio driver manages your device's audio inputs and outputs. Regardless of the model and type of your audio device, we advise you to install the latest audio driver update.
Click the Windows icon, type Device Manager, and open it.

Double-click on the Sound, Video, and Game Controllers section.

Right-click on the audio device and select the Update driver option.

Select the Search automatically for drivers option.
Install the driver update if one is found.
Restart your PC.
Managing drivers shouldn't be this complicated! Many gamers who use Outbyte Driver Updater agree with us. Using this tool, they can sit back, relax, and enjoy gaming while the tool handles driver management for them!
⇒ Get Outbyte Driver Updater
3. Restart Windows Audio Service
Windows Audio Service can be restarted in a few easy steps, resolving any temporary issues with your audio device.
Click on the Windows icon, type Services, and open this app from the search results.
Choose the Services(Local) in the panel on the left and find Windows Audio.
Right-click Windows Audio and select the Restart option.

Extra steps
Here are some additional methods to resolve the Terraria audio not working issue:
💡 Boot the game in Windowed mode: Some gamers claim that booting Terraria like this resolved their audio issues. After that, they switch to the fullscreen.
❌ Close background apps: To ensure other apps aren't blocking Terraria from using audio devices, disable them all before launching the game.
🖥 Disconnect other peripherals: There is a chance other peripherals are messing with your headphones or speaker. Disconnect them all and check if the audio works.
💽 Perform Clean Boot: This way, startup services won't interrupt with Terraria audio.
⬆ Update Windows: Click the Windows icon, type Check for updates, and open it. If any updates are pending, download and install them. Restart your PC to complete the process.
🔁 Reinstall Terraria: The last resort is to uninstall the game, delete all files and folders, and restart your PC. After that, you can perform a clean Terraria installation.
Related articles:
Conclusion
In conclusion, troubleshoot the Terraria audio not working problem by disabling mods, volume up the sound, and checking your audio device. If everything seems alright, reset the config.json file, update the audio driver, and restart Windows Audio Services.
Don't forget to boot your PC in a Clean Boot mode and to close unnecessary background apps before launching Terraria. Disconnect other peripherals to avoid compatibility issues. Try launching the game in the Windowed mode, and if the sound works, switch back to fullscreen. Good luck, and let us know if you can hear the fantastic sounds of Terraria again!