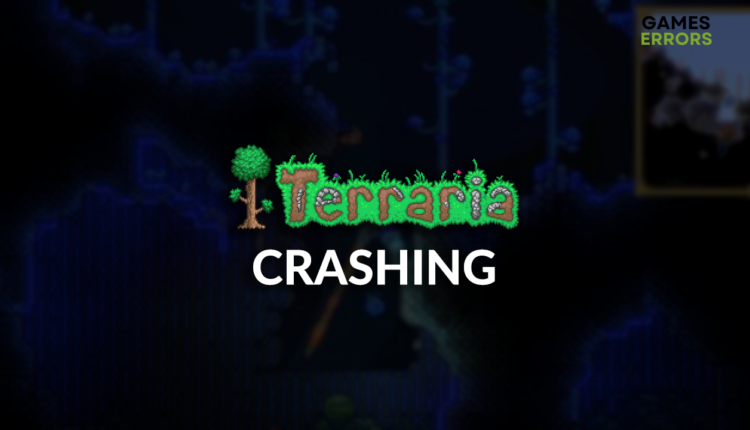 Terraria Crashing: Why It Happens and How to Fix It
Enjoying any game that frequently crashes is close to impossible. Follow our lead as we reveal the best way to fix this issue in Terraria! 🌳
Gamers have been complaining about Terraria crashing for over a decade now. Not much has changed besides computers getting much more powerful, but crashes persisted. Today, we will present the most common causes and suitable fixes for Terraria crashes.
Why does Terraria crash?
Terraria crashes due to issues with Windows permissions, unnecessary background apps, corrupted game files, an outdated GPU driver, Terraria folder settings, Windows Firewall issues, compatibility problems with your current version of Windows, display problems, missing .NET framework, or power issues.
What to do if Terraria keeps crashing?
To fix the Terraria crashing issue, first apply these pre-checks and quick fixes:
Play Terraria in Fullscreen: Besides this, it's also crucial you use the native resolution of your monitor to avoid other compatibility issues.
Download and install the .NET framework: You must install it on your PC to play Terraria.
Update Windows: Click on the Windows icon, type Check for updates, and open these System Settings from the search results. Install pending updates and restart your PC.
Here are the best solutions to prevent Terraria from crashing on your PC.
1. Update the GPU driver
Time needed: 5 minutes
An outdated GPU driver won't be able to support your graphics card entirely, which can lead to Terraria crashes and other stability issues. This is why you should always have the latest graphics driver installed.
Click on the Windows icon, type Device Manager, and open it.

Double-click on the Display Adapters section.

Right-click on your GPU and select the Update driver option.

Select the Search automatically for drivers option.
Install the GPU driver update.
Restart your PC.
Did you know that there is a way to automatize driver management? Save your precious time and enjoy an interruption-free gaming experience by using Outbyte Driver Updater! This swift and reliable tool will take complete control and responsibility regarding driver management.
⇒ Get Outbyte Driver Updater
2. Change the Terraria folder settings
Terraria saves specific files separately from the installation folder. To be more precise, these files are held in the subfolder of My Games on your PC. The Terraria crash problem can be related to the settings of this folder.
Use the Windows key + E shortcut to open File Explorer and navigate to the My Games folder.
The default location of the folder C:\Users\USERNAME\OneDrive\Documents\My Games

Right-click on the Terraria folder and select Properties.

Uncheck the Read Only (Only applies to files in the folder) and hit OK.

Restart your PC and launch Terraria.
Additionally you might try to delete all the config files inside this folder to fix the Crashing Terraria.
3. Add Terraria as a Firewall exception
Windows Firewall is the primary security feature of your PC and should always be kept enabled. However, if you experience Terraria crashes, try to add the game as a Firewall exception. This way, the Firewall won't recognize it as a threat.
Click on the Windows icon, type Windows Defender Firewall, and open it.

Click on Allow an app or feature through Windows Defender Firewall.

Click on Change Settings and Allow Another App.

Select Browse and navigate to the Terraria installation folder.
Click on the Terraria executable file (.exe) and select Open.
Check the checkbox in columns Private and Public in the Terraria row and hit OK.
Restart your PC.
Extra steps to fix the Terraria Crashes:
If the Terraria crash issue still bothers you, we advise you to:
💽 Use Compatibility Mode: This will solve issues related to your current version of Windows.
🔌 Check the power: The issue might be related to an unstable power source or faulty power supply. If you have done everything so far, use another power socket.
🔎Verify the integrity of game files: This is a quicker alternative to reinstalling the game.
❎Close background apps: Do this every time before you launch Terraria.
🖥 Launch Terraria as an admin: Right-click on the game executable (.exe) file and select Properties. Select the Compatibility tab, enable Run this program as an administrator, and hit OK.
🔁 Reinstall Terraria: The last resort is to uninstall Terraria and delete all files and folders related to it. Restart your PC and perform a clean Terraria installation.
Frequently Asked Questions
Where is the crash log in Terraria?
The crash log is in the main Terraria folder. However, to receive one you will have to enable it. Follow the steps below to learn how to do it:
On Steam, go to Terraria, right click on it and select Properties
Go to launch options and add the following: -logerrors -logfile
Now, when the game crashes it will create an crash log and it will appear in Terraria's Folder
Once you get your crash log, you can share it on Terraria's forum under PC Technical Help
Related Articles:
Conclusion
These were our takes on Terraria crashing issues. The quickest way to fix it is by verifying game files, closing background apps, and launching the game as an admin. If it doesn't resolve it, proceed with updating the GPU driver, tweaking Terraria folder settings, and allowing it through the Firewall.
Don't forget to launch Terraria in Compatibility Mode, ideally in a fullscreen with your native resolution. To play Terraria without crashes, you must have the .NET framework installed and have the latest version of Windows. The last thing to check is the power cord or PSU, and if it looks good, proceed with reinstalling Terraria.