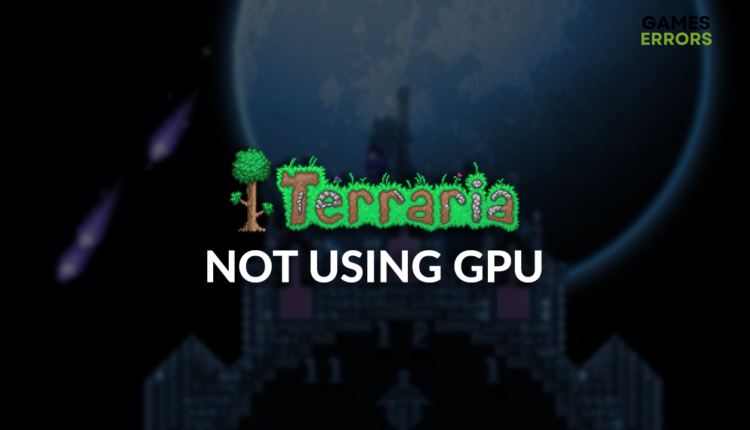 Terraria Not Using GPU: Here Is What to Do
The problem behind the problem is that the performance is poor while your graphics card isn't doing almost anything! Discover what you can do about it. 👾
Are you seeking assistance with the Terraria not using GPU problem? You are in the right place! Many gamers experienced this annoying phenomenon, causing performance to drop and the game to stutter. We were decisive in finding solutions, so we present the ultimate list for making Terraria use your GPU.
If you can't enjoy the fantastic world of Terraria with your friends, learn how to make Terraria multiplayer work.
Why is Terraria not using GPU?
Terraria not using GPU problem occurs due to using an integrated graphics card, frame skip settings, Windows permissions, an outdated GPU driver, wrong resolution, pilled-up cache files, unnecessary background apps, corrupted game files, battery-saving power plan, or other compatibility issues.
How do I force Terraria to use my GPU?
Start by applying these checks and fixes:
Check if you are using a dedicated GPU: If you have an integrated GPU, disable it and plug your monitor into the port of the dedicated graphics card.
Change frame skip settings: Navigate to Terraria settings and toggle this setting ON or OFF to check for any difference in GPU usage.
Launch Terraria as an administrator: Right-click the Terraria executable (.exe) file and select Properties. Enable the Run this program as an administrator in the Compatibility tab and hit OK.
Here are the best solutions to apply when the Terraria not using GPU problem occurs.
1. Update your GPU driver
Time needed: 5 minutes
An outdated GPU driver won't be able to support your graphics card in performing needed operations. This will result in low GPU usage when playing Terraria. We advise you to update the GPU driver to prevent all this and get the most out of your graphics card.
Click on the Windows icon, type Device Manager, and open it.

Double-click on the Display Adapters section.

Right-click on your GPU and select the Update driver option.

Select the Search automatically for drivers option.
Install the GPU driver update.
Restart your PC.
Many gamers use Outbyte Driver Updater to automatize and improve the driver management process. This tool handles it all! From scanning and monitoring to updates, it gives you peace of mind to play your favorite games interruption-free.
⇒ Get Outbyte Driver Updater
2. Launch Terraria in native resolution
Games perform the best when played in the native resolution of your display. Since some players had issues changing this setting, we decided to drop the easiest and most effective way to launch and play Terraria in the native resolution.
Launch Steam.
Right-click on Terraria and select Properties.
Scroll down to the Launch Options in the default General tab.
Paste -w 1920 -h 1080 (for 1920×1080 resolution) and close Properties.
If you want a different resolution, change the -w (width) -h (height) values accordingly.

Launch Terraria.
3. Delete cache files
Terraria, Steam, and every other app on your PC store cache files so they can launch and run smoother. Problems begin when these files get corrupted, so we advise you to head to the Local folder of your PC and delete them.
Use the Windows Key + R shortcut to open the Run dialog, type %localappdata%, and hit OK.

Use the CTRL + A shortcut to select all files in the folder.
Press the Delete key on your keyboard to delete all the files in the folder.
➡ If prompted to confirm, click on Yes.
➡ If some files can't be deleted, click on Skip.

Extra steps
If you still experience the Terraria not using GPU issue, try to:
❌ Close background apps: This will stop unnecessary background apps from consuming resources.
📂 Verify game files: This is an excellent alternative to reinstalling the game.
🔋 Enable Best Performance: If playing Terraria on a laptop, click the battery icon and set the power plan to the Best Performance.
💽 Run Terraria with compatibility: Here is the guide for launching games in compatibility mode.
🔁 Reinstall Terraria: Double-check if you have done everything we recommended so far, and if nothing resolved the issue, back up your Terraria save files and reinstall the game.
Related articles:
Conclusion
The best way to troubleshoot the Terraria not using GPU problem is to check if you are using the dedicated card, change the frame skip settings, and ensure you launch the game as an admin. Proceed by updating the GPU driver, deleting cache files, and force-launching the Terraria in fullscreen.
Don't forget to close background apps, verify game files, and run Terraria with compatibility settings enabled. Set your battery to the Best Performance if playing on a laptop. Finally, if nothing else helps, reinstall the game. Good luck!