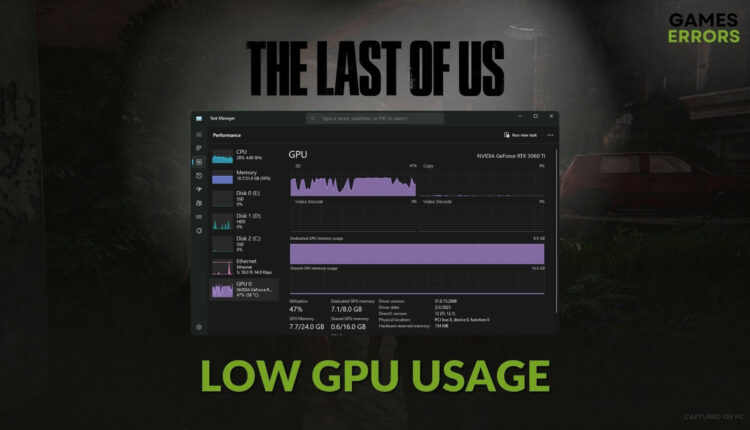 The Last of Us Low GPU Usage: How to Fix This Problem
Update the GPU driver and enable high performance mode if you face low GPU utilization issues on The Last of Us ✅
X
INSTALL BY CLICKING THE DOWNLOAD FILE
If you notice low GPU usage in the game The Last of Us, you are not alone. However, this article will tell you how you can fix this problem.
It may happen that you have a decent graphics card, but your PC is not using it that much for a particular game. This must be a frustrating experience. It may cause many problems, like The Last of Us low FPS issues. Luckily, there are solutions.
Why is my GPU usage so low on the Last of Us?
If The graphics card utilization remains low when you play the Last of Us, it may be because of any of these reasons:
Graphics driver problem: You may encounter low graphics card usage problems if the GPU driver is corrupted or outdated.
Improper settings: Improper settings in Windows and the game itself may also trigger low GPU utilization issues and cause The Last of Us won't launch and many other problems.
Problematic game files and components: Some problematic game components and files can prevent your PC from using the maximum GPU power in The Last of Us.
CPU bottleneck: If your GPU is too good, but your CPU is not, in this type of case CPU bottleneck issue occurs. It causes low GPU usage in high-end games like The Last of Us.
How do I fix The Last of Us low GPU usage?
First, we strongly suggest you do these things quickly to avoid any unwanted hassles and confusion before going through the main methods:
Now, you can follow these methods one by one to see which one fixes The Last of Us low GPU usage:
1. Update the GPU driver
Time needed: 3 minutes.
To get rid of the low GPU usage problem while playing The Last of Us on Windows 11 or 10 PC, you must update your graphics card driver to the latest version.
Click on Search automatically for drivers and finish the updating process.
We suggest you use DriverFix to update the graphics card. It is because this tool is very powerful and can install the game-ready GPU driver, which helps to solve various game-related problems.
2. Enable Game mode
Press Win + I on the keyboard to open Windows Settings.
Now, toggle the switch to turn on the Game mode.
Restart Windows.
3. Enable High-performance mode
If your PC settings don't allow the graphics card to use more power, you will notice a low GPU usage problem while playing The Last of Us. So, set everything for high performance by following these steps:
Launch Windows Settings like before.
Go to Graphics.
Find The Last of Us in the list or manually add it by clicking on the Browse button.
Select The Last of Us and then click on Options.
Restart your PC.
4. Disable Vsync
Open the Windows search box, search for your graphics control panel, depending on your GPU model, and open it—for example, Open Nvidia Control Panel for NVIDIA graphics cards.
Click on Manage 3D settings on the left sidebar.
Locate the Vertical sync and turn it off.
Save it and restart your PC.
5. Roll-back graphics driver
Like method 1, open the Device Manager.
Double-click on the Display adapters and then double-click on the graphics card driver to open its properties.
Navigate to the Driver tab.
Follow any onscreen steps to complete the process.
6. Re-install the graphics driver
In the Device Manager, right-click on the GPU driver and click on Uninstall.
Restart Windows.
Visit to AMD, Intel, or NVIDIA driver download page, depending on your graphics card model.
Choose the GPU model and click on Search.
Download and install the driver on your computer.
Restart your PC.
7. Play with high settings
If you still notice the low GPU utilization problems while playing The Last of Us, you should try to play it with high settings. You can set it to the native resolution, remove the limit for FPS, enable ray-tracing, and increase texture quality.
Then, try to play and see if it solves the problem or not.
8. Repair The Last of Us
Open the Steam desktop app.
Go to the Steam game library.
Give it some time to finish the process.
Now, play The Last of Us and see if the low GPU usage problem still exists or not. If you face other problems like The Last of Us stuck on the loading screen, this method will also help.
Additional things to do:
Is the problem still bugging you? You can consider following these methods too:
Update the game.
Re-install the game.
Update Windows to the latest version.
Consider upgrading to a better CPU if it has a bottleneck issue with your current GPU. If GPU usage is low but CPU usage is high, it may indicate a CPU bottleneck problem.
If you are interested, you can learn the ways to solve The Last of Us crashing problem.
In this article, we have shown you how to fix The Last of Us low GPU usage problem. If you have any questions, suggestions, or opinions, feel free to let us know in the comment box.
If you encounter any issues or errors while playing your favorite games and require support, feel free to contact us here. Our team is always ready to assist you and ensure your gaming experience is seamless and enjoyable.