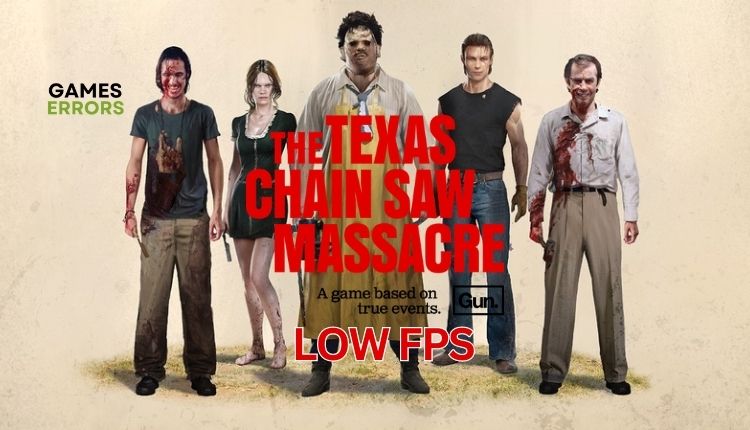 The Texas Chain Saw Massacre Low FPS: How to Increase It
Focus on achieving a high FPS to improve your gaming experience in The Texas Chain Saw Massacre. Here are best tips to help you. ✅
The Texas Chain Saw Massacre is a scary and unique game with horror movie-like matches. It has some technical issues and limited content but is still twisted fun to play with friends and foes. Among bad things, low FPS is the worst nightmare for any horror game fan and can lead to a frustrating gaming experience. But don't worry; we have prepared this guide to help you boost The Texas Chain Saw Massacre's low FPS and increase the game's performance so you can enjoy it smoothly.
Why am I getting low FPS in The Texas Chain Saw Massacre?
The Texas Chain Saw Massacre players may experience low FPS, causing gameplay to become jittery, choppy, and stuttering. Low FPS can occur for several main reasons:
Your PC doesn't meet the game's recommended system requirements
Outdated GPU driver
Slow or unstable internet connection
Unnecessary apps running in the background
Wrong power plan
Overlay apps issues
Demanding in-game graphic settings
Corrupt game files
How do I fix low FPS in The Texas Chain Saw Massacre?
To begin with, we recommend following these more easy steps:
If you are still encountering a low FPS issue even after conducting initial checks, try these tips:
1. Update your GPU driver
An outdated GPU driver can lead to the game crashing, freezing, lagging, failing to launch, low FPS, etc. We recommend updating your GPU driver through a manufacturer's website (AMD, NVIDIA, or Intel) or manually, like in this example:
1. Right-click on the Start Menu and choose Device Manager.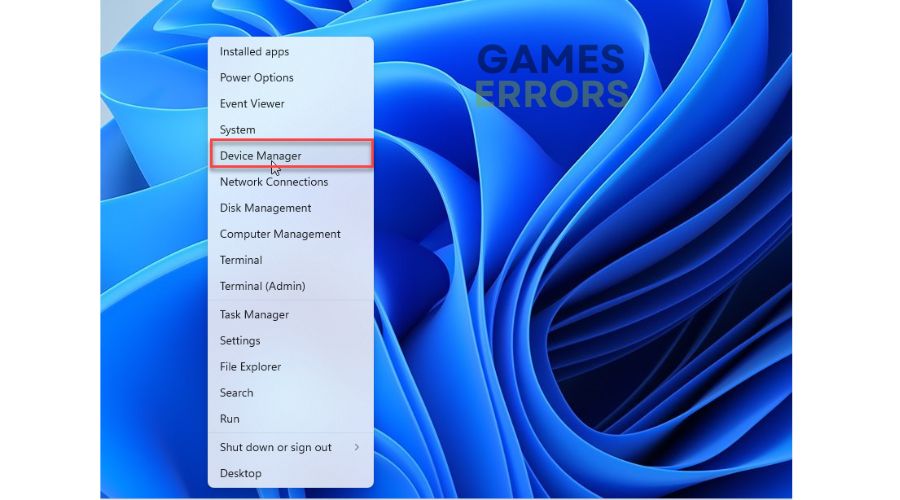 2. Double-click to expand Display adapters.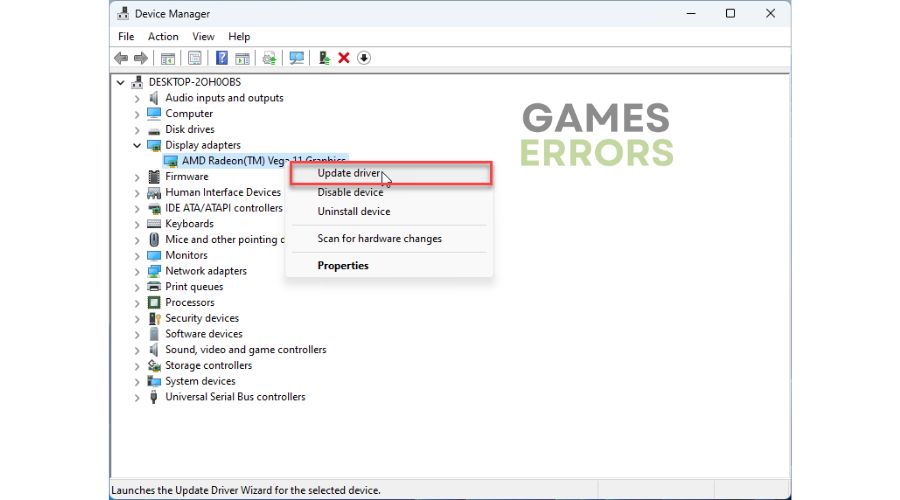 3. Right-click on your GPU and click Update driver.
4. Choose Search automatically for drivers and wait for Windows to complete the update.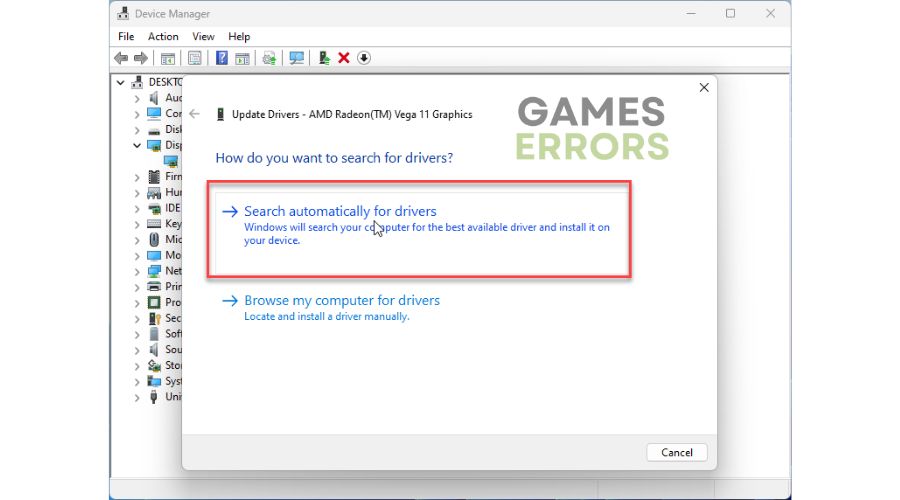 We recommend Outbyte Driver Updater handle the hassle of updating your Windows system drivers. This tool automatically updates them when a new version is released, saving you time and effort.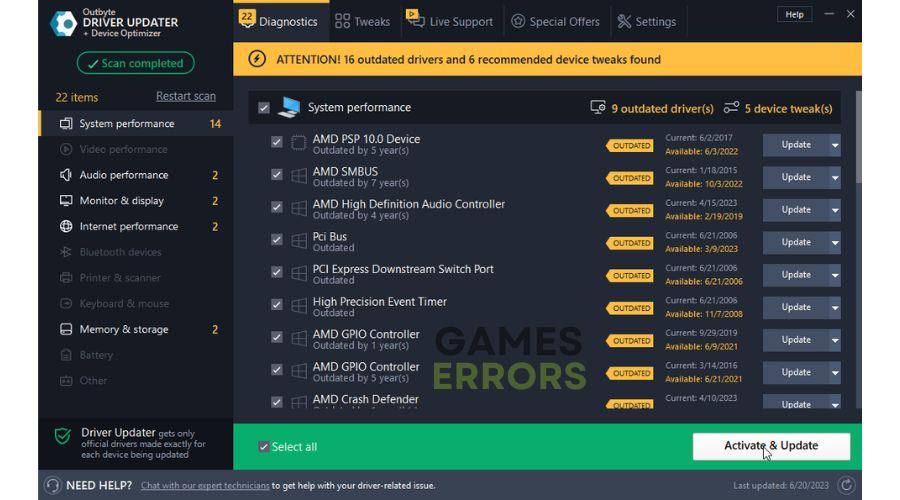 ⇒ Get Outbyte Driver Updater
2. Adjust high-performance mode
Time needed: 1 minute
To enhance your The Texas Chain Saw Massacre performance during intense gameplay, set High performance mode in Power Options and Graphics preferences.
Open Power Options

Press the Win+R keys to show the Run dialog box. Type; "powercfg.cpl" and press Enter.


Enable High Performance

Right-click on the Start and choose System

Navigate to System>Display>Graphics.


Enable graphics high performance

Select The Texas Chain Saw Massacre from the Windows app list and click Options. Tick High performance and Save changes.


Reboot your PC

Check if The Texas Chain Saw Massacre still has low FPS.
3. Set the game to High Priority
First, close any demanding programs running in the background. If you are sure that your graphics card is not under heavy load, apply High Priority to force your OS to allocate more resources to The Texas Chain Saw Massacre.
1. Launch The Texas Chain Saw Massacre and open Task Manager while in-game (simultaneously press CTRL + SHIFT + ESC keys).
2. Go to the Details tab and find the main process of the game.
3. Right-click on The Texas Chain Saw Massacre process and Set Priority to High.
4. Go back to game Options and set Fullscreen Mode to Fullscreen.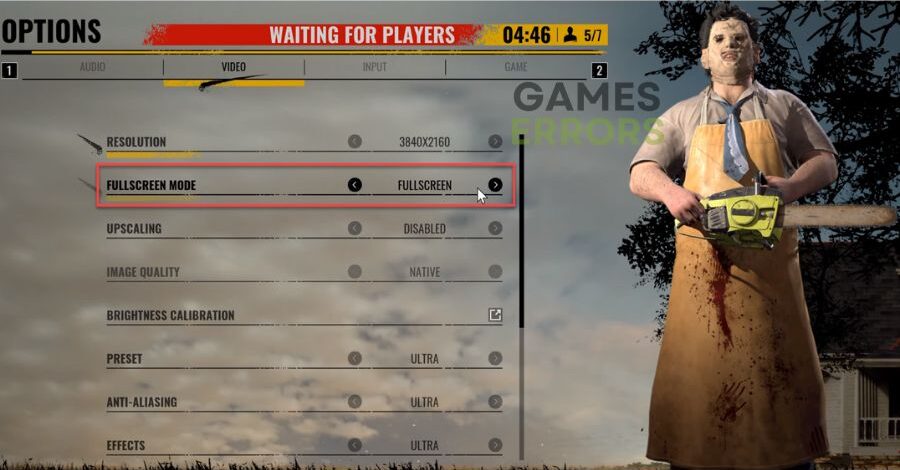 5. Restart the game and check for FPS changes.
4. Optimize in-game graphics settings
Adjusting your graphics settings can enhance your gaming experience in The Texas Chain Saw Massacre. If you're experiencing low FPS, your PC is likely struggling to handle the game's demanding resolution and graphic details. To solve this issue, we highly recommend lowering your in-game graphics settings. This will help to ensure a smoother and more enjoyable gameplay experience.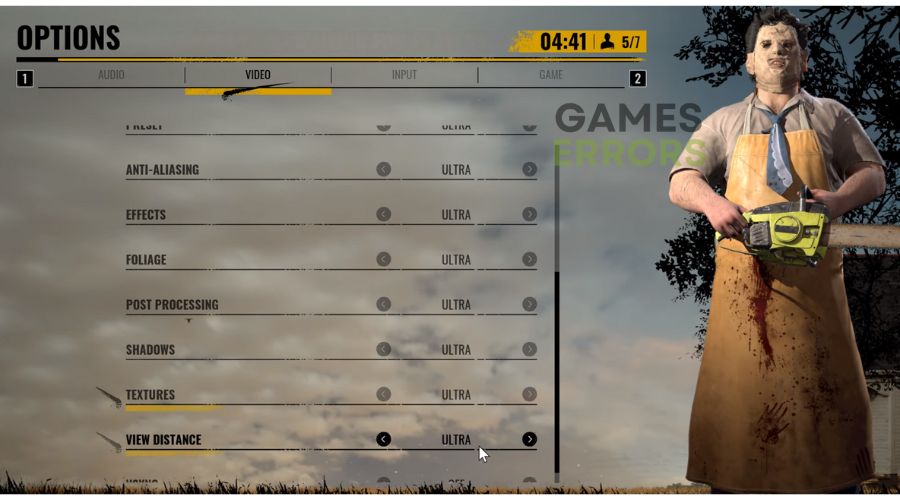 👉Extra steps:
If The Texas Chain Saw Massacre still has low FPS, we advise exploring additional options:
Update Windows to the latest version.
Update DirectX, .NET Framework, and VCRedist.
Update the game.
Enable Game Mode (Start>Settings>Gaming>Game Mode).
Check the game service status.
Check the stability and speed of your internet connection.
Temporarily disable firewall and antivirus.
Disable overclock and tools like MSI Afterburner, RivaTuner, etc.
Disable overlay in Steam, Discord, Xbox Game Bar, etc.
Ensure not to use an IGP instead of a discrete graphics card. Disable the integrated graphics card in Device Manager.
Disable VSync in the game graphics options.
Reinstall the game in a different folder or disk (prefer SSD).
Conclusion
Take these steps for a smooth gaming experience while playing The Texas Chain Saw Massacre. First, ensure your system meets game requirements and restart the game or your PC. Additionally, update your GPU driver and optimize in-game graphics settings. Enabling high-performance mode and setting High Priority for the game can also improve your experience. However, if you need further help, leave a comment.