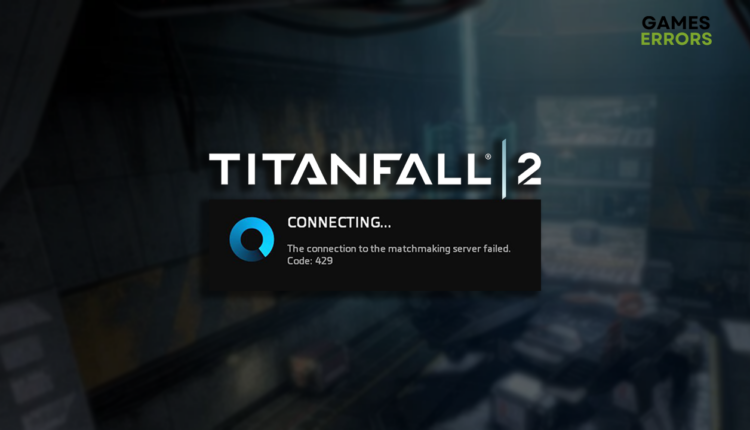 Titanfall 2 Error Code 429: Fix It Quickly
Unable to play Titanfall 2 multiplayer? We know what causes it and how to fix it! 👾
Many gamers cannot enjoy their favorite multiplayer first-person shooter due to the Titanfall 2 error code 429. We are here to save the day! After analyzing the most common causes, we compiled a list of the most effective solutions to resolve this network-related issue.
Some players complain about losing progress in this first-person shooter. Learn what to do when TItanfall 2 isn't saving.
What is code 429 Titanfall 2?
Code 429 in Titanfall 2 is a network-related error occurring when there are too many requests from a single user. Alternatively, it can caused by problems in a specific server region, temporary issues on your network, poor wireless connection, unreliable DNS, an outdated network driver, problematic network settings, unnecessary background apps, and startup services consuming bandwidth.
How to fix Titanfall 2 error code 429?
Get started by applying these checks and fixes:
Change the region: There is a chance the game will work with another one selected. Press the data center button in the main menu and choose another one close to you (with lower ms.)
Restart network devices: Find your modem or router, press the restart button on the back panel, and wait a few minutes. When the network is back up and running, launch Titanfall 2 and connect.
Use wired connection: To prevent issues related to poor wireless connection, consider using a wireless (ethernet) internet connection with your home network.
Proceed with the step-by-step solutions listed below.
1. Use Google DNS
Time needed: 5 minutes
The error code 429 and the Titanfall 2 connection to server timed out problems are often caused due to issues with the DNS server you are using. To resolve this manually, set the DNS server to Google DNS by following the steps below.
Using the Windows Key + R shortcut, open the Run dialog, type control, and hit OK.

Click on View network status and tasks.

Click on the Change adapter settings.

Right-click the internet network you use and select Properties.

Double-click Internet Protocol Version 4 (TCP/IPv4).

Enable Use the following DNS server addresses and add:

▶ 8.8.8.8 for the Preferred DNS server
▶ 8.8.4.4 for the Alternate DNS server

Click OK and restart your PC.
2. Update the network driver
An outdated network driver can cause various problems, as it limits the performance of your network adapter and the PC. To resolve this problem, use Device Manager or a third-party driver updater tool to find, download, and install the latest network driver update.
Click on the Windows icon, type Device Manager, and open it.

Double-click on the Network Adapters section.

Right-click on your internet adapter and select Update driver.

Select the Search automatically for drivers option.
Install the driver update if the Update Driver Wizard finds one.
Restart your PC.
Are you tired of network-related issues occurring due to an outdated network driver? Start using Outbyte Driver Updater to resolve all driver issues at once! This tool scans, monitors, and updates all necessary drivers on your PC.
⇒ Get Outbyte Driver Updater
3. Restart network settings
Some network settings are stored on your PC. These can create issues if there are outdated or significant changes in your home network or your ISP. To ensure they aren't causing the error code 429 in Titanfall 2, restart them through Command Prompt.
Click on the Windows icon, type Command Prompt, and open it.
Paste the following commands and hit Enter after each one:
ipconfig /flushdns
ipconfig /registerdns
ipconfig /release
ipconfig /renew
netsh winsock reset

Restart your PC.
Extra steps
Here are some additional steps to take if you still get Titanfall 2 error code 429:
❌ Close background apps: This will ensure a better bandwidth for Titanfall 2.
🌐 Use an alternative network: Connect to another network available, as the problem might be related to yours. Alternatively, try using a mobile hotspot.
💽 Perfrom a Clean Boot: Disabling startup services will prevent compatibility issues.
⭐ Use Northstar Client: If nothing else works for you, download the Northstar Client. This is an unofficial version of Titanfall 2 multiplayer, which might be helpful when servers are down.
Related articles:
Conclusion
In conclusion, you can troubleshoot the Titanfall 2 error code 429 by changing the server region to which you are connecting, restarting your network devices, and using a wired connection. The best solutions to fix problems on your end include manually switching to Google DNS, updating the network driver, and restarting network settings.
Don't forget to disable background apps and startup services (Clean Boot) so there is enough bandwidth for Titanfall 2. Another option is to connect to an alternative network. If nothing else works out, use Northstar Client, an unofficial multiplayer version of Titanfall 2.