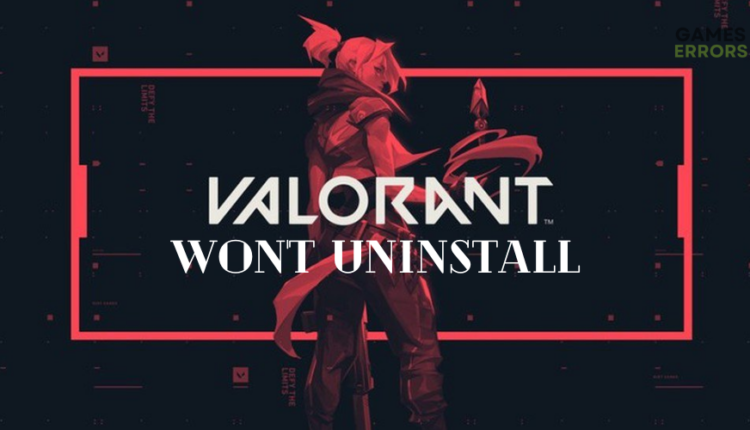 Valorant Won't Uninstall: How To Uninstall It [A Guide]
If Valorant won't uninstall, there are two ways to uninstall it completely from your PC. Check them out below ⤵
X
INSTALL BY CLICKING THE DOWNLOAD FILE
Do you wish to uninstall Valorant?
Valorant is a highly competitive game that not many players can crack. Its meta changes constantly, and to win, you must practice your skills in custom matches and hit up Deathmatch and the range. The game is also flooded with numerous players that can ruin your gaming experience, and if you get stuck with bad teammates, your chances of winning are pretty small.
Similarly, the game takes up so much disk space (16 to 20 GB), which can slow down your PC or cause overheating issues. So it's no surprise you want to uninstall it from your PC. Whether the game is not for you or you want to free up more space, uninstalling is a good option. However, many players report that Valorant won't uninstall.
If you're a victim of the same, we've created this step-by-step guide showing you how to uninstall Valorant from your PC completely.
Why Valorant won't uninstall?
The main reason why Valorant won't uninstall is because of the game's anti-cheat software, Riot Vanguard. You can't uninstall Valorant without exiting or uninstalling the anti-cheat software first from your PC. Many players aren't aware of this and get frustrated when this problem happens. Luckily for you, we have outlined how to uninstall the game below.
How to uninstall Valorant?
You can uninstall Valorant via the Control Panel and CMD (Command Prompt):
✔ How to uninstall Valorant via Control Panel
Time needed: 2 minutes
If you're encountering the Valorant is not uninstalling issue, here's how to uninstall it:
Disable Riot Vanguard

You first need to turn off Riot Vanguard before uninstalling the game. To do so, click the System Tray on the bottom right corner of your Windows to open. Right-click the Riot Vanguard application and choose Exit Vanguard.

Confirm action

If prompted to confirm the process, click Yes.

Open Settings

Press the Windows key + I on your keyboard to open Settings. Click Apps and select Apps & Features.

Find Riot Vanguard

Locate Riot Vanguard from the list of apps on your PC. Right-click it and select Uninstall. Wait for the process to complete.

Uninstall Valorant

Next, find the Valorant application from the list of apps. Right-click it and select Uninstall. Wait for the process to complete.
After the uninstallation, check your Apps and programs to see if Valorant is still there, but the process should uninstall Valorant entirely from your PC.
Disclaimer: If you can't uninstall Valorant, quit the Riot Client
✣Close any game related applications and tasks
If the Valorant is not uninstalling, try to use the Task Manager to forcefully end game-related tasks. To do so, follow the instructions below
Press Ctrl + Alt + Del and open the Task Manager
Go to the bottom of the Task Manager and press on ▼ More Details
Go to Details find Valorant and Easy Anti Cheat and right click on it then select End Task or End process Tree
✇Update the game before trying to get rid of it
Sometimes the reason why you cant uninstall Valorant is because it is outdated, and the uninstaller will only work on the latest version of the game. This happens to Riot games from time to time, and it is worth trying.
There are also times when I cant uninstall Valorant due to another program being uninstalled at the same time. Which might happen to you too if you tried to get rid of multiple programs at the same time.
✔ How to uninstall Valorant via CMD
Here's how to uninstall Valorant via the Command Prompt:
In the Windows search box, type cmd. You'll see Command Prompt from the context menu. Right-click it and select Run as administrator.
In the CMD window, type sc delete vgc and press Enter. This will remove Riot Vanguard from your PC.
Next, type sc delete vgk and hit Enter on your keyboard. This will remove Valorant from your PC.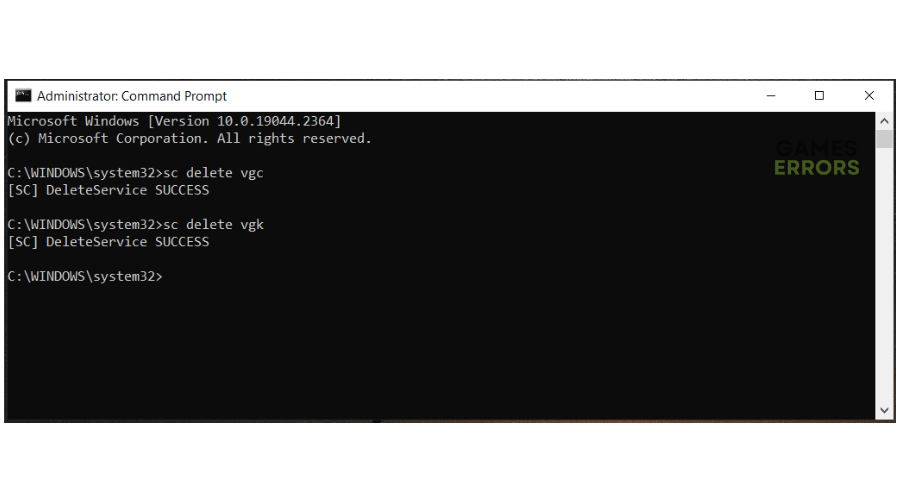 Restart your PC to apply changes.
Next, open your File Explorer and navigate the following path – C:\Program Files.
Find the Riot Vanguard file from the context menu, select it, and press Delete on your keyboard to remove the folder from your PC.
After trying the methods above, if you still cannot uninstall Valorant, try using a third-party uninstall program.
How to reinstall Valorant
If you change your mind and would like to play Valorant again, reinstall it. To do so:
Open a browser on your PC and head to the Valorant official website.
You'll see a Play Free icon. Click it.
If you have a Riot account, sign in using your username and password. If you don't, create a new account.
Once logged in, click the Download button to download Valorant on your PC. It's essential to note that the download size of Valorant is between 16 and 20 GB. So, ensure you have enough disk space for the game.
Locate the downloaded folder and run it. Follow the on-screen prompts to install Valorant and launch the game.
Related articles:
Conclusion
So there you have it – two simple ways to uninstall Valorant if you're a victim of the uninstallation issue. Whatever method you choose, Valorant will be removed entirely from your PC. If you get the urge to play the game again, follow the reinstallation steps listed above, and you can get back to the competitive Valorant world in no time.