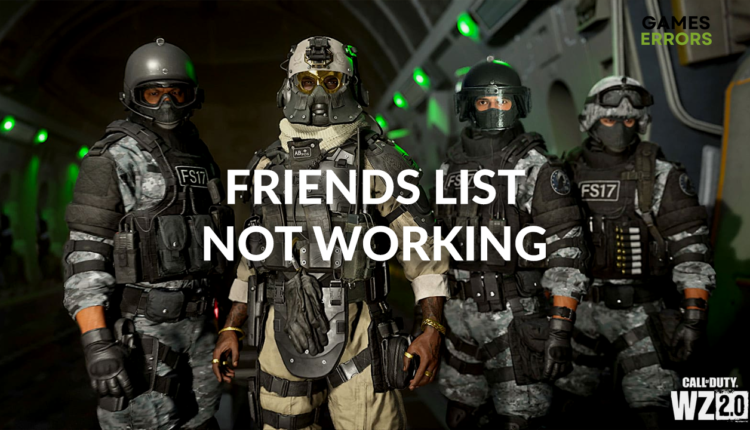 Warzone 2 Friends List Not Working: Fix It Quickly
Annoyed by bugs with your Warzone 2 friends list? We have solutions that will allow you to play with your teammates quickly! 🚀
X
INSTALL BY CLICKING THE DOWNLOAD FILE
Are you disappointed you can't play Warzone 2 with your friends because Warzone 2 friends list not working? Sometimes this can be accompanied by failed fetching crossplay friends list, usually coming with CLARK – MONTEREY error code. We know how to troubleshoot this connection-related issue.
Another frequent issue that many gamers complain about is related to DirectX. If this is one of your problems, read how to fix Warzone 2 DirectX error.
Why is my Warzone 2 friend request not working?
Your Warzon 2 friend list is not working because online services are down, you have a poor internet connection, faulty game files, an outdated network driver, or misconfigured DNS settings. Another reason you might get failed fetching crossplay friends list error is the game version you are using.
How do I fix my friends list in Warzone 2?
Begin troubleshooting the issue by performing a few quick checks and fixes:
Restart the game: Sometimes, the easiest solutions are also the most effective. Restart your game and check if the problem still occurs. However, if the problem occurs occasionally or restarts don't happen, proceed with other fixes from the list.
Check online services: Head to the official Activision page to check if the servers run properly on all platforms.
Ensure stable internet: To do this, restart your networking device(s). If the connection works properly in other games/apps that use the internet, then this is not the cause of your issue. We always advise using a wired (ethernet) connection for a proper gaming experience.
If your Warzone 2 friends list is still not working, proceed with the solutions below.
1. Verify game files
Faulty game files are the most frequent cause of issues like an unresponsive friend list. Although troubleshooting sounds difficult, it can be done in a few easy steps.
For Steam users:
Launch Steam and go to the Library.
Find Call of Duty®: Warzone™ 2.0, right-click, and choose Properties.
Navigate to the Local Files.
Click on the Verify integrity of game files…

For Battle.net users:
Launch Battle.net and go to the game library.
Find Call of Duty®: Warzone™ 2.0, click the gear icon, and select the Scan and Repair option.

Select the Begin Scan option.
2. Update the network driver
An outdated network driver will cause communication issue between your device and Warzone 2 server. As a result, your friend list might not be working, so you better keep your network driver updated.
Click the Windows icon, type Device Manager, and open it.

Double-click on the Network adapters.

Right-click on the network adapter and select the Update driver option.

Choose the Search automatically for drivers.
Install the network driver update (if one is found).
Restart your PC.
If this process doesn't result in a suitable driver update, we recommend double-checking using Outbyte Driver Updater. This swift and reliable tool is great for scanning, monitoring, and updating your PC's network and other drivers.
3. Use Google DNS
Time needed: 4 minutes
Windows automatically assigns the most suitable DNS server address. However, we recommend you use Google DNS to avoid problems with the friend list in Warzone 2.
Use the Windows Key + R shortcut to open the Run dialog, type control, and hit OK.

Click on View network status and tasks.

Click on the Change adapter settings.

Right-click the internet network and select Properties.

➡ The green signal icon is a wireless connection
➡ The cable icon is a wired network

Double-click Internet Protocol Version 4 (TCP/IPv4).

Select Use the following DNS server addresses and add:

➡ 8.8.8.8 – Preferred DNS server
➡ 8.8.4.4 – Alternate DNS server

Click OK and restart your PC.
Extra steps
If you still can't properly use the friend list in Warzone 2, you can try these last-resort steps:
🎮 Re-enable crossplay: Head to the game settings, disable the crossplay option, save the settings, and head back to enable it. Some players report that this fixed the failed fetching crossplay friends list error.
⬆ Update the game: Even though the game should update automatically, it is possible that you don't have the latest version of the game and that this is causing the issue.
❌ Disable VPN: Although providing great value regarding privacy, access, and anonymity, VPN software is a frequent troublemaker when problems with the friend list occur in Warzone 2.
➕ Add your friends to a channel: If none of the solutions worked (permanently), one workaround is to create a channel/party and add your friends there. Once this is done, your friends can join your party, and you can play together.
Related articles:
Conclusion
Let us know in the comment which solution helped you resolve Warzone 2 friends list not working issue. If the issue persists, give us more details – we will gladly assist you.