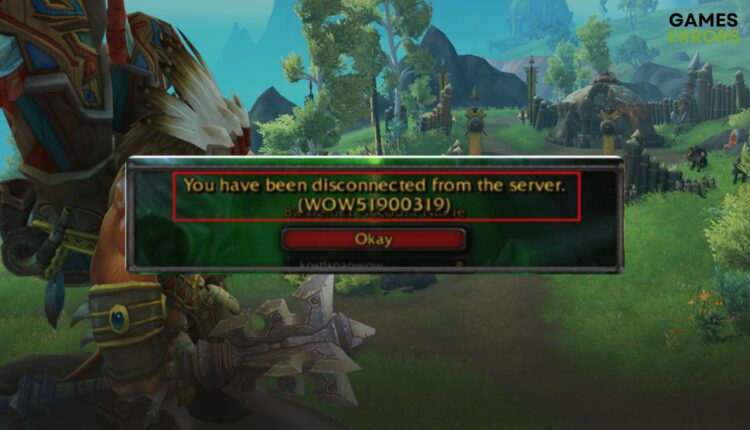 WoW51900319: How to Fix This Error Successfully
If the WoW 51900 error 319 keeps bugging you, change the DNS and modify these in-game settings ✅
X
INSTALL BY CLICKING THE DOWNLOAD FILE
If you encountered the following notification "you have been disconnected from the server -wow51900319". This article will show you the most effective methods to get rid of this problem.
Undoubtedly, the World of Warcraft is an excellent and one of the most popular games out there. However, a lot of gamers have been encountering the error code WoW51900319 in recent days. If you are one of these unlucky users, don't worry. This article will explain why it happens and how to fix it.
Why do I keep getting WoW51900319?
Usually, when you get disconnected from the World of Warcraft server, the game will trigger the WoW 51900 error 319. It may occur while playing the game or logging in. If you dig deeper into why it happens, you will end up finding any of the following reasons:
Network problem: The most common reason behind the WoW51900319 error is the network-related issues from your end. If your internet is unstable or there is something wrong with your configuration, you will end up getting this error on this game.
Server issues: If the World of Warcraft server is under sudden maintenance or there is something wrong, a WoW51900319 error may appear.
Improper Settings: Improper settings on your PC or the game may be the reason why this error code is popping up.
Problematic network driver: Problematic network driver may fail to deliver the expected performance, which may be why you are getting this type of error on World of Warcraft.
Problematic components: Else, related game files and components may become corrupted at any time. It can be another reason behind this WoW 51900 error 319.
Whatever is causing the problem, you should not worry. The instructions featured in the next part of this article will definitely help you.
How do I fix WoW 51900 error 319 in World of Warcraft?
Before getting started, we suggest you do the following things:
Check the World of Warcraft server status and determine whether it is a problem from your end or it's a serverside error or not.
Ensure that you have a stable internet connection and you are not using any proxy or VPN.
Power cycle your PC, router, and other network equipment and see if it helps.
Now, if needed, follow these methods to fix the WoW error 51900319:
1. Change DNS
Time needed: 2 minutes
To fix the WoW 51900 error 319 on your PC, you should start by changing the DNS settings.
Select Manual.
Enable IPv4.
Restart your PC.
If you are already using Google DNS (8.8.8.8), try something else and see if it helps
2. Update network driver
An outdated network driver might be the cause of WOW51900 because it could make your network work in a faulty way. Also, if the network driver doesn't work properly, you might experience high ping and lag.
Double-click on the Network adapters.
Right-click on the network driver you are using and then click on Update driver.
Click on Search automatically for drivers.
Follow any onscreen instructions to finish the process.
Update your graphics driver, too, to improve gaming performance.
We suggest you use Outbyte Driver Updater over any other options to update any driver on your PC. This tool is capable of updating multiple drivers at once. In addition, it is more powerful and can find and install the most recent version of official drivers.
3. Reset network settings
The WoW51900319 error may appear due to improper network settings. So, resetting the network may solve the problem. To do it, follow these steps:
Go to Windows Settings.
Click on Network Reset.
Next, click on Reset.
Restart your PC.
4. Run internet troubleshooter
Open the Windows Settings.
Go to Other troubleshooters.
Go ahead and follow any onscreen steps to complete the process.
5. Tweak the Display mode
Tweaking the display mode in the World of Warcraft game settings is a weird but very effective method to solve WoW error 51900319. In various forums, gamers have reported that this method worked for them. Here are the steps to follow:
Launch the World of Warcraft.
Go to Menu.
Click on System.
Navigate to the Graphics tab.
Save it.
Relaunch the game.
6. Tweak Optimize network for speed settings
Go to System in WoW like before.
Navigate to the Network tab.
Tick Optimize network for speed if it's ticked. Or untick if it's ticked.
Save it and relaunch the game.
7. Reduce Max background FPS
Go to World of Warcraft's graphics settings like method 5.
Scroll down and look for the Max FPS.
Reduce it or set it to 30 FPS.
Save this setting and relaunch WoW.
8. Repair the game files
Open the Battle.net app.
Go to All games and then click on Installed.
Go to World of Warcraft.
Click on Begin Scan.
Finish the process.
Now, try to play the World of Warcraft again and see if the error still exists or not.
Related articles:
These are the most effective methods to fix WoW 51900 error 319. We hope that your game is fixed by now, and that you are back in the game. Let us know in the comment box which method has solved your problem.