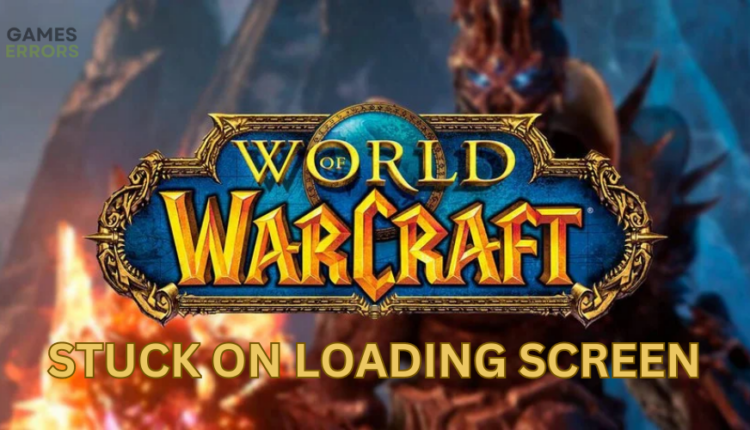 WoW Stuck On Loading Screen: How To Make It Work
When WoW gets stuck on loading screen, it hinders gameplay. Luckily, we can help fix this below ⤵
World of Warcraft (WoW) is a successful Blizzard gaming title with thousands of fanatics across the globe. Unfortunately, WoW has its share of issues that ruin the gaming experience. One such problem is the WoW stuck on loading screen error.
Players have reported the game freezes during launch, takes more than 5 to 10 minutes to load, or gets stuck on the loading screen and crashes. If this is happening to you, we have created this troubleshooting guide to walk you through the error and how you can fix it.
Why is WoW stuck on the loading screen?
There's no exact reason why WoW gets stuck on the loading screen since various factors may cause the error. These include:
Malware, antivirus, or firewall causing problems
Programs running in the background causing interference
Server delays and congestion
An unstable or poor internet connection
Problems with your World of Warcraft game files
Outdated or missing graphics drivers
How to fix WoW stuck on loading screen?
✅ Try these simple troubleshooting steps first before implementing our fixes:
Confirm World of Warcraft servers are up and running, as delays, outages, and congestion can trigger loading issues.
Scan and repair World of Warcraft files to remove corrupted and missing files. We have a guide on how to verify the integrity of games files.
Confirm your internet connection is stable and offers reliable speeds.
Temporarily turn off your antivirus or firewall when launching WoW. Another alternative is to add WoW to the Windows firewall exception list, ensuring your PC doesn't mark it as a virus/threat.
Close unnecessary background processes running in the background to prevent interference.
If you encounter the WoW stuck on loading screen issue, try these fixes:
1. Reset your user interface
Time needed: 2 minutes
Blizzard's support team recommends players reset their user interface to fix the stuck on loading screen issue. This method removes corrupted addons and files while refreshing the game, ensuring it loads successfully. Here's how to do this:
Exit WoW

Press the WoW exit button to close the game completely.

Remove any addon managers

If you have any addon managers, remove them.

Launch Battle.net

On your desktop, launch Battle.net and navigate to the Options tab. Click Show in Explorer.

Open WoW

Find the World of Warcraft folder. You'll have to open the WoW version you're troubleshooting in this folder, like Retail or Classic.

Rename folders

After opening the game folder, locate the Interface, Cache, and WTF folders. Rename these folders to InterfaceOld, CacheOld, and WTFOld.

Relaunch WoW

Relaunch WoW to apply the changes and see whether it loads successfully.
2. Update the graphics driver
Sometimes, old graphics drivers may cause issues when launching, such as World of Warcraft not responding on loading screen. It's advisable to update these drivers to ensure the game loads successfully. Here's how to do this:
Manually
Open Device Manager on your PC.
Click on Display Adapters from the context menu. This will expand the category.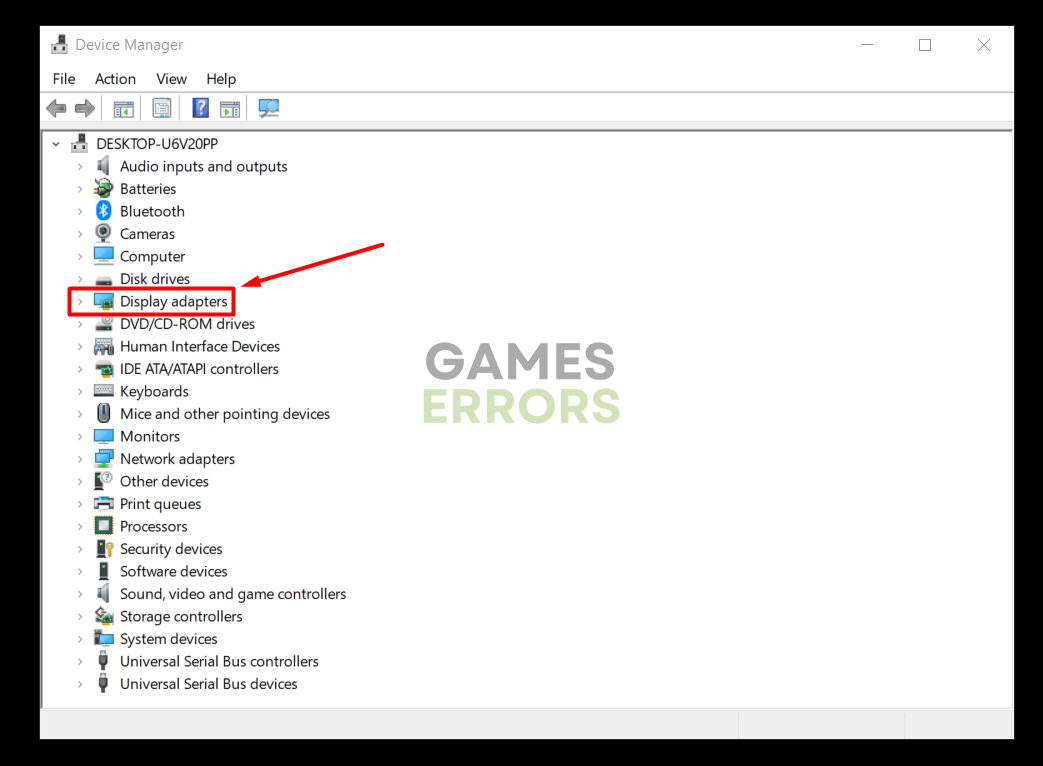 Locate the graphic card driver you wish to update, right-click it and select Update driver.
Windows will ask how you want to search for graphic card drivers. Select the first option – Search automatically for drivers.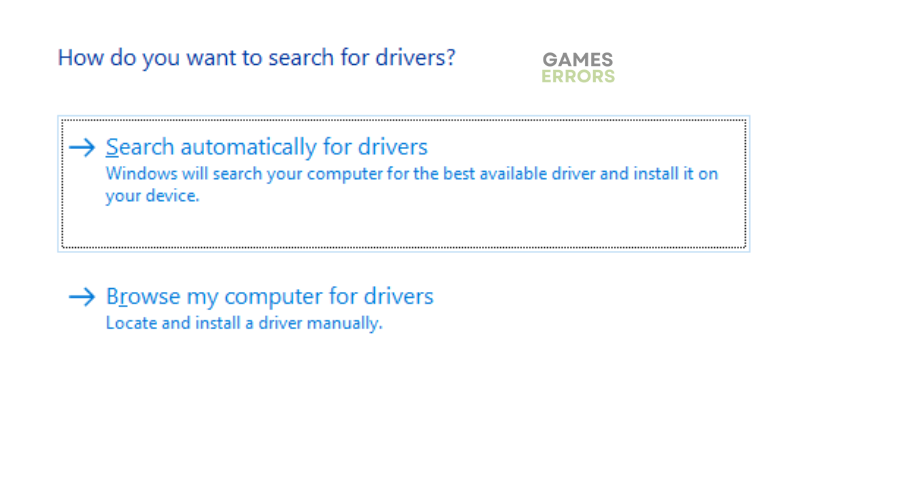 Wait for the process to complete, and restart your PC to apply the changes.
Launch WoW to see if it gets stuck on the loading screen.
Automatically
We understand that not everyone has the computer skills, knowledge, time, and patience to update their drivers manually. We recommend Outbyte Driver Updater, a third-party tool that automatically updates your drivers. Download the application to search for and install the latest drivers on your PC, so you don't have to.
⇒ Get Outbyte Driver Updater
3. Reset your network connection
Problems with your network connection may cause WoW to get stuck on the loading screen. Consider resetting your network to diagnose and solve connection issues on your PC. To do this:
On the Windows Search Bar, type Network Reset. Click Open on the left pane to open it.
Click Reset now to reset your network connection.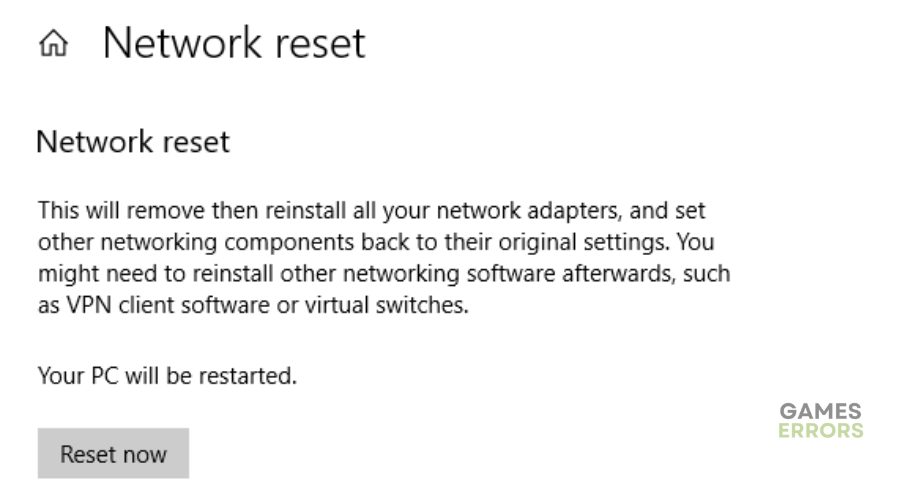 If prompted with a confirmation, click Yes.
Allow Windows to reset your network and let your PC restart.
Try loading WoW to see if it solves the problem.
4. Use a wired Ethernet Connection
If you are not using one already, try improving your network connection and server stability by using an Ethernet connection. To do so, you will need an Ethernet cable, which you can pretty much get from any hardware store. Then plug the cable into your router and into your PC, and restart World of Warcraft. This solution should be a permanent WoW stuck on loading screen fix.
5. Change your IP address
To fix World of Warcraft not responding on the loading screen, you can try to change your IP address. The process is simple, and it doesn't require any third-party programs. In fact, you can do it with the previous solution. All you have to do is unplug your router for a couple of minutes and wait for your ISP (Internet Service Provider) to recycle your internet address and give you a new one. Yet, for this to work, it is very important to wait a couple of minutes. Otherwise, you will get your old internet IP. Hopefully, this solution will fix your long log screens in WoW.
Another method is to call your ISP and to ask them to change your network IP. However, this method might take some time and they might ask you to repeat the steps above.
Related articles:
The WoW stuck on loading screen issue has affected many players, preventing them from launching the title and playing with teammates. Remember to reset your interface, update your drivers, and reset your network, as it may help fix the issue.