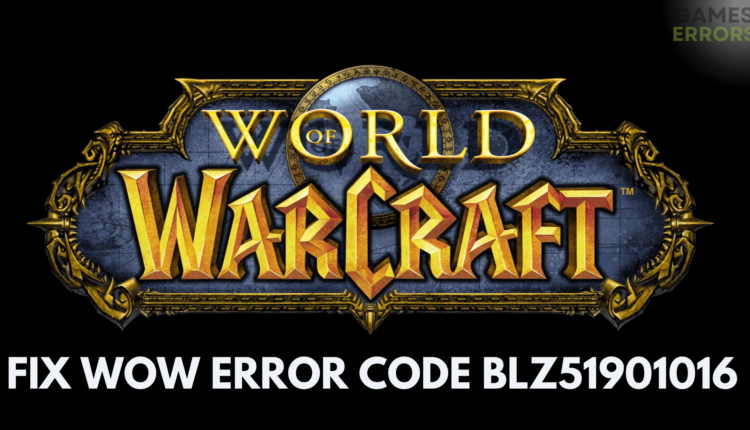 World of Warcraft Error Code BLZ51901016 [Fixed]
WoW Error Code BLZ51901016 is a network-related issue that can be fixed easily following our step-by-step guide ⤵️
World of Warcraft is a great online RPG and it keeps players from all over the world entertained with frequent updates, and a great ongoing story. So, it's something of an annoyance when you can't play that game because of WoW error code blz51901016.
You have been disconnected
Disconnected and now stuck at retrieving the realm list

---

Error Code: BLZ51901016
However, the good thing is that you can fix the WoW error code easily and quick with the potential resolutions below.
What causes the World of Warcraft error code BLZ51901016?
WoW blz51901016 is typically a connection (network-related) issue, as highlighted by its message. These are some of the potential causes for the World of Warcraft error code BLZ51901016:
Corrupted game data or add-ons: This issue can occur because of corrupted World of Warcraft cached data or add-ons.
Background software conflict: There might be a conflicting background service or app causing error BLZ51901016.
Outdated or corrupted DNS cache data: Connectivity issues arise because of old or corrupted DNS cache data.
An overloaded router: Connection errors like BLZ51901016 can also occur when a router is overloaded or flooded with data.
How to fix error BLZ51901016?
To fix error BLZ51901016, try the solutions below:
Table of Contents
1. Power cycle the modem and router
This is the turn it on and off solution which might fix WoW error blz51901016 in no time. The great thing is that by power cycling your modem and router for a few minutes might also change your IP.
First, turn off your Windows PC.
Then unplug both your modem and router.
Wait a couple of minutes.
Plug your modem and then router back in and turn them on.
Wait for all the connection lights to appear.
2. Flush the DNS cache
It is actually recommended to flush the DNS cache once in a while because it improves your network-related services, allows you to visit the most up-to-date version of the sites you visit frequently, and protects your PC from internet attacks. Additionally it might fix your blz51901016 error.
Press your keyboard's Windows + R keys and enter CMD into Run.
Then press the Ctrl + Shift + Enter hotkey for opening apps with admin rights.
3. Disable background services and apps
Closing unnecessary processes like services and apps will increase your system's resources, which it will be able to allocate more towards the game. As a result, it might solve the BLZ519 error in WOW. Also, by doing this you will increase your overall system performance and improve the functionality-related processes.
Open Run, input msconfig, and click OK.
Select Services within the System Configuration window's tab bar.
Select the checkbox labeled Hide all Microsoft services.
Click Disable all to deselect selected checkboxes for services.
Select Apply to save your new boot setup.
Press OK to exit the MSConfig tool.
Click Restart when asked to reboot.
Open Battle.net and try playing World of Warcraft after the restart.
4. Reset World of Warcraft's UI
Sometimes the core code of World of Warcraft might interfere with other mods and applications and the UI might get faulty in the process generating WoW blz51901016. You can fix it easily by following the few steps below.
Bring up World of Warcraft's Battle.net software.
Click the cog icon on the World of Warcraft Play button.
Next, navigate to the World of Warcraft folder from there.
Select to open the _classic_, _retail_, or _classic_era_ folder depending on the World of Warcraft version you're troubleshooting.
Then right-click the Cache folder to select Rename.
Input CachedOld for the new folder name.
Repeat step six for the Interface and WTF subfolders. You should rename those folders to InterfaceOld and WTFOld.

5. Set a Google DNS
Using a Google DNS over a general DNS will greatly improve your performance in many cases. Also, the speed will be better with a public DNS. Do it by following the steps below.
Press the Windows key + S to type Control Panel in the search box.
Select Control Panel to open that app's window.
Click on Network and Internet within the Control Panel. If you can't see that, click the Category option on the View by menu.

Select the Network and Sharing Center applet.
Then right-click on your internet network adapter and select Properties.
Enter the Google 8.8.8.8 address within the Preferred DNS server box.
Input the Google 8.8.4.4 address into the Alternative DNS box.
Select the Internet Protocol Version 4 window's OK button.
Click Close in the other window.
6. Reset your network
Time needed: 5 minutes
Resetting your network connection might fix wow blz51901016 for good. The best part is that it doesn't even take long, and in a few minutes you can go back to grinding.
Open Settings' System tab by pressing that app's Windows logo button + I keyboard shortcut.

Click on the Network & internet tab and Advanced network settings.

Select the Network reset navigation option.

Click on the Reset now button and select Yes to confirm.

Restart the PC after resetting your network.

Then you'll need to re-establish your internet connection with its password.
Related Articles:
We hope that our solutions fixed your game for good and that you are already back farming. However, if they're not enough, consider submitting a support ticket to Blizzard saying that you tried everything. You can submit a help ticket from the Support page on the Blizzard website.