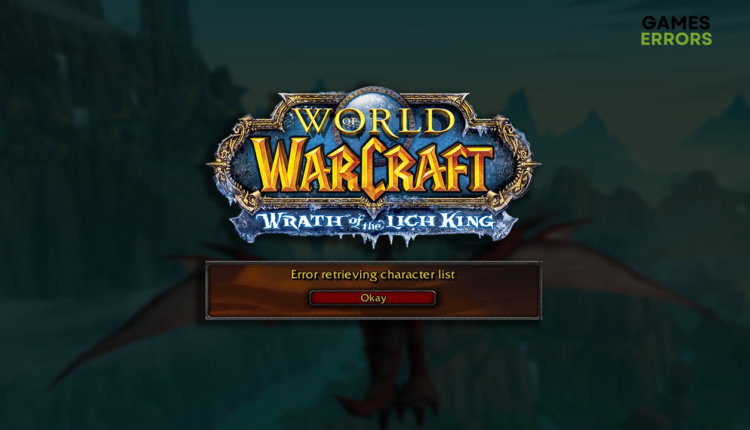 WoW Error Retrieving Character List: Fix It Easily
Can't play your favorite MMORPG due to an annoying network error? Relax! We are here to help you! 👾
The excitement about your gaming session can be ruined when you realize that a WoW error retrieving character list occurred. This is why we investigated the issue and came out with a complete list of causes and suitable fixes.
Are you struggling with latency when playing this famous MMORPG? Learn how to decrease lag spikes in WoW.
Why do I get an error retrieving character list in WoW?
You get the error retrieving character in Wow due to Realm downtime, problems with the internet connection, incompatible game modifications, an outdated network driver, pilled-up cache files, faulty DNS settings, or problematic network settings.
How to fix WoW error retrieving character list?
Begin troubleshooting the issue with some quick fixes and easy checks:
Check the Realm status: Blizzard offers a convenient way to check the Realm status you are playing on. Use filters to quickly find the Realm in your region or search for it by name.
Check the internet connection: Use another app to check if the internet connection is working. You can also use another device to ensure the internet works properly on the whole network.
Disable game modifications: If you installed mods to enhance your experience in World of Warcraft, disable them and try connecting to the Realm again.
Proceed with the solutions listed below.
1. Update the network driver
Time needed: 5 minutes
You must update your network driver to ensure your internet connection works flawlessly, which is needed for your WoW client to communicate with the game server.
Click the Windows icon, type Device Manager, and open it.

Double-click on the Network Adapters section.

Right-click on your internet adapter and select Update driver.

Select the Search automatically for drivers option.
Install the driver update.
Restart your PC.
Tired of manually monitoring and updating drivers? Meet your new best friend, Outbyte Driver Updater! This driver updater tool will take full responsibility for network and other driver updates so you can enjoy games interruption-free.
2. Delete cache files
World of Warcraft and other games on your PC store cache files. The role of these files is to help apps launch quicker and run smoother. However, if some files are not saved properly, they will be corrupted, and you might experience issues such as the retrieving character list error.
Use the Windows Key + R shortcut to open the Run dialog, type %localappdata%, and hit OK.
Press CTRL + A to select all files in the folder.
Hit the Delete key to delete all the files in the folder.
➡ If prompted to confirm, click on Yes.
➡ If some files can't be deleted, click on Skip.

3. Use the Google DNS
Domain Name System serves as a map for devices connected to the internet. Although Windows automatically assigns good DNS, we advise you to set Google DNS as the preferred one manually.
Use the Windows Key + R shortcut to open the Run dialog, type control, and hit OK.

Choose View network status and tasks under the Network and Internet section.

Click on the Change adapter settings in the panel on the left.

Right-click your internet network and select Properties.

Double-click Internet Protocol Version 4 (TCP/IPv4).

Enable manual DNS server addresses and set the following addresses:
➡ 8.8.8.8 for the Preferred DNS server
➡ 8.8.4.4 for the Alternate DNS server

Press the OK button and restart the PC.
Extra steps
Some players will face more difficulties fixing the WoW error retrieving the character list, so we are leaving a few extra tips on how to fix it:
🌎 Change the Realm: If the problem is related to the Realm you are playing on, you can connect to another one while the problem isn't fixed on the main Realm.
🌐 Use an alternative network: If you notice any problems with your network, we advise you to switch to another one. You can use a mobile hotspot to check if this is the issue.
❌ Disable the VPN: Although it can be convenient to tunnel your connection and protect your identity by using VPN, we advise disabling it to avoid retrieving character list errors in WoW.
Related articles:
Conclusion
These were the most common causes and solutions for the WoW error retrieving character list issue experienced by many players. Comment and let us know how it went for you, and don't forget to share any working fixes you discover on the way.
If you encounter any issues or errors while playing your favorite games and require support, feel free to contact us here. Our team is always ready to assist you and ensure your gaming experience is seamless and enjoyable.