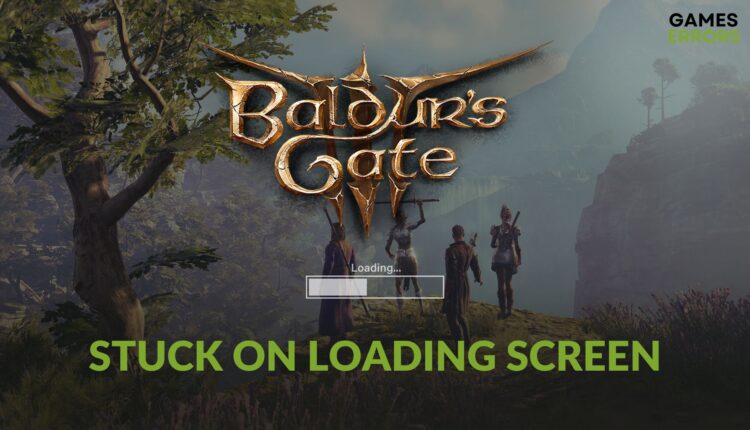 Baldur's Gate 3 Stuck on Loading Screen [Fixed]
If the BG3 gets stuck while loading, you won't be able to explore the exciting universe of Dungeons & Dragons. So, follow these tricks from this post and fix this problem 🎯
Larian Studios' Baldur's Gate 3 may get stuck on the loading screen on your PC if something goes wrong. The good thing is you can easily solve this issue and enjoy a smooth gaming experience.
After the early release version was published, this game got overwhelmingly positive feedback from gamers. Still, it's not without technical issues. Many players may go through infinite loading screen problems on BG 3. In this article, we will explore the best troubleshooting methods to solve this issue.
What causes Baldur's Gate 3 long load times?
Behind Baldur's Gate 3's long load time or infinite loading screen problem, these are the most common factors:
GPU driver problem: Incompatible or problematic graphics card drivers can be another reason why BG 3 may get stuck while loading.
Unsuitable settings: Improper in-game and Windows settings can be why this title is taking an infinite amount of time to load.
Hardware limitations: In some situations, BG 3 may need to utilize extensive CPU and GPU power to operate normally. If your PC doesn't have powerful hardware, this RPG will take forever or a very long time to load.
Corrupted components: Problematic, corrupted, or missing game components also can stop this game from loading on a certain period.
How can I fix Baldur's Gate 3 stuck on the loading screen?
To be sure about your PC's capacity to run this tile, please check the system requirements of BG 3 and ensure that everything is OK. Then, complete these preliminary steps:
After finishing these steps, try the following methods to fix Baldur's Gate 3 stuck on the loading screen:
1. Switch between DirectX 11 and Vulkan
Run Baldur's Gate 3.
In the initial launcher, click on the settings (gear icon) next to the Play button and then mark DirectX 11.
Now, relaunch it.
2. Update the graphics driver
Time needed: 4 minutes
If you want to fix the infinite loading screen problem on Baldur's Gate 3, immediately install the latest graphics driver for your GPU. It will fix the problem.
Click on Search automatically for drivers.
Complete any additional steps.
Restart your PC.
Use Outbyte Driver Updater if you want to get the most appropriate version of the latest GPU driver conveniently. In addition, this tool has a lot of features that will help to improve your experience.
⇒ Get Outbyte Driver Updater
3. Disable battery mode and tweak graphics preference
Press Win + I on the keyboard to open Windows Settings.
Enable Best Performance mode, as shown in the screenshot.
Navigate to Graphics.
Select Baldur's Gate 3 and click on Options.
Restart Windows.
4. Disable the in-game overlay
Launch Steam.
Go to its Settings.
Go to the In-game tab.
Relaunch Steam.
Similarly, disable overlay features from other apps like GeForce Experience. This method will also fix other Baldur's Gate 3 problems.
5. Delete saved game files
If the saved progresses are not synced properly, you may lose the progress. So, carefully try these steps to fix the infinite loading screen issue on BG 3:
Open the File Explorer.
Go to the Documents folder.
Navigate to the My Games.
Go to Baldur's Gate 3 folder.
Now, delete all its contents.
Now, run Baldur's Gate 3 and see whether it still freezes on the loading screen or not.
More methods to fix the Baldur's Gate 3 Stuck on Loading Screen issue:
Still, having the infinite loading screen problem on BG 3? Consider the following methods:
Repair common disk problems.
Try to run this title in clean boot mode.
Check for Windows updates and install any available ones, including the optional updates.
Re-install the game if nothing works.
Related Baldur's Gate 3 articles:
The above methods are enough to fix Baldur's Gate 3 stuck on the loading screen. As the problem also depends on your PC's capability, consider upgrading your hardware as necessary. Let us know in the comment box if you have any better suggestions.