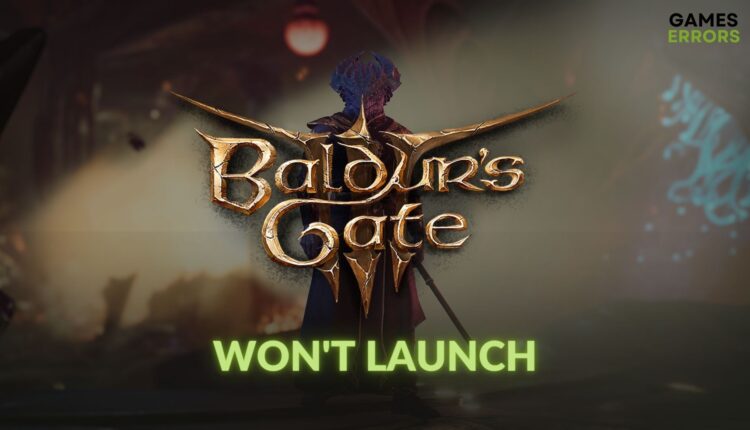 Baldur's Gate 3 Won't Launch: Fix It in No Time
Baldur's Gate 3 not launching issue may prevent you from getting the spellbinding adventure in the fantasy universe. So, learn how to fix this issue from this article 👇
The new Baldur's gate 3 won't launch issue may bug you like many other gamers. But if you know how to deal with it, there is nothing to worry about.
The latest edition of the epic Baldur's Gate game series has a lot of new improvements. This next-generation RPG's game mechanics is incredible. You have the unlimited freedom to explore this title in your own way. But the excitement will fade away if you see that Baldur's gate 3 not launching on your PC, no matter what.
Why won't Baldur's Gate 3 launch?
Baldur's Gate 3 is not launching because there is either a bug preventing the game from properly working or because your system does not have the requirements to run it smoothly. Also, the most common causes why the BG 3 may not be launching a PC are the following:
Third-party apps: Antivirus, firewall, and some other third-party apps are known to cause issues with the game launching process.
Problematic GPU driver: If the GPU driver is missing, corrupted, or outdated, BG 3 not launching problem may appear.
Problematic settings: Incorrect power settings and in-game settings can also prevent Baldur's Gate 3 from launching on a Windows PC.
Problematic components: Corrupted cache. Game files and components are very common reasons behind this type of issue.
Another reason would be Baldur's Gate 3 launcher not working.
How do I launch Baldur's Gate 3 on Steam?
If Baldur's Gate 3 won't launch on Steam, make sure that your PC meets the system requirements of BG 3. If there are no issues, check for corrupted or missing game files with Steam's Repair Tool. However, if the previous solutions don't work, to fix the Baldur's Gate 3 not launching on Steam problem, follow the steps below:
Disable your antivirus and firewall or allow BG 3 through them.
Disable battery or power saving mode from Windows Settings.
Borrow someone else's Baldur's Gate 3 folder from Documents/Larian Studios. Their settings and saves might help you deal with the Baldur's Gate 3 not-launching issue.
Use GeForce Experience: While I don't like limiting my game by using the GeForce Experience optimization, at times it is really useful and it can boost fps in games and fix problems such as BG 3 won't launch.
Now, you can try the actual solutions mentioned below to fix Baldur's Gate 3 not launching:
1. Run as an administrator
Running Baldur's Gate 3 as an administrator will allow the game to gain more control over your system, and it might also increase the overall performance.
Using file explorer, go to Baldur's Gate 3 installation folder.
Right-click on the bg3.exe file, and go to Properties.
Go to the Compatibility tab.
Click on Apply and OK.
Now, try to run Baldur's Gate 3 and see if your PC successfully launches it.
2. Update the GPU driver
Outdated GPU drivers can cause more harm than good as they might not properly sync with your other drivers or processes. Thus, an easy solution for the Baldur's Gate 3 Won't Launch error is to upgrade the graphics driver. This almost always works for me, I think is due to the fact that newer graphics drivers are usually optimized for the latest launches.
On the Windows Search Box, type Device Manager, and hit Enter.
Expand Display adapters.
Right-click on the GPU driver and click on Update driver.
Click on Search automatically for drivers.
Finish the process.
At last, restart your PC.
Aditionally Rollback your GPU: If prior to your GPU update you never had the Baldur's Gate won't start issue, you should get another more stable version of the driver. I tend to rollback my GPU if I see that the latest version is not giving me the optimizations needed for the game.
We highly recommend you use Outbyte Driver Updater for updating the GPU driver. Unlike device manager, this tool can find the most current version of the driver and install it on your PC. As the drivers are game-ready, you will be less likely to encounter various gaming-related problems.
⇒ Get Outbyte Driver Updater
3. Switch to DirectX 11
By default, BG 3 uses Vulkan API. If you cannot launch this item on your PC, change it to DirectX 11 by following these steps:
Run the Baldur's Gate 3 launcher.
Now, relaunch the launcher and try to play BG3, and see what happens.
4. Repair Visual C++ packages
Most games need the Visual C++ packages, and they are automatically installed at the beginning or end of an installer. But sometimes they might get faulty due to the fact that newer updates are installed over the old ones. A faulty Visual C++ can lead to Baldur's Gate 3 not launching issues and more.
Download the library for the appropriate architecture.
Install it, and then restart your computer.
Now, you can try to run the game, and if Baldur's gate 3 won't start you can go to the next solution on the list.
5. Clear cache
Time needed: 2 minutes
If you see that Baldur's Gate 3 won't launch on Steam, clear the game's cache . It's one of the most practical ways to fix this problem.
Wait for a few seconds and relaunch Steam.
After clearing the cache, try to open Baldur's Gate 3 and see if this solution has successfully worked or not.
6. Baldur's Gate 3 won't launch on Mac
If Baldur's Gate 3 is not launching on Mac, the game might lack some of the file access it needs to run. Follow the steps below to give the game access to the needed files.
Go to System Preferences and then select Security & Privacy
Under the Privacy tab look for Full Disk Access
Click on the + and add the "Baldur's Gate 3.app" from the Baldur's Gate folder
Additional solutions for the Baldur's Gate 3 won't start problem:
Update DirectX and install the missing Visual C++ dependencies.
Verify the game files: Corrupted or missing game files might be the reason why BG3 won't launch. However, it is easy to verify and fix them because you can just use the launcher's repair files.
Run the game in compatibility mode: While it's odd that this solution works given how fresh is Baldur's Gate 3 as a game it is worth trying if other things failed.
Remove Mods: Sometimes it is better to run BG3 without mods at all. While they might improve the overall game, there is also a chance for them to make the game more unstable.
Update your Windows: We also suggest you check for Windows updates and install any available ones. If possible, install the optional Windows updates from Advanced Settings. It will also update the .Net Framework, which is helpful in fixing BG3 won't launch and other game-related issues.
Disable any Overlay apps: There are times when the overlay apps might create a conflict with the game, so you should get rid of them or at least find additional ones that are compatible with it to avoid the Baldur's Gate won't start problem.
Reinstall Baldur's Gate: If BG 3 is not launching at all, even after all of the fixes, try this method.
Related Articles:
Final Thoughts:
If you can complete the steps mentioned above successfully, it should fix the Baldur's Gate 3 won't launch problem. However, in some cases, you may still encounter the same problem. So, consider performing a clean boot and trying to play the game again. The game is still fresh, and as a result, we might get more fixes directly from Larian Studios. Do you have any opinions? Write in the comment box.