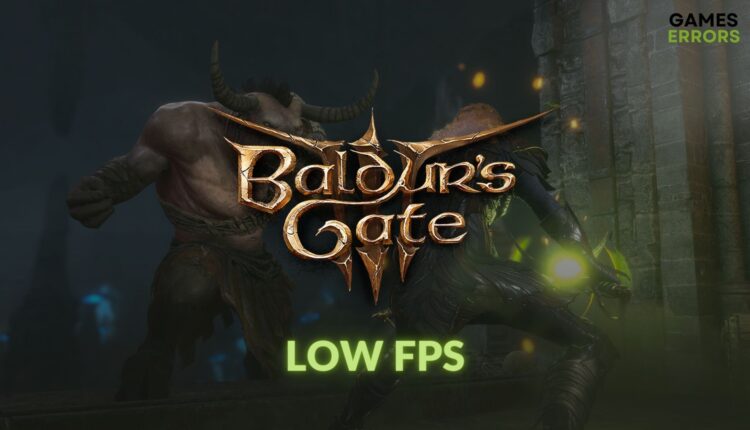 Baldur's Gate 3 Low FPS: Easily Fix the Performance Issues
Good FPS is necessary to explore the stunning Dungeons & Dragons universe of BG3. Try the solutions from this article to how to make Baldur's Gate 3 run better 🚀
You may be going through Baldur's Gate 3's low FPS problem on your PC. If there is no issue with your PC's capacity, you can easily fix this issue.
To have the ultimate adventure, you may explore the vast world of BG 3. But low frames per second or FPS problems can harm your experience with this stunning-looking fantasy RPG game. To enjoy the gameplay with excellent visuals, you must take steps to solve Baldur's Gate 3 performance issues.
Why is Baldur's Gate 3 so laggy?
Baldur's Gate 3 is experiencing considerable lag and reduced frame rates due to the overwhelming player base, with more than 800,000 individuals actively engaging in the game. This high demand places a strain on the game's servers and hardware resources, contributing to the observed performance issues such as low FPS and lag.
You might also have corrupted game files or outdated drivers. Additionally, for stuttering, lagging, frame drops, or any other Baldur's Gate 3 performance issues, below you will find a list featuring the most common reasons:
Problematic settings: If your settings in the game, on Windows, or in the launcher are not suitable, you will get poor performance from Baldur's Gate 3; Hence, the FPS will be lower than expected.
Background services: Too many background apps can prevent BG3 from utilizing your GPU, CPU, and Memory, which can cause laggy performance issues.
PC's limitations: Even if your PC meets the system requirements, it doesn't mean you can get the maximum performance from this title because of several factors.
GPU driver issues: Outdated or incompatible graphics drivers are another common issue that can cause low FPS problems on Baldur's Gate 3.
Many other things, like overheating, server lag, disk performance issues, etc., can also cause Baldur's Gate 3 low fps problems.
How to make Baldur's Gate 3 run better?
To increase your FPS in Baldur's Gate 3, you can switch to lower settings, change the resolution of the game, play with fixed FPS, or follow the solutions below:
Check the system requirements of BG 3 and make sure everything is alright.
Disable your antivirus and firewall.
Enable game mode and disable Fullscreen optimization.
After completing the above steps, try the following detailed solutions to boost performance and get rid of the low FPS problem on Baldur's Gate 3:
1. Kill extra background services
Navigate to the Processes tab.
Select the suspicious or resource-hungry service and then click on End Task.
Disable all other unnecessary processes.
Closing the background processes has proven to be an effective way to deal with FPS Drops and other BG3 performance issues because it allows the system to function better by reducing the workload.
2. Update the graphics driver
Updating the GPU driver to the latest version can dramatically improve the FPS on Baldur's Gate 3. Additionally, it can help you deal with the Baldur's Gate 3 fps drops issue. Here are the steps to follow:
Right-click on the start button and then click on Device Manager.
Double-click on Display Adapters to expand it.
Next, right-click on the GPU driver and then choose Update driver.
Click on Search automatically for drivers.
After completing the update, restart your PC.
To get better performance from high-end games, update GPU drivers using Outbyte Driver Updater. This tool can find the latest suitable game-ready driver and install it automatically on Windows 11 or 10.
⇒ Get Outbyte Driver Updater
Your Baldur's Gate 3 poor performance should be boosted quickly by updating the GPU driver.
3. Tweak Windows graphics preferences
Press Win + I to open the Windows Settings.
Go to Graphics.
Select Baldur's Gate 3 and then click on Options.
Restart Windows.
In some cases, you may not see BG3 in the list. You can add it manually. This method will also help if you encounter an infinite loading screen issue on BG3.
4. Roll back the GPU driver
Open

Device Manager

.

Right-click on the GPU driver and go to Properties.

Navigate to the

Driver

tab.

Finish the process.

Restart Windows
Rollback a GPU driver can also fix various game problems, such as Baldur's Gate 3 fps drops.
5. Re-install the GPU driver
Time needed: 2 minutes
Re-installing the GPU driver can be a very effective method to resolve the low FPS problem on Baldur's Gate 3.
Restart Windows.

Go to

AMD

, 

Intel

, or 

NVIDIA driver download site

.

Download the driver.
Install it and restart your PC.
6. Optimize in-game settings
If you are playing with the highest settings, we recommend you lower them. Not all GPUs can deliver smooth performance, as it's a pretty graphics-intensive game. Also, disable VSync from Baldur's Gate 3's in-game settings. Make sure to untick the Framerate cap and lower the overall preset quality.
Then play BG3 and see if the low FPS issue still exists.
✜ Additional Baldur's Gate 3 FPS fixes:
In case you still need solutions, try the following ones:
Update DirectX and the Visual C++ library.
Ensure that your computer is not experiencing any overheating problems.
Update Steam and the game.
Update Windows, including the optional updates.
Run the game in clean boot mode to see if it helps.
Re-install the game.
Related BG3 Articles:
This article has explained how to fix Baldur's Gate 3 low FPS problem and why it occurs. However, if the problem persists, we suggest you re-install the game on a different SSD drive and see if it helps. Alternatively, consider upgrading your GPU. If you have any questions or suggestions, please write them in the comment box.