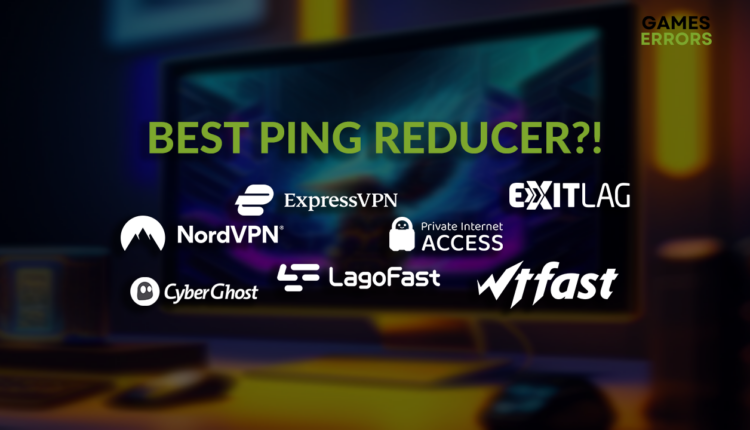 Best Ping Reducer for Gaming: 7 Picks of 2023 Rated By Gamers
Are you having dilemmas about this difficult choice? No worries, we've got you covered! 👾
Finding the best ping reducer isn't easy, considering how many providers on the market claim to be the best. We are here to untangle the topic, and after checking out some of the best ones, we are bringing you the list of the top 7 ping reducers you can use on your PC to boost your online gameplay!
What is a ping reducer?
Ping reducer is a software that lowers your ping in online games. Instead of connecting to the game server directly, your connection is rerouted through the service provider server. This way, you avoid routes with slow speeds and high latency.
Choosing a reliable ping reducer software is crucial so you don't get a bigger ping than usual. That's why we are here to help you with our analysis of the top providers in the market!
How do I lower my ping in games?
To lower your ping in games, there are many options you can try. We recommend two easy things: a wired connection and a gaming-optimized VPN. But, of course, there are plenty more solutions worth trying:
Wired Connection: Use Ethernet instead of Wi-Fi for a more stable connection.
Choose Closer Servers: Pick game servers near your location for lower ping.
Gaming VPN: Consider a VPN for optimized routing or a specialized tool.
Reduce Network Congestion: Limit bandwidth-heavy activities while gaming.
Quality Hardware: Use a modern router/modem for improved latency.
Close Background Apps: Shut down apps that consume bandwidth.
QoS Settings: Prioritize gaming traffic in router settings.
Optimize Game Settings: Adjust in-game settings for better performance.
Firmware Updates: Keep router firmware up-to-date.
Network Upgrades: Upgrade router/modem if needed.
Upgrade Internet Plan: Opt for a higher-speed plan for better performance.
Contact ISP: Reach out to ISP if issues persist.
💬 If you're curious, you can explore our comprehensive guide about high ping in games and how to reduce it easily.
Which is the best ping reducer for gaming?
📝 Editor's note: In pursuit of an improved gaming environment, we've undertaken comprehensive testing of these VPNs and ping reducer software with our avid gamers. The resulting list is organized by relevance, taking into account factors like performance, latency reduction, and user satisfaction.
1. ExpressVPN – The Most Popular Choice of Gamers With Unlimited Bandwidth

This is one of the most popular providers globally for general VPN services and gaming. Being part of the business for almost a decade and a half, ExpressVPN prioritizes security and latency.
🌐 Here is why you should consider ExpressVPN as your ping reducer:
Unlimited bandwidth.
Servers in more than 90 countries worldwide.
256-bit AES DDOS protection.
30-day money-back guarantee.
2. NordVPN – Wide Range of Servers With the Split Tunneling Feature

If you watch YouTube and regularly browse the internet, you probably heard about NordVPN. Since it started providing its services in 2012, the company has grown exponentially, which tells you a lot about the quality of its service. Also, many good deals are available on their website.
🌐 Here is why you should consider NordVPN as your ping reducer:
More than 5700 servers in more than 60 countries.
Dark Web Monitor for compromised accounts.
Mask your IP address and prevent your ISP from slowing your speeds.
Split tunneling allows you to enable it for some apps and disable it for others.
Millions of users use PIA to ensure their connection is safe and doesn't suffer high ping. Offering fast connections in combination with the 10 Gbps network makes this an excellent choice for demanding gamers.
🌐 Here is why you should consider Private Internet Access as your ping reducer:
Open-source software guarantees your data isn't stored.
Thousands of servers in more than 60 countries.
Built-in ad blocking.
24/7 customer support to resolve any technical issues.
⇒ Get PIA
4. CyberGhost – Reduce Your Ping With This Multipurpose Software

Based in Romania, this provider has been providing its service for nearly two decades, making it a reliable fit as a desired software for reducing game ping. This is the way to go if you want to lower your ping without making any technical modifications!
🌐 Here is why you should consider CyberGhost as your ping reducer:
Network of 9000 servers available worldwide.
Antivirus, security, and ad-blocking features.
45-day free trial after signing up.
IP-masking and VPN encryption.
😈 Are you a Diablo 4 fan? If so, you might be interested in finding the best VPN for Diablo 4.
5. LagoFast – Specialized in Games Ping & Connection Management

This provider specializes in reducing ping in games, as most offered features are only suitable for gaming.
🌐 Here is why you should consider LagoFast as your ping reducer:
Improves ping and FPS in games.
Multipatch connection specialized for gaming servers.
Get connected to the most suitable server automatically.
Available for consoles and PCs.
6. WTFast – Enter the Future of Ping Reducers With Machine Learning

Advertised as a GPN (Gamers Private Network), this provider emphasizes the infrastructures customized for gaming.
🌐 Here is why you should consider WTFast as your ping reducer:
Support for more than 1000 games.
Machine learning support for optimizing the connection between the client and the server.
Real-time analytics to monitor active internet connections.
Available for all consoles and PC games.
7. ExitLag – Lower the Latency & Boost the FPS at the Same Time

Another provider that designed their service specifically for gaming allows modifications of desired routes for each game.
🌐 Here is why you should consider ExitLag as your ping reducer:
One thousand available servers in more than 190 countries.
Support for more than 1700 games.
Real-time optimizations with the traffic shaper feature.
Comes with a built-in FPS boosting system.
⭐ If you have FPS issues, the ping reducer won't help much. Instead, learn how to make games run better on your PC!
Do ping reducers work?
Yes, ping reducers work to lower ping from games. They redirect your network traffic to servers that are more efficient, which could shorten the distance between you and the game server and decrease latency. The quality of the ping reduction service, network circumstances, game architecture, and server locations all affect how effective they are.
Conclusion
Once you have all the necessary information, choosing the best ping reducer for your needs is easy. This was also the goal of this guide, to provide you with information and leave to you the decision-making. Remember that choosing a provider closer to you will likely create better results, which is lower ping.
💬 What is your favorite ping reducer?