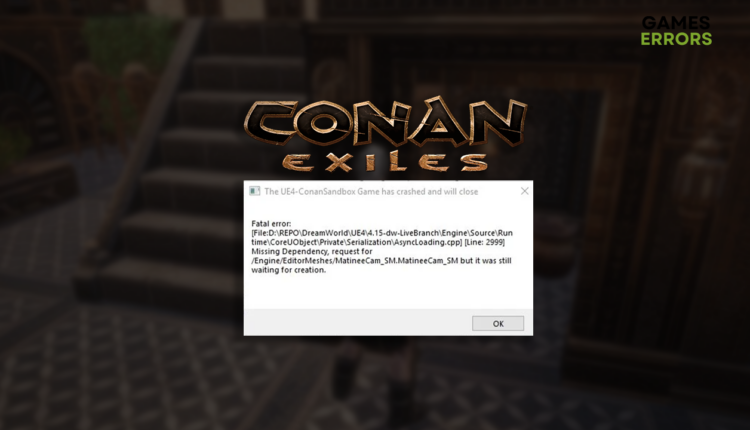 Conan Exiles Fatal Error: Fix It Quickly
The error is truly fatal, as you won't be able to play the game until you fix it. We know how! 👾
Some players get the Conan Exiles fatal error and do not know how to proceed. Since you are reading this, it is safe to say that you found yourself in a similar situation, so we tailored a list of the quickest solution to make Conan Exiles launch and function as expected.
If you see nothing on your screen when you launch the game, learn how to fix the black startup screen in Conan Exiles.
Why do I get the Conan Exiles fatal error?
You get the fatal error in Conan Exiles due to corrupted game files, lack of computing power on your PC, problematic game modifications, an outdated GPU driver, missing Visual C++ dependencies, Windows Firewall settings, or pilled-up cache files.
How do I fix a fatal error on Conan Exiles?
Fix the fatal error in Conan Exiles by applying these fixes and checks:
Verify game files: Instead of jumping into the lengthy and annoying reinstallation process, use this Steam feature to check and fix potentially corrupted Conan Exiles game files.
Check the system requirements: Your PC must match the minimum Conan Exiles requirements to launch and play the game without interruptions.
Disable game modifications: If you installed any mods for Conan Exiles, disable them all and try playing the game.
Proceed with the step-by-step solutions listed below.
1. Update the GPU driver
Time needed: 5 minutes
An outdated GPU driver can cause a series of error codes, including the fatal error in Conan Exiles.
Click on the Windows icon, type Device Manager, and open it.

Double-click on the Display Adapters section.

Right-click on your GPU and select the Update driver option.

Choose the Search automatically for drivers option.
Follow the steps prompted for the driver installation.
Restart your PC.
If you don't like updating the GPU driver manually or using the Device Manager, we have a proposal! Try Outbyte Driver Updater to automatize driver management and enjoy an interruption-free Conan Exiles experience.
⇒ Get Outbyte Driver Updater
2. Install Visual C+++ dependencies
Visual C++ is needed for any game on Windows. You will have to install it manually if it's not done automatically.
Open the official page for the Visual C++ Redist Packages download.
Click on the Link to download vc_redist suitable for your operating system architecture.
➡ X86 is for 32-bit systems.
➡ X64 is for 64-bit systems.

Run the installation package and follow the steps.
Restart your PC.
3. Allow Conan Exiles through the Firewall
Windows Firewall is a core security feature on your PC and should be kept always enabled. However, if you encounter undefined or fatal error in Connan Exile, try adding it as a Firewall exception.
Click on the Windows icon, type Windows Defender Firewall, and open it.

Click on Allow an app or feature through Windows Defender Firewall.

Click on Change Settings and Allow Another App.

Select Browse, and navigate to the Conan Exiles installation folder.
Click on the Conan Exiles executable file (.exe) and select Open.
Check the checkbox in columns Private and Public in the Conan Exiles row and hit OK.
Restart your PC.
4. Clear cache files
Corrupted cache files can cause various issues, so whenever you encounter an error in Conan Exiles, follow the steps below to delete them from the Local folder on your PC.
Use the Windows Key + R shortcut to open the Run dialog, type %localappdata%, and hit OK.
Press CTRL + A to select all files in the folder.
Hit the Delete key to delete all the files in the folder.
➡ If prompted to confirm, click on Yes.
➡ If some files can't be deleted, click on Skip.

Extra steps
If you still get the fatal error when you want to play Conan Exiles, try to:
🛡 Temporarily disable antivirus: Like the Windows Firewall, the antivirus might block the game from launching. If disabling it resolves the issue, whitelist Conan Exiles and re-enable antivirus protection.
⬆ Update Windows: Click the Windows icon, type Check for updates, and open these System Settings. If any Windows components are outdated, update them and restart your PC.
🔁 Reinstall Conan Exiles: Since it is the least popular option, we left it for the end. Some players claim it was the only way to fix the fatal error in Conan Exiles.
Related articles:
Conclusion
Hopefully, you are no longer getting the Conan Exiles fatal error and enjoying the game as anticipated. Comment with feedback on how it went and what fixed the issue in this survival game.