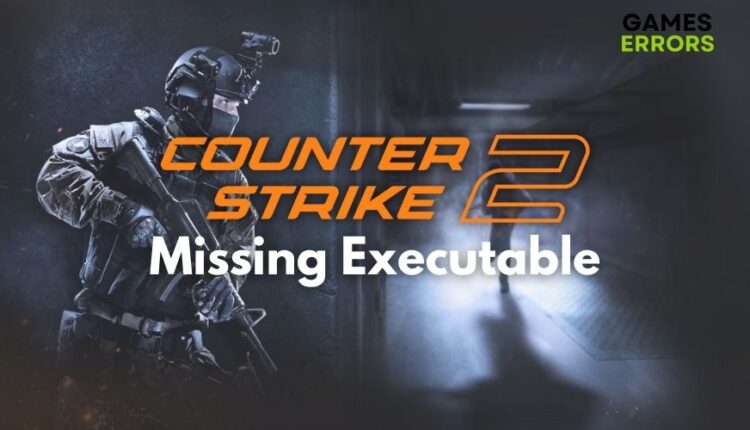 CS2 Missing Executable: How To Fix CS2.exe Error Easily
If you are like me and you encountered the "Missing Executable" error in CS2, below you will find the solutions and fixes that worked for me.
For years, Counter-Strike has stood as a monumental title in the realm of first-person shooters. As enthusiasts eagerly anticipated the launch of Counter-Strike 2, a subset found themselves grappling with an unexpected "Executable Not Found" glitch upon attempting to kickstart the game via Steam. This guide delves into the heart of this predicament, offering tailored solutions to ensure players can seamlessly immerse themselves in the action without having to deal with the CS2 Missing Executable error anymore.
What is the CS2.exe Error?
The CS 2 Missing Executable error indicates that a necessary file required to run the game is absent. This can happen due to various reasons, such as:
Interrupted downloads: If you had any launcher errors, internet problems, or canceled the download of the CS 2 update, you might encounter the CS 2 Missing Executable error as a consequence.
Corrupted files: After updates, patches, bug fixes, and other game related installations, the main files can get corrupted which might cause various errors such as the "Executable Not Found" glitch in Counter Strike 2.
Conflicts with other software: Background applications, outdated drivers, and out-of-date processes could lead to conflicts between them and Counter Strike 2.
Steps to fix CS2 missing executable error:
There are plenty of ways in which you can fix the Missing Executable error in Counter-Strike 2
Exit Steam Completely:

Make sure you completely exit out of the Steam client.

Delete 'appcache' Folder:

Navigate to your Steam installation folder (usually C:\Program Files\Steam).
Delete the 'appcache' folder.

Restart Your Computer:

After deleting the 'appcache' folder, restart your computer.
Attempt to launch the game through Steam after the restart.

Check Anti-Virus Software:

Ensure your anti-virus software isn't blocking the game's .exe file.
Open your anti-virus software and locate the area where you can make exceptions for programs.
Add Steam and the CS2 to the exceptions list.
Check the quarantined section of your anti-virus to see if the Steam .exe file or the game's .exe file is present. If so, mark them as safe and restore them.

Allow CS 2 through Firewall:

Open Firewall Settings
Press on Allow an App through firewall, then press on Change Settings
Click on Allow another app, then Browse and then Add.

Verify Integrity of Game Files:

Right-click on CS2 in Steam.
Click on Properties, then Installed files.
Select "Verify integrity of game files". This should fix any missing .exe files.

Restart and Check for Game Updates:

After verifying the game files, restart your PC and check for any game updates on Steam.

Additional Steps:
---
Related Articles:
---
Conclusion:
The "Missing Executable" error in CS2 can be a temporary setback, but with the steps outlined above, you'll be back in the game in no time. Remember, regular maintenance and updates can prevent many common gaming issues. Feel free to share with us any other methods and fixes that worked for you. We will test them and then list them if they work for us too.