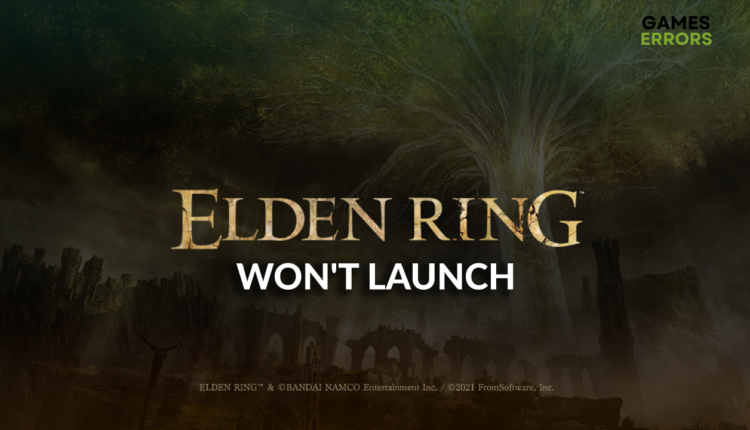 Elden Ring Won't Launch: Make It Work Easily
When a game doesn't launch it can be stressful and annoying on many different levels. We got you covered when it comes to Elden Ring! 👾
X
INSTALL BY CLICKING THE DOWNLOAD FILE
Did you experience a problem with Elden Ring won't launch on your PC, and you don't know what to do? No worries, we got you covered! We found the most frequent causes for the issues and accompanied them with the most effective solutions, so only what is left is for you to read and apply them!
If you can launch the game but can't get past the loading screen, read how to troubleshoot Elden Ring stuck on the loading screen.
Why won't my Elden Ring launch?
Elden Ring won't launch because your PC doesn't meet the minimum system requirements, the GPU driver is outdated, apps that are creating overlays are running, the game doesn't have administrator permissions, game files are corrupted, the Visual C++ dependencies are missing, or the Windows Firewall or antivirus software blocks Elden Ring.
How to fix Elden Ring won't launch?
Start troubleshooting with these quick checks and easy fixes:
Check the system requirements: If your PC doesn't meet at least the minimum system requirements, you will have a tough time launching and playing Elden Ring. Upgrade your PC in this case.
Provide the administrator permission: Right-click on the game shortcut, select Properties, then navigate to the Compatibility tab. Enable the Run this program as an administrator option. Do the same for Steam.
Disable overlays: If any apps or games on your PC create overlays on the screen, disable them in the app settings. To be sure this will not cause issues, you can completely close the app before launching Elden Ring. One of the most common suspects is Discord.
If this doesn't bring the desired result and you still can't play Elden Ring, proceed with the following solutions.
1. Verify game files
Corrupted game files will cause issues with launching Elden Ring. However, you don't need to reinstall the game to fix these files. You can use the Steam verification system.
Launch Steam and go to the Library.
Right-click on Elden Ring and select Properties.
Select the Local Files tab, and click on Verify integrity of the game files.

2. Update the GPU driver
Time needed: 5 minutes.
We strongly advise you to keep your GPU driver updated at all times. This way, you will avoid problems with Elden Ring not launching, but it will also improve the in-game performance.
Click on the Windows icon, type Device Manager, and click on it in the search results.

Double-click on the Display Adapters section.

Right-click on your graphic card and select the Update driver option.

Click on the Search automatically for drivers option in the Update Driver Wizard.
Install the driver update by following the steps provided by the Wizard.
Restart your PC.
There is an easier way to manage drivers. It is called DriverFix. You won't have to monitor and update the GPU driver because the tool will do it for you!
3. Install Visual C++ dependencies
PC games are built on top of libraries and dependencies, such as Microsoft Visual C++. These are usually installed with the game or the update, but sometimes they are not present on PC for one reason or another. In this case, you will have to install them manually.
Open the Visual C++ Redist Packages download page.
Download the installation package.
➡ x64 is for 64-bit Windows
➡ x86 is for 32-bit Windows

Open the installation package and follow the installation steps.
Restart your PC.
4. Allow Elden Ring through the firewall
Windows Firewall is a great security feature that you should always keep enabled. However, it sometimes recognizes games and apps as threats and blocks them from using your system resources and network. This is why you should add Elden Ring as a Windows firewall exception.
Click on the Windows icon, type Windows Defender Firewall, and open it.

Click on the Allow an app or feature through Windows Defender Firewall.
Click on the Change Settings and Allow Another App buttons.

Select the Browse option, and navigate to the installation folder Elden Ring.
Select the executable file (.exe) and hit the Open button.
Check the checkbox in columns Private and Public in the Elden Ring row and hit OK.
Restart your PC.
Extra steps
Some players will still have issues, even after applying all the solutions. That is okay because we know a few more fixes:
🔁 Reinstall Epic Games launcher: Even though Elden Ring is unavailable on Epic Games, some players report reinstalling the Epic Games Launcher fixed their issue. You can start by turning the launcher off, and if this solves the issue, you can keep it as is on your PC, remember to close it before launching the game.
🆙 Update Steam: Launch Steam and find the Check for Steam Client Update option under the File dropdown menu. Steam will check and install the update if it is available.
❌ Temporarily disable antivirus software: We already talked about Windows Firewall, but adding Elden Ring as an exception there, won't prevent your antivirus software from blocking Elden Ring from launching. This is why we suggest you temporarily disable your antivirus. If this solves the issue, enable the antivirus, and find a way to whitelist the game.
Related articles:
Conclusion
We hope you are already enjoying this action RP game and you don't think about the reasons why Elden Ring won't launch. However, if you are still busy with this issue, give us more details in the comment on your problem, and we will be happy to assist you.
If you encounter any issues or errors while playing your favorite games and require support, feel free to contact us here. Our team is always ready to assist you and ensure your gaming experience is seamless and enjoyable.