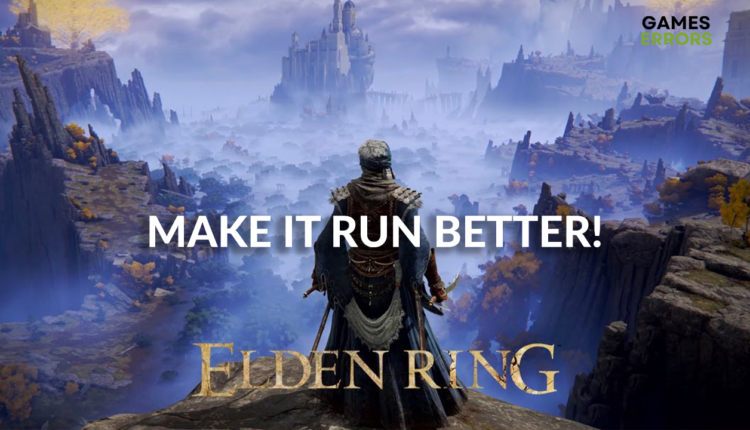 How to Make Elden Ring Run Better on PC [Explained]
Poor performance in Elden Ring can be solved by updating your GPU driver and disabling resource-consuming apps. 😎
To understand how to make Elden Ring run better on PC, it is important to understand what causes poor game performance. We did our homework, gathered all the necessary information in one place, and combined them with the most effective solutions, so what is left to do is for you to apply them.
If you can't even launch the game, read our article on troubleshooting Elden Ring stuck on the loading screen.
Why does Elden Ring not run well on PC?
Elden Ring is not running well on PC because there is a lack of hardware resources available for the game, your GPU driver is outdated, your PC doesn't meet minimum system requirements, or Windows is outdated. Additionally, the problem might be hidden behind faulty game files or hardware demanding Elden Ring mods.
How can I improve my Elden Ring performance on my computer?
To improve Elden Ring performance, apply these quick fixes and checks:
Ensure your PC meets at least the minimum system requirements for Elden Ring.
Disable any 3rd party modifications (mods), except mods for improving performance.
Update your Windows to the latest version.
Ensure your PC has a proper cooling system so it doesn't overheats.
If you are still unhappy with the game's performance, proceed with the following solutions.
1. Disable background apps
Background apps drain resources and create an overlay, resulting in poor gaming performance. Close all apps running and follow the steps below to close the ones running but now showing in the taskbar.
👉 You might need apps like Steam and Discord while you play Elden Ring, so disable overlay in the app settings instead of disabling the app.
Open the Task Manager by using CTRL + Shift + ESC shortcut.
Find an app that you don't need while playing Elden Ring.
Right-click on it and select End task.

Repeat the process for all unnecessary apps.
⚠ Important: Don't close your antivirus apps or related background processes. The same applies to Windows background processes.
2. Update the GPU driver
Time needed: 5 minutes
An outdated GPU driver will cause poor performance in Elden Ring, so keeping it updated for the optimal experience is essential. Start by using Device Manager, as described below, but if it doesn't create a result, we advise using an alternative method for double-checking for the latest driver updates.
Click the Windows icon, type Device Manager, and click on this tool under Best Match.

Double-click on the Display adapters section.

Right-click on GPU and select Update driver.

Select the Search automatically for drivers option in the Update Driver Wizard.
Install GPU driver update.

If a driver update is not found, close the Wizard and Device Manager and try an alternative option for updating drivers.

Restart your PC.
Alternatively, you can use a driver updater tool, such as Outbyte Driver Updater. This will make GPU driver management easier and more reliable. It will also be beneficial for other devices that require driver updates.
⇒ Get Outbyte Driver Updater
3. Tweak Elden Ring graphics settings
If saving up hardware resources and updating the GPU driver didn't yield many results, one of the last resorts is to lower graphics settings in Elden Ring. You can experiment with the settings we advise and find the optimal balance between performance and nice graphical details.
Launch Elden Ring.
Hit ESC on your keyboard and select System.
Navigate to the Graphics Settings (monitor icon). Ensure that Fullscreen is enabled and that Resolution is set to your monitor's resolution.

Click on the Advanced Settings button and adjust the settings as shown below:


💡 These are the optimal settings, and we highly encourage you to experiment. Don't set Texture Quality to less than Medium since it results in drastically bad graphical details.
4. Verify game files
Corrupted game files have been a problem since the first games appeared. This is why popular game distribution platforms made verifying game files with a few clicks possible as an alternative to reinstalling a 60GB game.
Launch Steam and navigate to the Library.
Right-click on Elden Ring and select Properties.
Click on the Local Files tab.
Click on Verify integrity of the game files.

👉 After the verification, Steam will let you know if any files are corrupted and if further actions are required.
Extra steps
If you applied all of the fixes and solutions up until now, but performance in Elden Ring didn't improve much, try to:
🚀 Enable Windows Game Mode: This feature will optimize how hardware resources are used while you play Elden Ring and other games on your PC. Click on the Windows icon, type Game Mode, open it, and ensure it is enabled.
🔀 Consider running the game on Linux: Many players report drastically increasing performance by changing the OS to Linux. You can set up a dual-boot and keep your Windows for everyday use and Linux for Elden Ring.
💻 For gaming laptops: Set the Power Mode to Best Performance ⚡.
Related articles:
Conclusion
There are not many more answers for how to make Elden Ring run better on PC, and if the game continues to underperform, we advise you to upgrade your PC. If you experience any other issues with this game, let us know, and we will do our best to assist you.