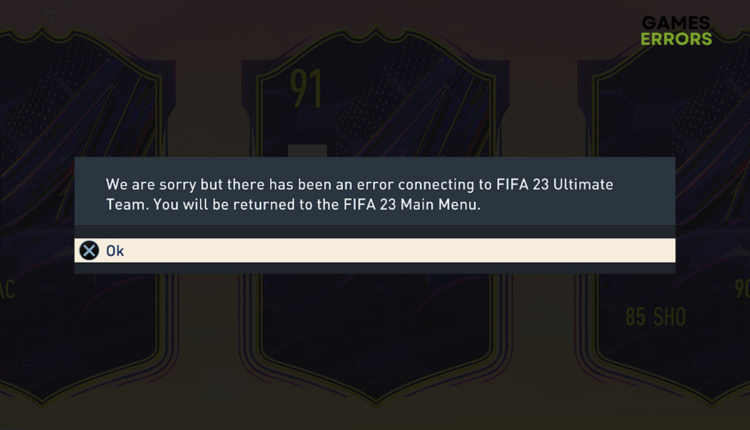 Error Connecting to Fifa 23 Ultimate Team: How to Fix It Easily
You just want to kick the ball and compete with other players, but you cannot manage to connect to FIFA 23 Ultimate Team? We will get you back to the pitch in no time! ⚽
X
INSTALL BY CLICKING THE DOWNLOAD FILE
If you get an error connecting to FIFA 23 Ultimate Team, it means there is a connection-related problem between your PC and the EA server. This error can occur due to problems on your PC, EA servers, and the network of your ISP.
Even after you connect, you might experience problems with the game's stability. If this happens, read what to do when FIFA 23 keeps crashing.
What is the connection error on FIFA 23 Ultimate Team?
This connection error occurs because you use VPN or proxies, your internet connection is not working properly, your network driver is outdated, your DNS is not working, you have FUT Fantasy players in your team, or Windows Firewall is blocking FIFA 23 from using the network.
How to fix an error connecting to FIFA 23 Ultimate Team?
Start with these checks and quick fixes:
Restart your PC and network devices (modem and/or router) if you haven't done so in a while.
Disable VPN and proxies on your PC if you are using any.
Ensure your PC meets at least the minimum system requirement for FIFA 23.
Ensure your internet connection is working properly in other games and apps.
If this doesn't solve the error connecting to FIFA 23 Ultimate Team for you, proceed with these solutions:
1. Restart network settings
There are a dozen network settings configured and stored on your PC. Even if all other software and games connect to the internet properly, we advise you to restart these network settings and check if you can connect to FIFA 23 Ultimate Team without an error.
Click on the Windows icon, type Command Prompt, and select this tool.
Type the following commands in separate lines and hit Enter after each command:
ipconfig /flushdns
ipconfig /registerdns
ipconfig /release
ipconfig /renew
netsh winsock reset

Restart your PC.
2. Update the network driver
Every network adapter, integrated or external, needs a driver to establish a connection with the internet through your home network. However, these drivers are updated to add new security features and improve performance. You should update your network driver and avoid issues when connecting to FIFA 23 Ultimate Team.
Click the Windows icon, type Device Manager, and open this tool from the search results.

Double-click on the Network Adapters section to expand it.

Right-click on your internet adapter and select Update driver.

Select the Search automatically for drivers option in the Update Driver Wizard.
Install the drivers once they are found.
If no drivers are found, close the Wizard and Device Manager, and use another driver updater tool.
Restart your PC.
If this seems like too much hassle, and you often forget to check for driver updates, use DriverFix. This way, you will know that your drivers are regularly monitored and updated from a vast database.
3. Use the Google DNS
Time needed: 3 minutes.
Windows automatically assigns DNS server addresses when you connect to the internet. However, this can create network-related problems, so better use stable and trustworthy Google DNS.
Use the Windows Key + R shortcut to open the Run dialog, type control, and hit OK.

Choose View network status and tasks under Network and Internet.

Click on the Change adapter settings.

Right-click your internet network and select Properties.

➡ The green signal icon marks a wireless connection.
➡ The cable icon marks a wired network.

Double-click Internet Protocol Version 4 (TCP/IPv4).

Enable Use the following DNS server addresses and paste:

➡ 8.8.8.8 for the Preferred DNS server
➡ 8.8.4.4 for the Alternate DNS server

Hit OK and restart your PC.
Extra steps
Many players report that even after applying all the fixes and solutions, they still cannot play FIFA 23 Ultimate Team. If you have tried everything up until now, and the problem persists, try to:
📞 Contact your ISP: Sometimes, the problem is neither you nor EA servers but the network between you. On the back of your monthly bill for the internet or in the email (if you receive the bill digitally), find the number of the support team, call them, and explain the situation.
🏃‍♂️ Remove Fantasy FUT players: Some players report that removing Fantasy FUT players from their squad fixed the issue. You can use this as a temporary fix, and if it does fix the issue, wait for EA to patch this bug so you can play with FUT players in your squad.
💻 Ensure FIFA 23 has access to the network: Disable your antivirus software and Windows Defender and check if you can connect to the FIFA 23 match. If so, turn the protection back ON and whitelist FIFA 23 in your antivirus software and Windows Defender.
Related articles:
Conclusion
These were the most effective solutions for the error connecting to FIFA 23 Ultimate Team. If you still experience issues, contact EA support. Let us know in the comment section if you need any further assistance.
If you encounter any issues or errors while playing your favorite games and require support, feel free to contact us here. Our team is always ready to assist you and ensure your gaming experience is seamless and enjoyable.