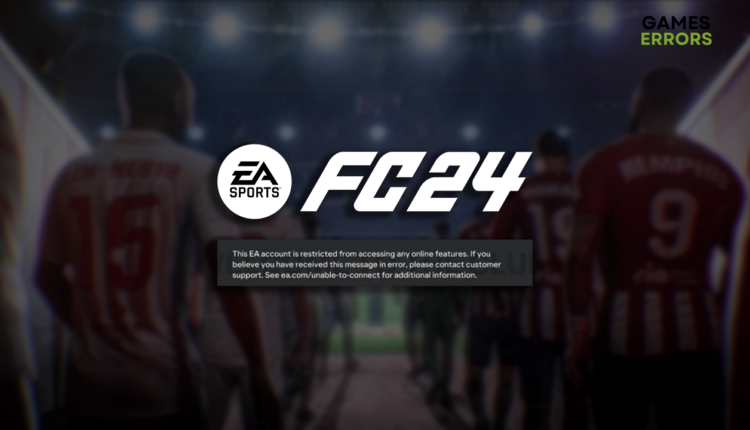 FC 24 Account Restricted From Online Features [Explained]
A considerable part of the continuation of the most famous football simulation is online gaming. Let's see what are the reasons you can't enjoy it. 👾
Gamers are furious with the EA team due to the FC 24 account restricted from online features problem. We are here to explain what is going on and provide you with some technical solutions you can apply to ensure everything runs smoothly on your end.
Are you struggling with stability issues when playing this football simulation? Learn how to fix FC 24 crashes on your PC.
Why is my EA account restricted from accessing online features?
Your EA account is restricted from accessing online features due to breaking the rules or using illegal game modifications. Additionally, the problem might occur due to technical difficulties like temporary issues on your PC or network devices, weak wireless connection, unreliable DNS server, pilled-up cache files, unnecessary background apps, or corrupted game files.
We bring you part of the statement of the EA Community Manager regarding the issue: "Thank you all for reporting this. We want to inform you that our team is currently investigating the issue. However, at this time, we do not have any further updates or an estimated time of resolution…"
What to do if the FC 24 account restricted from online features?
Get started by applying these checks and fixes:
Restart your PC: Sometimes, the most obvious solutions are the best ones!
Restart your network devices: Hit the restart button on the back panel of your modem or router, wait a few minutes, and try playing FC 24.
Use a wired connection: A wireless network is convenient but can also bring a lot of trouble. We recommend you use an ethernet connection to your home network to avoid this trouble.
Proceed with the step-by-step solutions listed below.
1. Change DNS settings
Time needed: 5 minutes
Instead of allowing Windows to connect you to a DNS server, you can manually set it to use Google DNS.
Using the Windows Key + R shortcut, open the Run dialog, type control, and hit OK.

Click on View network status and tasks.

Click on the Change adapter settings.

Right-click the internet network you use and select Properties.

Double-click Internet Protocol Version 4 (TCP/IPv4).

Enable Use the following DNS server addresses and add:

➡ 8.8.8.8 for the Preferred DNS server
➡ 8.8.4.4 for the Alternate DNS server

Click OK and restart your PC.
2. Use a VPN
As we already discussed, EA servers are fragile at the moment, and until they are entirely back and running, you can try and connect to a server in another region. The main focus is to use a reliable VPN provider so you don't experience high latency while playing FC 24.
The VPN provider of our choice is ExpressVPN. With server locations in more than 90 countries, a reliable support team, and support for various devices, you can rest assured that your connection to the EA server will be taken care of.
3. Delete cache files
Pilled-up cache files can cause confusion and miscommunication between the EA server and your PC. We advise you to go to the Local folder and delete all files.
Use the Windows Key + R shortcut to open the Run dialog, type %localappdata%, and hit OK.
Use the CTRL + A shortcut to select all files in the folder.
Press the Delete key on your keyboard to delete all the files in the folder.
➡ If prompted to confirm, click on Yes.
➡ If some files can't be deleted, click on Skip.

Extra steps
Here are some additional things to do when the FC 24 account is restricted from online features.
❌ Close background apps: Unnecessary apps can use bandwidth and cause issues.
🌐 Use an alternative network: If you experience general connectivity issues, we recommend you connect to an alternative network. One option is to use a mobile hotspot.
📁 Verify game files: Verifying game files is a quick and easy alternative to reinstalling the game.
🔁 Reinstall the EA App and FC 24: Uninstall the EA App and FC 24, restart your PC, and perform a clean installation through your game distribution platform.
Related articles:
Conclusion
Although the FC 24 account restricted from online features problem suggests you broke the rules and your account is banned, remember that EA has issues with their servers and is working on resolving them. In the meantime, you can change the DNS server settings and delete cache files.
Using a reliable VPN, like ExpressVPN, allows you to connect to a server at a different location, which can temporarily resolve the issue. Close background apps and connect to an alternative network if the problems persist. The last resort is game file verification, and if it doesn't work, proceed with reinstalling the game.