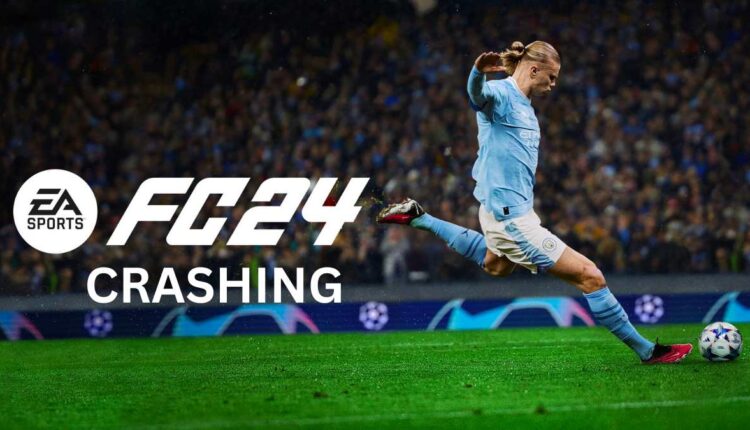 FC 24 Crashing Issue on PC: Troubleshooting Steps on How To Fix
The FC 24 game crashing on PC is an issue many players have reported since its recent launch. As the latest installment in the popular FIFA football series, interruptions from unexpected crashes can frustrate dedicated fans. Identifying the causes and applying the proper fixes is key to enjoying FC 24's exciting matches and the ultimate edition without annoyances.
Potential Causes
The FC 24 PC crash could stem from software conflicts, hardware incompatibility issues, or outdated components.
Software conflicts often arise when background apps clash with the game's CPU and memory resource demands. Antivirus software and GPU utilities are common culprits.
Insufficient or faulty hardware like RAM, graphics cards, and processors can also trigger crashes when strained by the game's requirements.
Outdated graphics drivers, Windows updates, DirectX versions, and game patches may render optimizations incomplete or buggy.
Troubleshooting Steps
The solutions below were tested by various gaming experts, and they worked on many systems. Also, the best part is that they don't take a lot of time and you can return to a smooth gameplay in no time. Follow these steps to systematically isolate and fix the cause of FC 24 crashes on your system:
Updates: Check for pending Windows, graphics driver, and game updates. Install the latest versions. Use the device manager or the Outbyte driver updater tool to install drivers automatically for GPU drivers.
Background processes: Close unnecessary background apps before launching the game. Disable intrusive apps like Antivirus and FPS monitors.
Allow the game through firewall to enable some of the needed processes to function smoothly. Additionally, this method might also fix other FC 24 issues, like network-related problems.
Scan for malware and clean up hard drives to fix potential conflicts and free up space. Malware can cause various problems ranging gameplay issues to serious game and server connection problems.
Inspect CPU and GPU temperatures. Overheating can cause crashes. Improve cooling if required.
Verify the game files via Steam or other launchers or reinstall the game to fix corrupt files. After all, corrupted or missing files may lead to many other issues besides FC 24 crashing.
Update BIOS firmware and check hardware meets minimum requirements. Test components individually to identify faulty ones.
Close any overclocking tools and disable your system's overclocking settings, as they might become the reason why you will have a high CPU usage rate and other performance-related problems.
Tweak your Virtual Memory and keep in mind that initial size should be 1.5x your RAM in MB and the maximum size should be 3x your RAM in MB.
Run the game as an administrator to allow it access to various processes and tools and to get rid of limitations.
Adjust in-game graphics settings to optimal levels based on your system's capabilities. Or set them to low, enable VSync, and set the Frame Rate at 60 FPS or 30 FPS
Rollback your GPU drivers to a more stable version. If you updated your GPU drivers or you are using a beta version, try to switch to a more stable build.
In addition to the troubleshooting tips outlined above, it is recommended that FC 24 players experiencing frequent crashing issues also check the official EA forums. Monitoring the discussions there can provide valuable insights from other users facing similar problems. You may find bug reports for specific crash scenarios that EA developers acknowledge and plan to address in future game patches. Staying informed through the community forums is a great supplementary step to resolve and prevent EA SPORTS FC 24 crashes.
Preventive Measures
Here are some tips to avoid FC 24 crashes in the future:
Maintain your system and software updated, including games, drivers, Windows, and BIOS.
Go through minimum requirements and compatibility checks before installing games.
Regularly clean up temporary files, run disk checkups, and delete unneeded apps and files.
Monitor system temperatures and reapply thermal paste if necessary.
Back up game files and settings in case you need to reinstall or roll back.
Keep in mind that some of them will most likely help you with other FC 24 problems too.
Related FC 24 articles:
Final verdict ⚽️
EA SPORTS FC 24 crashing unexpectedly can certainly be disruptive during intense matches with friends or at critical moments in career mode. By taking the time to troubleshoot the issue systematically and identify the root cause, you can resolve the crashes and enjoy smooth gameplay.
Stay vigilant about keeping your system, drivers, and the game up to date. Follow the optimization and preventive tips outlined to minimize conflicts. With the proper troubleshooting steps, you can get back to enjoying FIFA 24 and all the excitement of the latest installment without annoying interruptions.