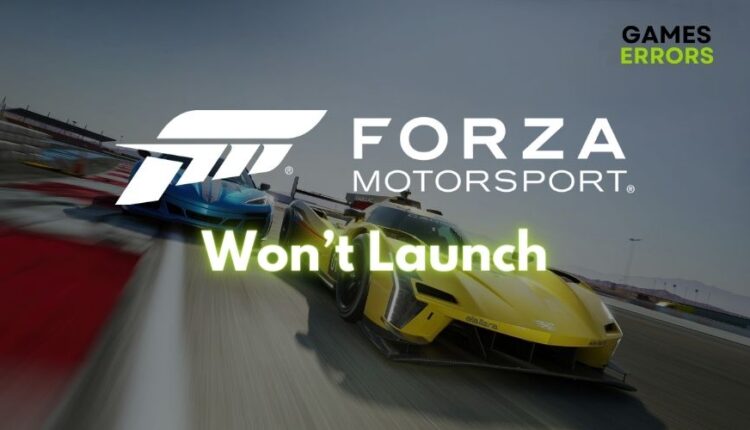 Forza Motorsport Won't Launch: How to Fix It Effectively
If you are looking for some quick fixes and solutions due to the fact that Forza Motorsport won't launch on your system, you are in the right place. Check out what worked for me.
There's nothing quite like the thrill of speeding down a digital highway in Forza Motorsport, is there? That said, if you're experiencing the same issue that I've come across and Forza Motorsport Won't launch for you either. Then you already know how frustrating it can be. But the good news is, I've researched this issue and have compiled a guide that should get you back on the track.
Why is Forza Motorsport not launching?
Forza Motorsport is not launching mainly because of outdated graphics drivers. However, the game is a complex program that relies on a lot of different hardware and software elements to function correctly. Thus there are other common culprits responsible for the problem such as:
Insufficient System Requirements: Forza Motorsport has minimum and recommended system requirements. If your computer doesn't meet these, the game may not launch at all.
Corrupted Game Files: The game files can become corrupted and this could happen due to unexpected crashes, or even during the download and installation process. Thus if you leave them unattended you might encounter the Forza Motorsport Won't Launch issue.
Software Conflicts: Sometimes other software on your computer can conflict with Forza Motorsport. This could include anything from antivirus software to performance-enhancing applications.
Network Issues: Forza Motorsport requires a stable internet connection for certain features and account verification. Network issues can prevent the game from launching.
Overlay Software: Software that provides an in-game overlay (like Steam, Xbox Game Bar, or Discord) could be incompatible with the game, causing it not to launch.
Firewall/Antivirus Blocking: Security software may wrongly identify the game as a security risk and block it from running.
How to fix Forza Motorsport won't launch?
To fix the Forza Motorsport won't launch issue, make sure that you have no pending GPU or OS updates, then continue with the following pre-checks before trying any of the more elaborate solutions.
Pre-checks:
Restart Your Computer: Completely shut down your computer, wait a moment, and power it back on.
Verify Game Requirements: Visit the official Forza website to compare your hardware with the game's minimum specifications.
Pause Your Firewall and Antivirus: Temporarily disable any active security software and try launching the game again.
Hardware Solutions:
Make sure that your system is prepared for Forza Motorsport because the game is demanding and there are some chances that it won't launch unless you meet the minimum requirements.
System Compatibility

Confirm once more that your hardware meets the game's requirements.

Update Graphics Driver

Open Device Manager, right-click your graphics card and select "Update Driver."
Additionally, if you are looking for a way to update all of your drivers, try Outbyte Driver Updater. It keeps track of the drivers and prevents any conflicts while installing the later versions.

Clear Disk Space

Right-click your primary drive, select Properties, and manage your disk cleanup options.
Software Solutions:
There are a few software solutions available to fix the Forza Motorsport not-launching problem that worked for me, and you can find them below:
Run as Administrator
Close Background Applications

Access Task Manager and end unnecessary apps that are not essential to gameplay.

Verify Integrity of Game Files (If on Steam)
Update DirectX and Visual C++

Visit Microsoft's official site and ensure you have the latest versions of DirectX and Visual C++ Redistributables.

Reinstall the Game

Remove Forza Motorsport and download it again from your chosen platform.

Overlays

Disable the overlay features of various applications such as Steam.
Network Solutions:
To play Forza Motorsport at its maximum capacity, you will need a highly stable internet connection. You can ensure that yours is game-ready by checking the methods below:
Internet Speed

Run a speed test to ensure your internet connection is robust.

Disable VPN/Proxy

If you're running a VPN or proxy, please disable it and try again.

Use a Cable Connection

Make sure that you are not playing on an unstable WiFi connection.
Additional fixes for the Forza Motorsport Won't Launch issue:
If none of the solutions above worked in your favor, try the ones below. They fixed the Forza Motorsport not launching problem on some of my devices.
Update your OS
Perform a clean boot
---
Related Articles:
---
Conclusion:
Thank you for taking the time to consult this guide. The solutions outlined here have been tried and tested, and I'm confident that they will assist you in overcoming the Forza Motorsport Won't Launch problem. Feel free to share your experiences in the comments below, and let's strive for the pole position together.