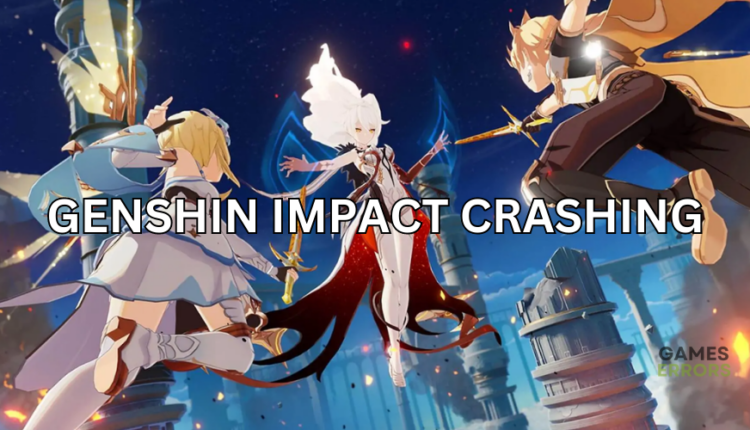 Genshin Impact Keeps Crashing on PC: Fix It in 5 Fast Ways
When Genshin Impact crashes unexpectedly, it ruins the gaming experience. Luckily, we know how to fix this 👇.
Is Genshin Impact crashing constantly? Don't worry! We got you covered with the easiest solutions to fix crashes for good.
Since Genshin is a heavy-resource game, it may crash unexpectedly during gameplay, or on startup. Additionally, the game might also crash when connecting to the server. Luckily, we have compiled possible workarounds to help fix the crashing issue and make it stable on most PCs.
Why does Genshin keep crashing?
Genshin keeps crashing on your PC due to various factors, including:
How do I fix Genshin Impact crashing on PC?
✅ Before implementing our proven solutions, perform the following fixes:
If you encounter the Genshin Impact keeps crashing on PC issue, try the following fixes:
1. Lower the in-game graphic settings
Lowering Genshin Impact graphic settings helps resolve crashing issues. To do this:
Launch Genshin Impact on your PC.
Navigate to the main menu and select Settings.
Select the Graphics tab.
Click the Graphics Quality tab on the left pane for the drop-down menu.
Select the lowest preset from the drop-down menu.
Next, open the Display Mode tab, and from the drop-down menu, select a lower Window size, e.g., 1280 x 760.
You can also lower the graphics settings under the Custom tab, which include FPS, V-Sync, Shadow Quality, and Visual Effects.
Finally, launch Genshin Impact to see if the crash is resolved.
2. Update graphics drivers
Eliminate the hassle of updating your graphics drivers manually with Outbyte Driver Updater. This third-party app searches for and automatically installs the latest drivers on your PC, saving you the time and effort it takes to do so manually.
⇒ Get Outbyte Driver Updater
3. Reset clock speeds
If you've increased your PC's clock speed to improve gaming performance and enhance the CPU capabilities, we recommend resetting them to the original manufacturer's recommended settings. Overclocking and turbo-boosting cause overheating and stability issues that might trigger Genshin crashes during gameplay.
4. Set game priority to high
If you're encountering the Genshin crashing issue on a low or mid-level PC, consider forcing your computer to allocate more resources towards running the game. To do this:
Right-click the Windows taskbar and choose Task Manager.
Find the Genshin Impact game, right-click it, and select Go to details.
Find the Genshin Impact executable file (GenshinImpact.exe)
Right-click it, select Set priority, then choose High.
Relaunch the game to see if it crashes.
5. Disable Full Screen Optimizations
Some players reported that after disabling the Full screen optimizations, they fixed the Genshin Impact crashing problem. We can confirm that this solution is most likely to work, as we are not playing Genshin with the Full Screen optimizations enabled either, and so far we have encountered no problems in the latest version. To disable them follow the steps below:
Right click on Genshin Impact, and select Properties
Go to the Compatibility tab
Search for Disable Full Screen Optimizations and check the box (you will find it down)
Click Apply and then Ok
Other two quick fixes that may fix Genshin Impact:
Related Genshin Impact articles:
Conclusion
The Genshin Impact crashing on PC unexpectedly prevents smooth gameplay. Remember to lower the in-game graphic settings, update graphics drivers, reset clock speeds, and set game priority to high. We hope that your problem was fixed! If you somehow ended up sending a ticket to the HoYoverse support, feel free to share with us their solution to your problem.