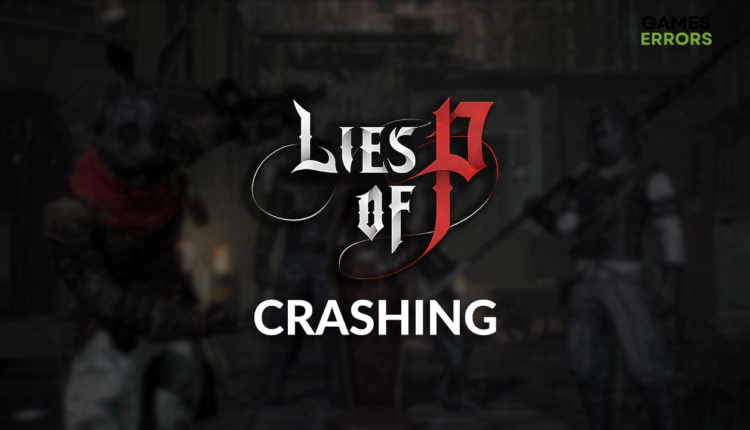 Lies of P Crashing: Prevent It Efficiently
Unexpected interruptions while enjoying the tale of Pinocchio are genuinely annoying! Let's discover how to prevent them. 👾
Many gamers are missing out on the opportunity to enjoy this Pinocchio-inspired adventure due to the Lies of P crashing problem. Let's see what you can do about it and what are the best ways to prevent crashes in this game!
If you can't enjoy this game due to performance issues, learn how to boost FPS in Lies of P.
Why is Lies of P crashing?
Lies of P crashing issue occurs due to poor system specifications, faulty overclock settings, temporary issues on your PC, an outdated GPU driver, pilled-up cache files, lack of RAM or virtual memory, missing DirectX, unnecessary background apps or startup services, or corrupted game files.
How to fix Lies of P crashing?
Start by applying these checks and fixes:
Check the system requirements: Your PC must meet at least the minimum system requirements for Lies of P if you want to play it without stability issues.
Disable overclock settings: Although a great way to boost performance, poorly configured overclock settings can lead to game crashes.
Restart your PC: If you keep it in sleep mode, don't forget to occasionally restart it to resolve temporary issues that can cause Lies of P crashes.
Here are the best solutions to prevent Lies of P from crashing.
1. Update GPU driver
Time needed: 5 minutes
The graphics card malfunction is one of the most widespread causes of the Lies of P crashing problem. Since it relies on the GPU driver to run correctly during intense computing needed for gaming, we advise you to check for GPU driver updates regularly.
Click on the Windows icon, type Device Manager, and open it.

Double-click on the Display Adapters section.

Right-click on your GPU and select the Update driver option.

Select the Search automatically for drivers option.
Install the GPU driver update.
Restart your PC.
If you are tired of updating drivers manually, we suggest you look at Outbyte Driver Updater. Delegate the complete driver management responsibility!
2. Delete cache files
Lies of P, game distribution platform, and other apps on your PC store temporary files to launch and run smoothly. However, if these files get corrupted, you must delete them from the Local folder on your PC.
Use the Windows Key + R shortcut to open the Run dialog, type %localappdata%, and hit OK.

Use the CTRL + A shortcut to select all files in the folder.
Press the Delete key on your keyboard to delete all the files in the folder.
➡ If prompted to confirm, click on Yes.
➡ If some files can't be deleted, click on Skip.

3. Increase Windows Virtual memory
RAM in your PC is supported by virtual memory, which is a dedicated portion of disk space. We advise you to manually set the Windows virtual memory to 2x of your RAM.
Use the Windows Key + R shortcut to open the Run dialog, type control, and hit OK.

Click on the dropdown next to View by and select Large icons.

Click on the search, type Performance, and click on Adjust the appearance and performance of Windows.

Navigate to the Advanced tab and hit the Change button under the Virtual Memory section.

Disable Automatically manage paging file size for all drives.

Select the Custom size button, enter values 2x of your RAM in MB, and hit the Set button.

Click OK and restart your PC.
Extra steps
If you still can't enjoy the fantastic story inspired by Pinocchio due to Lies of P crashing, try to:
💻 Install the latest DirectX: This set of APIs is necessary for stable gaming on Windows.
❌ Close background apps: Ideally, when you launch the game, no apps are running.
⬆ Update Windows: Click the Windows icon, type Check for updates, and open these settings. Install pending updates and restart your PC to complete the process.
💽 Perform a Clean Boot: This way, no startup services will cause compatibility issues.
📁 Verify game files: All major game distribution platforms offer an easy system for verifying files.
🔁 Reinstall Lies of P: If verifying game files doesn't help, it might be the time for the last resort. Uninstall the game, restart your PC, and perform a clean Lies of P installation.
Related articles:
Conclusion
In conclusion, you can troubleshoot the Lies of P crashing problem by updating the GPU driver, deleting cache files, and increasing virtual memory. An excellent way to start fixing the causes of this problem is to disable overclock settings and restart your PC.
Don't forget to install DirectX, close background apps, and disable startup services. Update your Windows to the latest version and check for corrupted game files. The last resort is to reinstall the game altogether.
If you encounter any issues or errors while playing your favorite games and require support, feel free to contact us here. Our team is always ready to assist you and ensure your gaming experience is seamless and enjoyable.