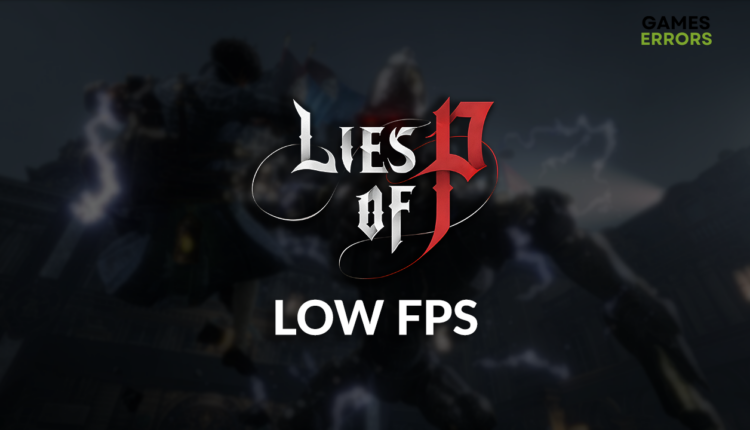 Lies of P Low FPS: Boost the Performance Quickly
The best methods to improve performance in this fantastic adventure game! 💪
Playing games that are choppy and unresponsive isn't enjoyable for any gamer. This is why we looked at the Lies of P low FPS problem and decided to compile the list of the most frequent causes for this performance issue. Take action and apply the solutions for these causes to enjoy the game properly!
If poor performance is not the only issue you are experiencing and you can't even open the game, learn how to force-launch Lies of P.
Why do I have low FPS in Lies of P?
You have Lies of P low FPS due to poor system specification, unnecessary background or FPS booster apps, problems with Windows permissions, an outdated GPU driver, problematic Xbox Game bar settings, low virtual memory or RAM, power-saving mode on the laptop, or obsolete DirectX.
How to fix Lies of P low FPS?
Here are some simple checks and fixes to start with:
Proceed with the solutions listed below, which will help you resolve the Lies of P low FPS problem.
1. Update GPU driver
Time needed: 5 minutes
An outdated GPU driver will limit your graphics card and won't support it when demanding graphical computing is carried out during the Lies of P gameplay. Use the device manager or another driver updater tool to check and install GPU driver updates.
Click on the Windows icon, type Device Manager, and open it.

Double-click on the Display Adapters section.

Right-click on your GPU and select the Update driver option.

Select the Search automatically for drivers option.
Install the GPU driver update.
Restart your PC.
Update your GPU drivers automatically by using Outbyte Driver Updater. This tool scans, monitors, and updates drivers instead of you, so you can focus on what matters the most: enjoying games!
2. Tweak Xbox Game Bar settings
Xbox Game Bar has some helpful features, like interactions with your Xbox friends and background recording. If you aren't using these features, we advise you to head to the Xbox Game Bar settings and disable them, thus preserving the necessary resources needed for the game.
Click on the Windows icon and select Settings (gear icon).
From the Settings window, choose Gaming.
Disable Xbox Game Bar.

Navigate to the Captures tab and disable Background recording.

3. Increase Windows Virtual memory
Windows helps your RAM by dedicating a portion of the disk space. When random access memory has no place to store data, it uses virtual memory. To maximize the effectiveness, set the value to 2x of your RAM.
Use the Windows Key + R shortcut to open the Run dialog, type control, and hit OK.

Click on the dropdown next to View by and select Large icons.

Click on the search, type Performance, and click on Adjust the appearance and performance of Windows.

Navigate to the Advanced tab and hit the Change button under the Virtual Memory section.

Disable Automatically manage paging file size for all drives.

Select the Custom size button, enter values 2x of your RAM in MB, and hit the Set button.

Click OK and restart your PC.
Extra steps
If you are still experiencing Lies of P low FPS, try to:
❌ Disable FPS boosters: Although many software claim to boost performance, many lower the FPS in Lies of P and other games, so you are better off without them.
💽 Perform Clean Boot: This will prevent unnecessary startup services from using computing power.
🔋 Change the Power Plan: If you are playing Lies of P on a laptop, click the battery icon and select Best Performance. Keep it plugged in since this mode consumes more power.
🎮 Enable Game Mode: Click on the Windows icon, type Game Mode, and open it from the search. Ensure this option is enabled because it boosts your PC performance when gaming.
⬆ Update DirectX: We recommend you always have the latest version of this API collection.
Related articles:
Conclusion
Hopefully, you resolved all the causes of the Lies of P low FPS problem. The best way to start is to check the system requirements and close background apps before launching the game as an administrator. Boost your FPS in Lies of P by updating the GPU driver, tweaking Xbox Game Bar settings, and increasing virtual memory.
Don't forget to disable all background apps (including FPS boosters) and startup services. Set the power plan to the Best Performance, but keep the laptop plugged in. Enable the Game Mode and update DirectX.
If you encounter any issues or errors while playing your favorite games and require support, feel free to contact us here. Our team is always ready to assist you and ensure your gaming experience is seamless and enjoyable.