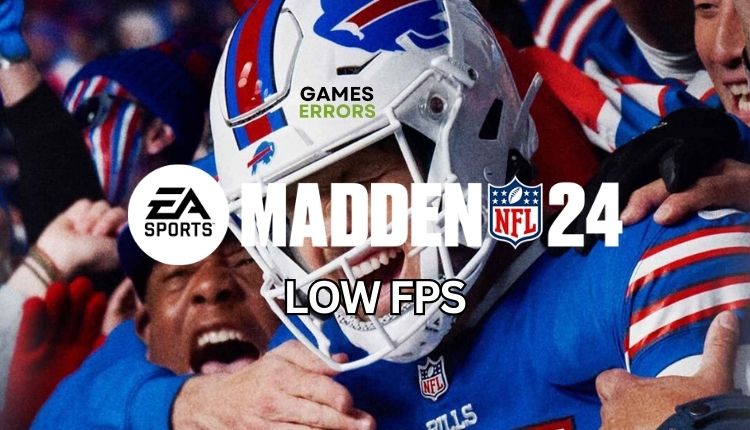 Madden 24 Low FPS: How To Boost Performance Rapidly
To enjoy Madden 24 without low FPS, follow our guide to boost game performance. 🏉
Madden NFL 24 is the ultimate product of hard-working development, with noticeable improvements from its predecessor, Madden 23. The game's visuals are already impressive, and it's exciting to see the significant changes made between the two versions, driven by player feedback. If you're having trouble with Madden 24 gameplay that's not running as smoothly as you'd like, there is no need to stress. This guide has covered you with some tips to help you enhance your gaming experience and eliminate Madden 24 low FPS.
Why am I getting low FPS in Madden 24?
Low FPS in Madden 24 can occur for several main reasons:
Recommended system requirements are not met
Corrupt or missing game files
Outdated GPU driver
Unnecessary apps running in the background
Not optimal power plan
Overlay apps issues
Demanding in-game graphic settings
How do I fix low FPS in Madden 24?
We recommend beginning with these more straightforward steps:
If you are still experiencing low FPS, try these tips:
1. Update your GPU driver
First, we recommend updating your GPU driver if Madden 24 has a low FPS. Do the following:
1. Right-click on Windows Start and choose Device Manager.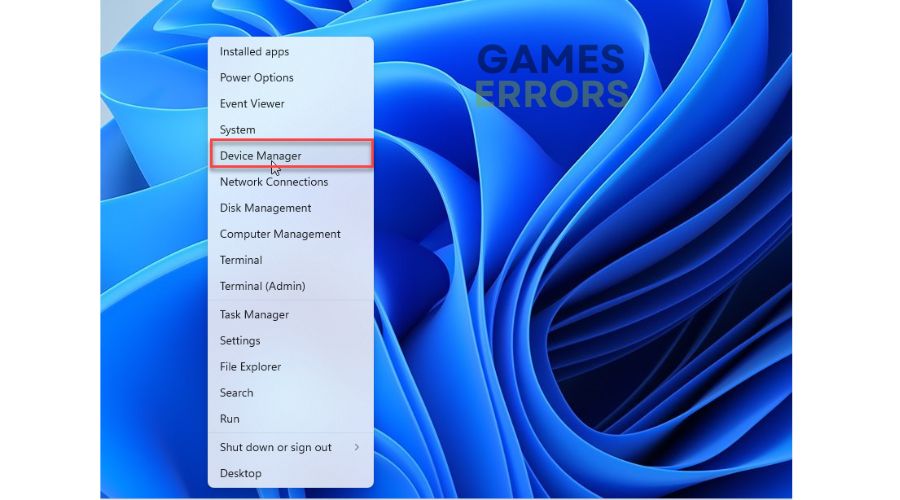 2. Double-click to expand Display adapters.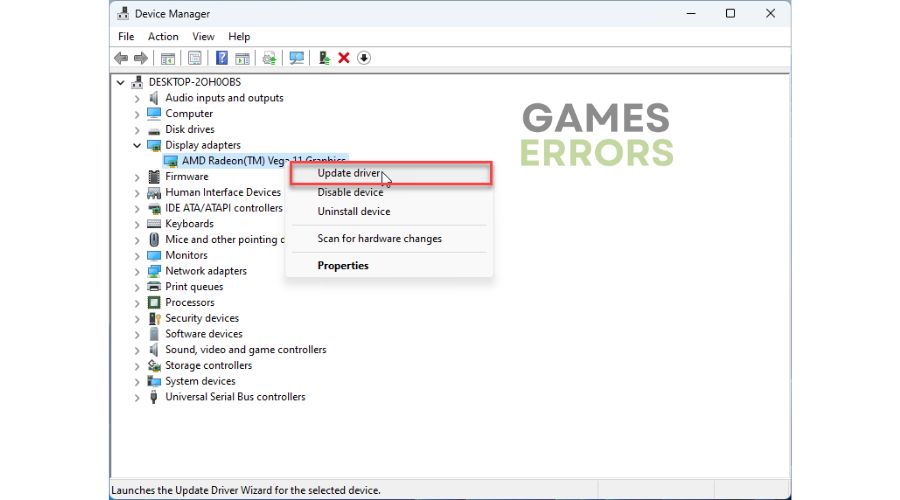 3. Right-click on your GPU and click Update driver.
4. Choose Search automatically for drivers and wait for Windows to complete the update.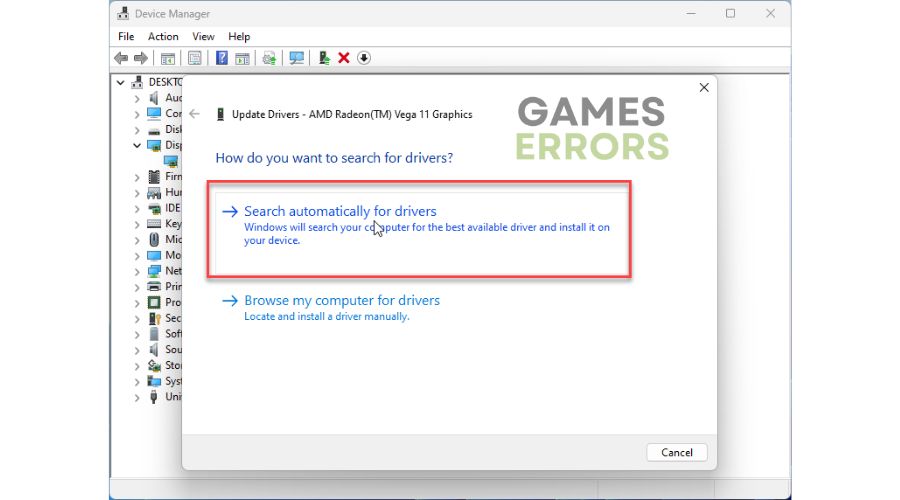 With Outbyte Driver Updater, updating your Windows system drivers is now quick and easy! You won't have to spend hours searching for the right drivers or updating them manually through a Device Manager anymore. The tool automatically detects when a new version is released and updates your drivers for you. Say goodbye to the hassle and let Outbyte Driver Updater take care of it for you!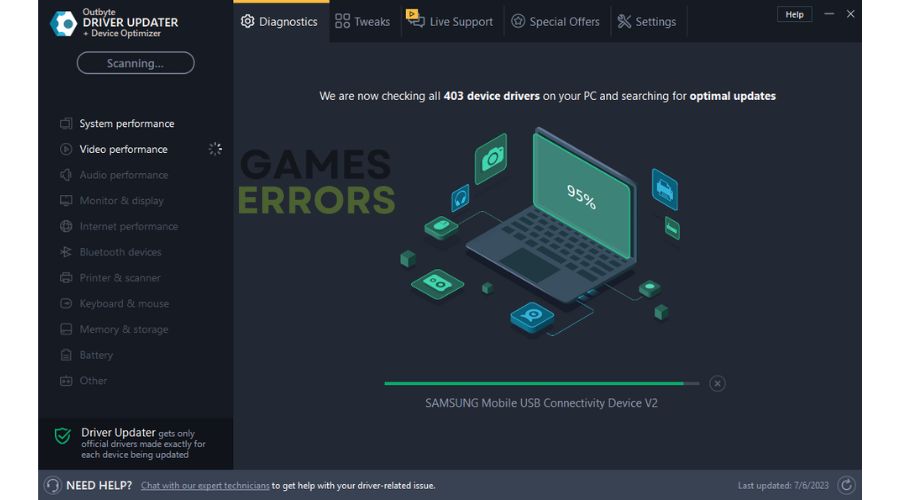 ⇒ Get Outbyte Driver Updater
2. Enable Game Mode
Time needed: 3 minutes
For a smoother gaming experience in Madden 24 with higher FPS, we recommend activating Game Mode and disabling the Xbox Game Bar overlay feature, which may cause performance issues.
Open Gaming Settings

Right-click on Start and choose Settings>Gaming.


Enable Game Mode

Select Game Mode from the left pane and toggle ON this option.


Disable the Xbox Game Bar

Select Xbox Game Bar from the left pane and toggle OFF this option.


Disable Background recording

Select Captures from the left pane and toggle OFF Background recording.

3. Set High-Performance mode
To enhance your Madden 24 performance during intense gameplay, switch from Balanced mode to High performance mode in Power Options.
1. Press the Win+R keys to show the Run dialog box.
2. Type; "powercfg.cpl" and press Enter to open Power Options.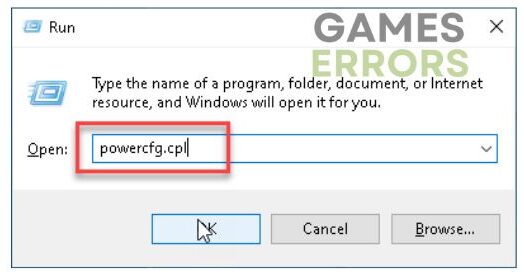 3. Tick the radio button High Performance.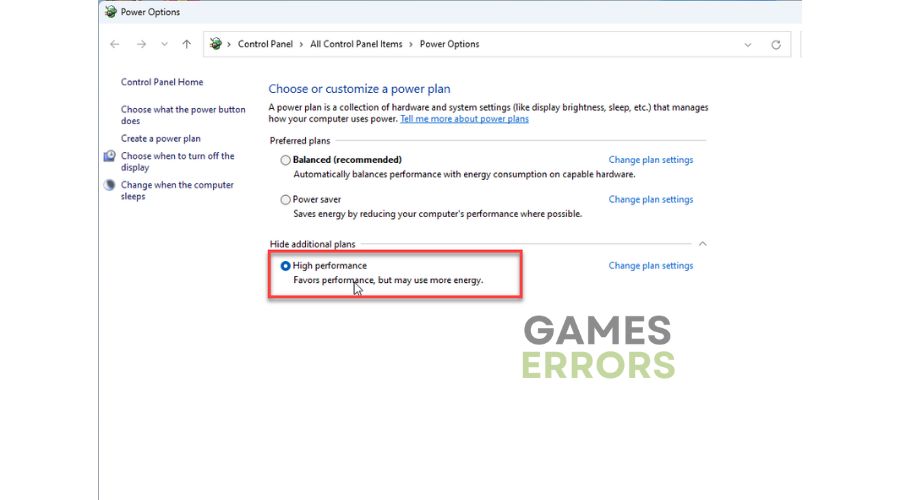 4. Right-click on the Start and choose System.
5. Navigate to System>Display>Graphics.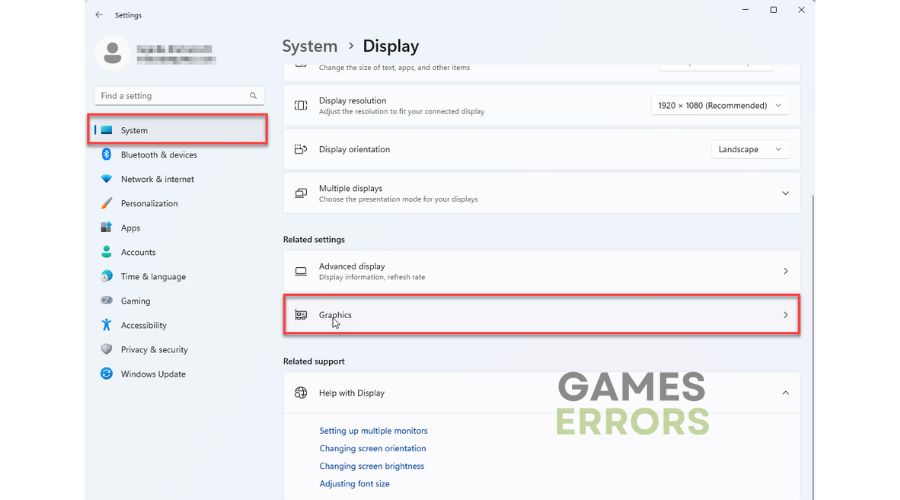 6. Select Madden 24 from the Windows app list and click Options.
7. Tick High performance and Save changes.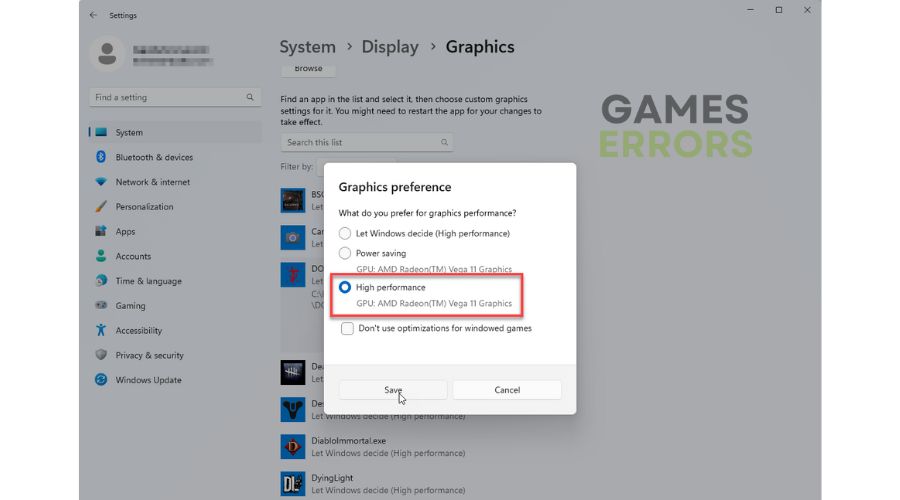 8. Reboot your PC and check if Madden 24 still has low FPS.
4. Set Madden 24 to High Priority
To boost FPS in Madden 24, ensuring your PC is free from any resource-intensive applications before launching the game is important. Additionally, if your graphics card is not fully utilized, allocating High Priority to Madden 24 can significantly enhance its performance by dedicating more resources to the game.
1. Launch Madden 24 and open Task Manager while in-game (press CTRL + SHIFT + ESC).
2. Go to the Details tab and find the main process of the game.
3. Right-click on Madden 24 process and Set Priority to High.
✅ Extra steps:
If you still have low FPS in Madden 24, consider some additional options like:
Update Windows to the latest version.
Update DirectX, .NET Framework, and VCRedist.
Update Madden 24.
Temporarily disable Windows firewall and antivirus software.
Disable Steam overlay.
Check not to use an integrated graphics card (IGPU) instead of a discrete one. To be sure, disable IGP in Device Manager.
Lower your in-game graphics settings and resolution.
Cancel any ongoing background downloads.
Reinstall the game in a different folder or disk (prefer SSD).
Also, check some related Madden 24 articles with problems that might occur in your gameplay:
Conclusion
To ensure a seamless gaming experience while playing Madden 24, you can do a few things. First, check if your system meets the game requirements. Also, update your GPU driver and adjust your in-game graphics settings. Additionally, switch your computer to High-performance mode and disable overlays. Enabling Game Mode and setting High Priority for the game can also help. Finally, if you require further assistance, feel free to leave a comment.