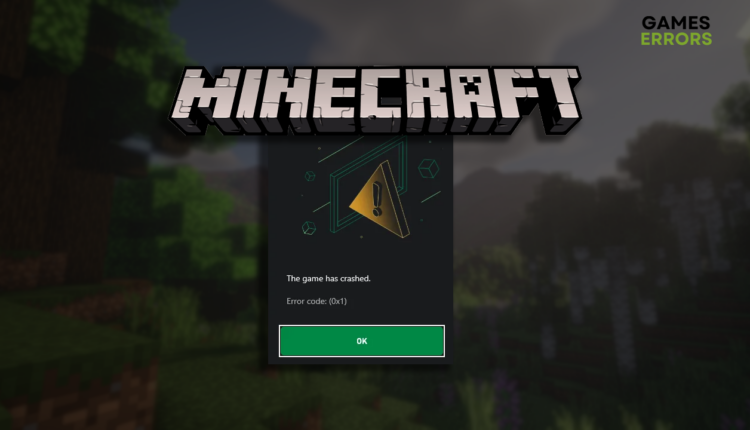 Minecraft Launcher Error Code 0x1: Here Is What to Do
Instead of enjoying your favorite sandbox game, you have to deal with this annoying error. Luckily, you are not alone, and you have us on your side! 👾
Many gamers can't enjoy this game's iconic experience due to Minecraft Launcher error code 0x1. We are determined to assist you in finding the cause of it and step-by-step solutions to eliminate this annoying error.
If you also experience latency issues, learn how to lower the ping in Minecraft.
Why do I get Minecraft Launcher error code 0x1?
You get Minecraft Launcher error code 0x1 due to temporary issues on your PC, problematic Minecraft mods, unreliable wireless connection, pilled-up cache files, incompatible launcher, temporary network issues, an outdated Windows, missing NET Framework, Minecraft Store running in the background, or general internet issue due to problems with your ISP.
How to fix Minecraft Launcher error code 0x1?
Start by applying these checks and fixes:
Restart your PC: Some gamers claim that this easy fix helped them resolve temporary issues on their PC and remove the error code 0x1 in Minecraft Launcher.
Disable Minecraft mods: Faulty modifications can cause various issues, including this error code. Disable them all, and if the launcher works, enable them individually to find problematic ones.
Use a wired connection: To ensure your Minecraft Launcher can connect to the server, use a wired (ethernet) instead of a wireless connection whenever possible.
Here are the most reliable methods for troubleshooting the Minecraft Launcher error code 0x1.
1. Use a VPN
Many gamers report that using a VPN, they managed to get past the error code 0x1 and play Minecraft without other issues. The key here is to use a reliable VPN to avoid ping spikes and other performance and stability issues.
A VPN provider we recommend to gamers is ExpressVPN. With servers in more than 90 countries worldwide and advanced DDOS protection, this provider ensures your gaming experience will be perfect. The best part is that you get an unlimited bandwidth!
2. Delete cache files
Time needed: 2 minutes
Pilled-up cache files are a widespread cause for the error code 0x1. Delete the cache from the Local folder.
Use the Windows Key + R shortcut to open the Run dialog, type %localappdata%, and hit OK.

Use the CTRL + A shortcut to select all files in the folder.
Press the Delete key on your keyboard to delete all the files in the folder.

➡ If prompted to confirm, click on Yes.
➡ If some files can't be deleted, click on Skip.

Restart your PC.
3. Use the Legacy launcher
Although it lacks many features, it can be a great alternative if you can't make the standard Minecraft Launcher work.
Click on the Windows icon, type Apps & feature, and open this tool from the search result.

Find Minecraft on the list of apps, click on it, and press the Uninstall button.
Follow any additional steps for uninstalling the faulty Minecraft launcher.
Go to the Minecraft download page, scroll down, and click Download Windows legacy launcher.

Click on the installation file and follow the steps to install the legacy launcher.
Restart your PC.
4. Restart network settings
There is a chance some of the network settings stored on your PC got misconfigured. Use Command Prompt to restart them and make your connection function flawlessly.
Click on the Windows icon, type Command Prompt, and open it.
Paste the following commands and hit Enter after each one:
ipconfig /flushdns
ipconfig /registerdns
ipconfig /release
ipconfig /renew
netsh winsock reset

Restart your PC.
Extra steps
If you still encounter Minecraft Launcher error code 0x1, try to:
⬆ Update Windows: Click the Windows icon, type Check for updates, and open these System Settings. Install pending updates and restart your PC to complete the process.
💿 Install NET Framework: This Framework is necessary for games to function on Windows.
❌ Close Minecraft Store: Use the Task Manager to disable Minecraft Store. While you are there, you can also disable other background apps.
⬇ Download Minecraft from the Windows Store: If you previously downloaded Minecraft Launcher from the Minecraft website, try reinstalling it from the Windows Store.
📞 Contact your ISP: If nothing worked out so far, the problem might be related to your internet service provider. Contact their support team and ask them to check if your connection is okay.
Related articles:
Conclusion
In conclusion, start troubleshooting the Minecraft Launcher error code 0x1 by restarting your PC, connecting it with an ethernet cable, and disabling all mods. If you still experience the same error, use a reliable VPN like ExpressVPN. Other potentially fruitful methods include deleting cache files and restarting network settings.
Consider downloading and using the Legacy Launcher. Some gamers must download Minecraft from the Windows Store to eliminate the error code 0x1. Don't forget to update Windows, install NET Framework, and close the Minecraft Store and other background apps. Finally, contact your ISP if nothing works out and you experience other network-related issues.