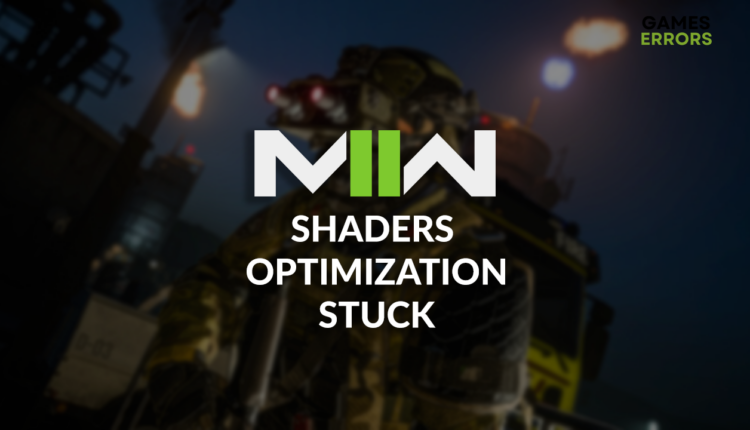 MW2 Shaders Optimization Stuck at 99%: Fix It Quickly
Just another shaders optimization, or so you thought! This one doesn't end, so better take some action to make it work. 🚀
Just when you were ready to enjoy some third-person shooting action in MW2, you find yourself stuck on shaders optimization. This pesky error can seriously disrupt your gameplay and diminish your gaming experience. But don't worry, we have a solution. In this comprehensive guide, we'll walk you through the potential causes of this issue and give you step-by-step instructions on how to fix it.
👾 If the game cannot stop updating, learn what to do when MW2 gets stuck on checking for updates.
Why is MW2 shaders optimization stuck?
MW2 shaders optimization got stuck due to problems with Activision servers, temporary issues on your home network, lack of computing power on your PC, outdated GPU driver, corrupted game files, or faulty Steam cache.
Understanding why this issue occurs is crucial. A stuck shaders optimization can mean slower load times, laggy gameplay, and even game crashes. Fixing this issue can lead to a smoother, more enjoyable gaming experience.
How to fix MW2 shaders optimization stuck at 99?
Troubleshoot this issue quickly with these fixes and checks:
Check the online services: Activision publicly shares MW2 services status. Head to the official page and ensure that the service status is online.
Restart your network devices: Since the shaders are downloaded from the Activision server, you must ensure your network devices work correctly. Press the restart button, usually located on the backside.
Check the system requirements: The issue with shaders might be related to the hardware specifications of your PC. Check if your PC meets the MW2 system requirements.
Sometimes the problem is not that obvious. This is why we have step-by-step solutions ready for you!
1. Restart shaders optimizations
Time needed: 3 minutes
Shaders manage how pixels are displayed on your screen, and misconfiguration often creates problems with the display. If you're not familiar with 'shaders,' think of them as the directors of a gaming scene. They instruct your computer's graphics card on how to display each pixel on your screen, influencing everything from color to depth and lighting. 'Optimization' refers to the process of making these shaders run as efficiently as possible, ensuring your game looks great and runs smoothly.

MW2 automatically optimizes shaders to prevent this, yet you can restart shaders manually if the optimization gets stuck.
Launch MW2 and open Graphics Settings by selecting it in the Settings dropdown menu.

Scroll down and click on Restart Shaders Optimizations.

Hit the Restart button.

The process might take a couple of minutes.

Save the settings and restart MW2.
2. Update the GPU driver
Your graphics card is equally responsible for the issue with shaders as the in-game settings. Specifically, the device can't be as problematic as the software that runs it, the GPU driver. Keep this driver updated to avoid potential issues.
Click on the Windows icon, type Device Manager, and open it.

Double-click on the Display Adapters section to expand it.

Right-click on your GPU and select Update driver.

Choose the Search automatically for drivers option.
Follow the steps for the update installation.
Restart your PC.
Updating the GPU driver ensures your graphics card is running the latest software, which can often resolve a variety of issues. Think of it as giving your graphics card a 'software tune-up'.
Automatize and delegate the complete process to Outbyte Driver Updater. This way, you will encounter fewer errors and issues, allowing a smoother gaming experience and saving you a lot of time!
3. Verify game files
If the MW2 game installation is corrupted, you can expect many issues to occur when playing the game. One way to solve this is by reinstalling the game, but the quicker alternative is using a built-in game verification system.
For Steam users:
Launch Steam and go to the Library.
Right-click on Call of Duty® Modern Warfare 2 and select Properties.
Select the Local Files tab, and click on Verify integrity of the game files.

For Battle.net users:
Launch Battle.net and navigate to the game library.
Find Call of Duty® Modern Warfare 2, click the gear icon, and select the Scan and Repair option.

Select the Begin Scan option.
Verifying the game files allows Steam or Battle.net to check your game's installation for any errors or missing files. It's a handy way to ensure your game is installed correctly without having to reinstall it entirely.
4. Clear Steam cache
If you are using Steam to play Modern Warfare 2, you can try deleting the cache files manually from the Steam folder to prevent the MW2 shaders optimization stuck issue.
Open File Explorer using the Windows Key + E shortcut.
Paste the path to the Steam directory and hit Enter.
The default one is C:\Program Files (x86)\Steam

Right-click on the appcache folder and select Copy.
Navigate to Desktop using Windows Key + D.
Create a backup of the appcache folder using the CTRL + V shortcut.
Return to the Steam directory, right-click on the appcache folder, and select Delete.

Restart your PC.
Clearing the Steam cache can help resolve a variety of issues, including the shaders optimization issue. The cache is a store of temporary data that can sometimes get clogged with outdated or unnecessary information.
Extra steps
If you are determined to fix the MW2 shaders optimization stuck problem, and nothing up until now helped you try to:
💿 Join the DMZ lobby: Some gamers fixed the shaders problem by joining the DMZ lobby, staying there momentarily, and then playing the game.
🔁 Reinstall MW2: Although the unpopular option, some gamers had to go through it to make the shaders and MW2 work. Uninstall the game, and install it again using Steam or Battle.net.
Related articles:
Fixing technical issues like a stuck shaders optimization in MW2 may feel like a daunting task, but don't let it intimidate you! Think of it as a side quest in your gaming journey. Plus, there's nothing quite like the satisfaction of resolving an issue yourself. With these steps, you're well on your way to a smoother, more enjoyable Modern Warfare 2 experience.
Conclusion
And there you have it! We hope this guide has helped you navigate the maze of MW2 shaders optimization. Remember, every gamer encounters technical glitches now and then. What matters is how you tackle them and get back into the game. If you have any other issues or need further support, don't hesitate to contact us. We're here to ensure your gaming journey is as seamless and enjoyable as possible. Now, get back out there and enjoy MW2 to the fullest!
If you encounter any issues or errors while playing your favorite games and require support, feel free to contact us here. Our team is always ready to assist you and ensure your gaming experience is seamless and enjoyable.