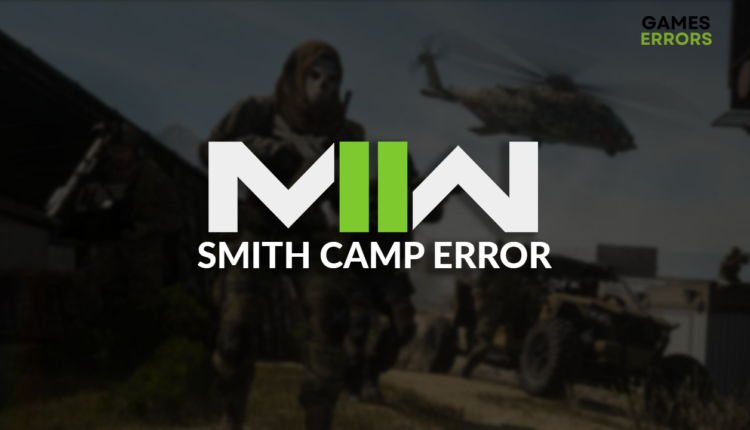 Smith Camp Error MW2: Fix It Quickly
Smith Camp is an annoying network-related error that will ruin the experience of playing this epic first-person shooter. Better fix it now so you can enjoy the game fully! 🚀
Getting the Smith Camp error MW2 can be frustrating, as it will cut your gameplay and begin the stressful quest of searching for the cause and solution for this issue. We did our homework, collected the most common reasons this error occurs, and paired them with the most effective solutions.
If you can't play with your friend who plays on different platforms, learn how to fix the Clark Monterey crossplay error in MW2.
What is Smith Camp error MW2?
Smith Camp is a network-related error in Modern Warfare 2 due to an outage of Activision online services, issues with network devices, temporary problems on your PC, corrupted game files, outdated network drivers, or faulty cache files.
How to fix Smith Camp error MW2?
Remove this error with these quick fixes and checks:
Check MW2 services status: Activision provides real-time online service status. If Modern Warfare 2 status is anything other than All Platforms ONLINE, the problem is not on your side.
Reset your network devices: The router and modem are the devices that manage your home network. Reset them by pressing the button on the back side of the device.
Restart your PC: A quick restart can solve many temporary network-related issues.
Proceed with the following solutions if you still get the Smith Camp error in Modern Warfare 2.
1. Verify game files
Corrupted game files have been the enemy of gamers and game developers since the early 2D games. Even in the era of modern and realistic AAA titles, the problem still occurs. Luckily, there is a quick way to fix it!
For Steam users:
Launch Steam and go to the Library.
Right-click on Call of Duty® Modern Warfare 2 and select Properties.
Select the Local Files tab, and click on Verify integrity of the game files.

For Battle.net users:
Launch Battle.net and navigate to the game library.
Find Call of Duty® Modern Warfare 2, click the gear icon, and select Scan and Repair.

Select the Begin Scan option.
2. Update the network driver
Time needed: 5 minutes
You can expect network-related issues if your driver isn't updated to the latest version, including the Smith Camp error in MW2. The best thing to do is to update the network driver and avoid such problems.
Click the Windows icon, type Device Manager, and open it.

Double-click on Network Adapters.

Right-click on your internet adapter and select Update driver.

Select the Search automatically for drivers option.
Install the driver update.
Restart your PC.
There is a way to delegate driver management to a tool that does it for you. One tool that will do this properly is Outbyte Driver Updater. It will scan, monitor and update drivers when needed, with minimal effort from your side.
⇒ Get Outbyte Driver Updater
3. Delete cache files
Modern Warfare 2 stores cache files locally to run smoothly like any other game and program on your PC. However, these files can be corrupted and cause network-related errors, so we advise you periodically delete them.
Use the Windows Key + R shortcut to open the Run dialog, type %localappdata%, and hit OK.

Press CTRL + A to select all files in the folder.
Hit the Delete key on your keyboard to delete all the files in the folder.
▫ If prompted to confirm, click on Yes.
▫ If some files can't be deleted, click on Skip.

Extra steps
Some players will have more difficulties getting rid of the Smith Camp error in MW2. If you are one of them, try to:
🛡 Temporary disable security software: Your antivirus software protects you from threats to which your PC can be exposed. Disable the antivirus and check if you get the Smith Camp error in MW2.
🌐 Use an alternative network: Connect your PC to another network, preferably with an ethernet cable. As a backup option, you can use a mobile hotspot.
❌ Disable the VPN: VPN software is a great way to stay anonymous online and access geo-restricted content. However, Activision might not be happy if you use one, so we advise disabling it.
Related articles:
Conclusion
Hopefully, you will not see the Smith Camp error MW2 next time you decide to play this first-person shooter. Let us know if you found another fix that helped you eliminate this error so we can share it with other gamers in trouble.