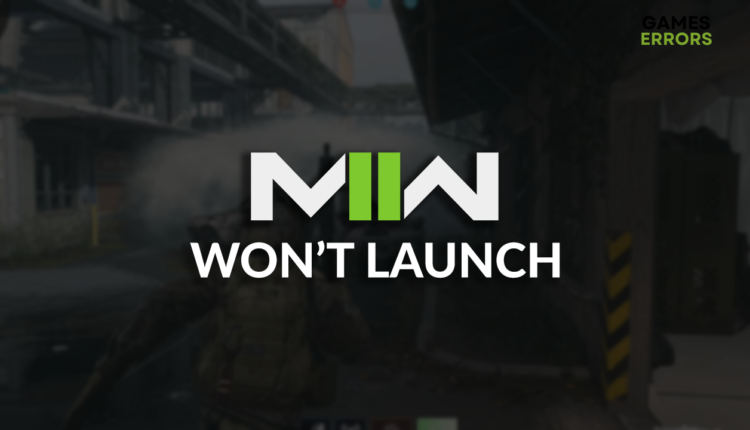 Call of Duty MW2 Won't Launch: How to Fix It
You are pumped up about some shooting time in your favorite MW2, but you cannot launch it. Follow our solutions and you will be back in the game in no time! 🚀
Are you tired of looking for reasons why MW2 won't launch? Do you want to enjoy the game, but the technical issues are in between? This is why we are here, to provide you with needed support so you can be back in the MW2 saddle in no time!
If you manage to launch the game but have issues connecting to the server, learn what to do when MW2 is stuck logging into online services.
Why won't my Modern Warfare 2 launch?
MW2 won't launch due to incompatible operating system or hardware on your PC, Windows permission problems, faulty overclock settings, corrupted game files, issues with the Windows Firewall, outdated GPU driver, pilled-up cache files, apps that create overlays, or display resolution issues.
How to fix MW2 won't launch?
Begin troubleshooting with some easy checks and quick fixes:
Check the system requirements: Pay attention to the hardware requirements for MW2, but remember that the game is only available for Windows 10 and 11.
Run MW2 as an administrator: Right-click on the game executable (.exe) file, select Properties, navigate to the Compatibility tab, and tick the Run this program as an administrator option.
Disable overclock settings: If you boosted your PC computing power by overclocking any component, such as CPU or GPU, disable these settings and try running MW2.
Proceed with the following solutions if the game still doesn't launch.
1. Verify game files
Corrupted game files are known as the usual suspects when MW2 won't launch. Verify and fix them directly from Battle.net or Steam.
For Steam users:
Launch Steam and go to the Library.
Right-click on Call of Duty® Modern Warfare 2 and select Properties.
Select the Local Files tab, and click on Verify integrity of the game files.

For Battle.net users:
Launch Battle.net and navigate to the game library.
Find Call of Duty® Modern Warfare 2, click the gear icon, and select the Scan and Repair option.

Select the Begin Scan option.
2. Allow MW2 through the Firewall
Time needed: 4 minutes
Windows Firewall protects your PC from threats, but it can also falsely recognize MW2 as a threat, preventing it from launching.
Click on the Windows icon, type Windows Defender Firewall, and open it.

Click on Allow an app or feature through Windows Defender Firewall.

Click on Change Settings and Allow Another App.

Select Browse, and navigate to the MW2 installation folder.
Click on the game executable file (.exe) and select Open.
Check the checkbox in columns Private and Public in the Modern Warfare 2 row and hit OK.
Restart your PC.
3. Update the GPU driver
GPU driver is responsible for handling your graphics card and it is essential to keep it up-to-date.
Click on the Windows icon, type Device Manager, and open it.
Double-click on the Display Adapters section to expand it.
Right-click on your GPU and select Update driver.
Choose the Search automatically for drivers option.
Follow the steps for the update installation.
Restart your PC.
There is another, easier way to do this! Using a driver updater tool like Outbyte Driver Updater, you can rest assured you'll always have the most recent drivers installed with minimal effort!
4. Delete cache files
Steam, Battle.net, and MW2 store cache files on your PC, which can cause issues if saved improperly.
Use the Windows Key + R shortcut to open the Run dialog, type %localappdata%, and hit OK.

Press CTRL + A to select all files in the folder.
Hit the Delete key on your keyboard to delete all the files in the folder.
▫ If prompted to confirm, click on Yes.
▫ If some files can't be deleted, click on Skip.

Extra steps
Some players will have much more difficulty launching MW2, and if you are one of them, try to:
👨‍💻 Disable overlays: Apps like Steam, Discord, and GeForce Experience create overlays on your screen which can cause compatibility issues. Disable them in the app settings.
💻 Use the native resolution: You should always set the display resolution to the native resolution of your monitor and system. This will prevent any display-related issues.
🔁 Reinstall MW2: Unfortunately, if nothing else we mentioned made the game launch properly, you must uninstall and then install MW2. Some gamers report they had to reset Windows as well.
Related articles:
Conclusion
Hopefully, these solutions were enough to get the MW2 won't launch issue out of your mind. Comment and share what worked best for you, and let us know if you find any alternative fixes so we share it with other gamers.
If you encounter any issues or errors while playing your favorite games and require support, feel free to contact us here. Our team is always ready to assist you and ensure your gaming experience is seamless and enjoyable.