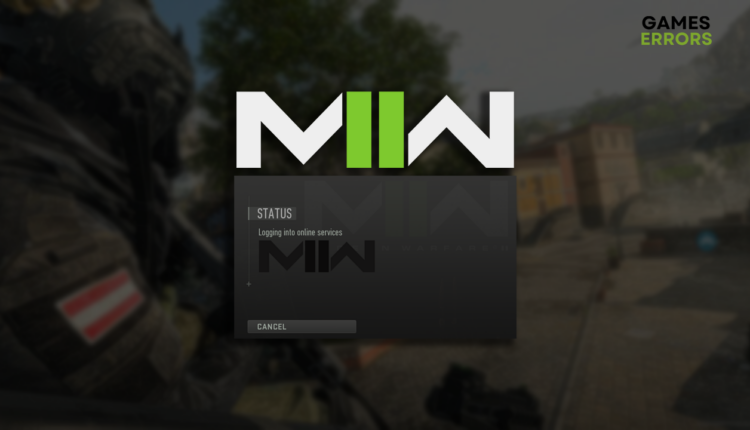 MW2 Stuck on Logging Into Online Services [Solved]
It's annoying to wait. It's even more annoying when you realize that you are waiting for nothing. Stop waiting and start acting on this network-related issue! 🚀
X
INSTALL BY CLICKING THE DOWNLOAD FILE
So you noticed that the MW2 stuck on logging into online services problem will not disappear on its own, and you finally want to take some action? The good part is that you are in the right place. We have all the necessary information and solutions for this network-related problem.
Are you experiencing issues with game stability? Learn how to fix MW2 crashes on PC.
Why is Modern Warfare 2 not logging into servers?
MW2 is stuck logging into online services due to the Activision service outage, temporary issues with your home network and network devices, problematic VPN provider, outdated network driver, problems with the Windows Firewall, or corrupted Modern Warfare 2 game files.
How do I fix MW2 stuck on logging into online services?
Begin the troubleshooting process by applying the following checks and fixes:
Check Activision services: The Modern Warfare 2 game publisher, Activision, provides information on the live status of the online services. If all platforms are online, the problem is on your end.
Restart your network devices: The devices that manage your home network, such as router and modem, can have temporary issues. Restart them by pressing the restart button, usually on the backside.
Disable the VPN: Virtual Private Network can be a great way to protect your privacy and access geo-restricted content. However, the MW2 server might not like your use of the VPN, so disable it.
Proceed with the step-by-step solutions described below.
1. Update the network driver
An outdated network driver is a common cause of network-related issues on your PC. This software is supposed to ensure solid communication between your PC and the network, but it will not do much good if it is outdated.
Click the Windows icon, type Device Manager, and open this tool under Best Match.

Double-click on the Network Adapters section.

Right-click on your internet adapter and select Update driver.

Select the Search automatically for drivers option.
Install the driver update.
Restart your PC.
Are you looking for a way to automatize this process? Tools like Outbyte Driver Updater ensure complete driver management with minimal effort needed from your side!
2. Allow MW2 through the Firewall
Time needed: 4 minutes
Windows Firewall is a core security feature that should always be enabled. However, if it blocks the MW2 client or other game services from accessing the network, you must add the game as an exception.
Click on the Windows icon, type Windows Defender Firewall, and open it.

Click on Allow an app or feature through Windows Defender Firewall.

Click on Change Settings and Allow Another App.

Select Browse, and navigate to the MW2 installation folder.
Click on the game executable file (.exe) and select Open.
Check the checkbox in columns Private and Public in the Modern Warfare 2 row and hit OK.
Restart your PC.
3. Verify game files
Corrupted game files are known for causing various issues. Instead of manually searching for the corrupted file or reinstalling the game, we advise using the game verification system.
For Steam users:
Launch Steam and go to the Library.
Right-click on Call of Duty® Modern Warfare 2 and select Properties.
Select the Local Files tab, and click on Verify integrity of the game files.

For Battle.net users:
Launch Battle.net and navigate to the game library.
Find Call of Duty® Modern Warfare 2, click the gear icon, and select the Scan and Repair option.

Select the Begin Scan option.
Extra steps
If MW2 is still stuck on logging into online services, try to:
🌐 Use another network: Connect your PC to another network and try launching Modern Warfare 2. The best is if you can connect by using a wired (ethernet) connection.
❌ Temporarily disable security software: Like the Windows Firewall, the antivirus software might block the game client. Test it by disabling the antivirus, and if it works out, add MW2 as an exception.
📞 Contact your ISP: If this is not the only network-related issue you are facing, there is a chance of a general network problem. Call your internet service provider and ask for assistance.
Related articles:
Conclusion
We hope MW2 is no longer stuck on logging into online services, and you are already enjoying this iconic shooter. However, provide us with more details if you still haven't fixed the issue, and our team will happily assist you.