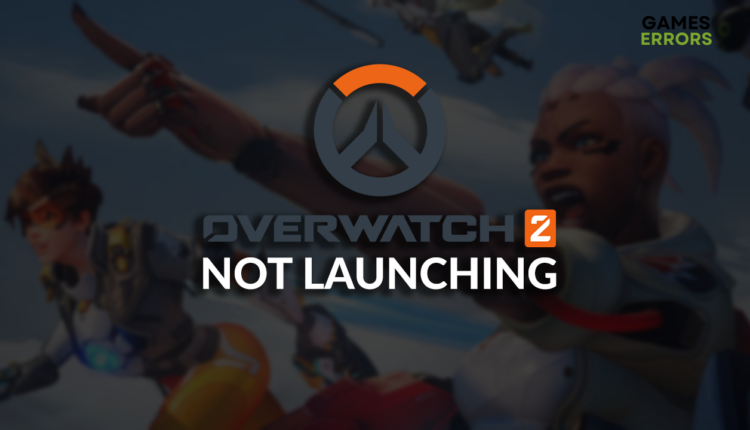 Overwatch 2 Not Launching: Fix It for Good
It's very stressful to run the game only to see that it doesn't launch. Learn how to troubleshoot this issue effectively! 👾
Problems with Overwatch 2 not launching are something that many gamers experience. Regardless of what causes the issue, the outcome is the same – you can't play this first-person shooter. Learn what causes and how to fix Overwatch 2 launching problems.
If you can launch the game but can't connect to the server, read what to do if you get the 'Failed To Connect To Game Server' error in Overwatch 2.
Why is Overwatch 2 not launching?
Overwatch 2 isn't launching because your PC doesn't meet system requirements for the game, there are permission issues, the Windows is outdated, game files are corrupted, the GPU driver is outdated, or background apps are creating overlays or consuming resources needed for the game.
How to fix Overwatch 2 not launching?
Here are the fastest fixes to apply when Overwatch 2 isn't launching:
Check if your PC supports Overwatch 2: Go to the Overwatch 2 system requirements page and compare your PC's hardware with the one needed to run the game. If your PC doesn't meet these requirements consider upgrading it.
Run Overwatch 2 or Battle.net as an administrator: Right-click on the game executable file or Battle.net launcher, select Properties and navigate to the Compatibility tab. Tick the Run this program as an administrator option, apply the changes, and try rerunning the game.
Update the Windows: Click on the Windows icon, type Check for updates, open these System Settings, and install updates if available.
If you still experience issues when you want to launch Overwatch 2, follow the step-by-step solutions
1. Verify game files
If any game files are corrupted, there is a high probability the game won't run as expected, or in your case, at all. Battle.net launcher has an integrated system for verifying and fixing the game files.
Launch Battle.net and navigate to the game library.
Find Overwatch 2, click the gear icon, and select the Scan and Repair option.
Select the Begin Scan option.

2. Update the GPU driver
Time needed: 5 minutes
Your GPU is processing every visual detail in Overwatch 2, and if the game doesn't launch properly, there might be a problem with the GPU. The main pre-requirement for a GPU to function is a GPU driver.
Click the Windows icon, type Device Manager, and open it.

Double-click on the Display Adapters section.

Right-click on GPU and select Update driver.

Select Search automatically for drivers.
Install driver update.
Restart your PC.
If the previously described method doesn't yield the desired result or is too complicated, use Outbyte Driver Updater. This driver updater tool will scan, monitor and update your device for necessary GPU driver updates, reducing the chances of similar problems reoccurring.
⇒ Get Outbyte Driver Updater
3. Close background apps
Even though you don't see that in the taskbar, some apps run while you play Overwatch 2. These apps use your PC resources and cause compatibility issues, so we advise you to close them before running the game.
👀 Pay close attention to Discord, Steam, and GeForce Experience. These, and many other apps, create overlays that might prevent the game from running. Disable overlay in the app settings to keep the app running.
Use the CTRL + Shift + ESC shortcut to open Task Manager.
Find an app that you want to close.
Right-click on it and select End task.

Repeat the process with other apps you wish to close.
⚠ Important: Don't close your antivirus software or Windows-related background processes.
Extra steps
Some gamers will have difficulties launching Overwatch 2 even after doing everything we recommended. If you are one of them, try to:
❌ Temporarily disable security software: Your antivirus and Windows Firewall protect you from various threats. However, they can falsely recognize Overwatch 2 as a virus, so we advise you temporarily disable them and check if the game works.
🟢 For Razer peripherals: If you have any Razer peripherals, such as a keyboard or mouse, you probably have the Razer Software installed. Disable or uninstall this software and check if the game works.
🔁 Re-install Overwatch 2: The last resort is to uninstall the game, delete any cache or save files, then install Overwatch 2 again.
Related articles:
Conclusion
We hope the Overwatch 2 not launching problem is part of the past and you are already enjoying this game. If the issues persist, comment with additional details and the error code you get when you try to launch Overwatch 2, and we will happily assist you.