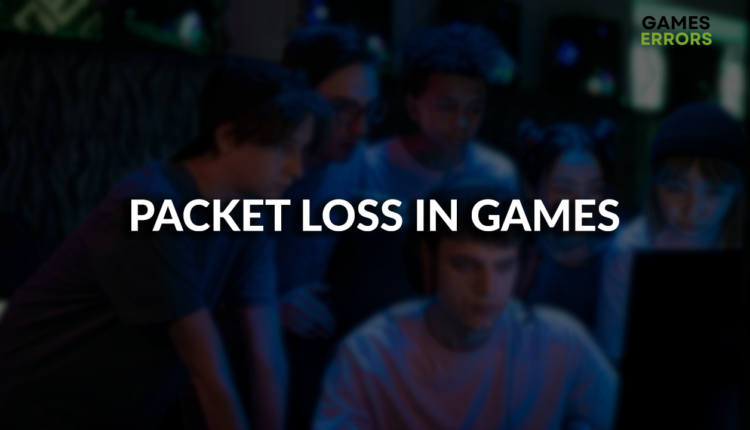 What Causes Packet Loss in Games & How to Fix It Completely
Find out what triggers packet loss in games and how much packet loss is normal. Just scroll down and read carefully 👀 ⤵️
If you are one of the players hit by packet loss in games, you know how annoying it can be. Today we will walk you through the most important details you have to know about this network-related issue, and we will present you with methods to prevent packet loss in games.
Are you also experiencing latency issues when playing your favorite games? Learn how to fix high ping in games on your PC.
What causes packet loss in games?
The main cause of packet loss is network congestion. Other packet loss causes can include a faulty network connection, outage of game servers, problems with network devices, background apps using a lot of bandwidth, an outdated network driver, unreliable DNS, faulty network settings, unreliable VPN, weak wireless connection, or other problems on your ISP's network.
How to fix packet loss in games?
Get started by applying these quick checks and fixes:
Check the connection: Head to the Google Speed Test page and check if it works. Additionally, here you can see your connection's latency and speed.
Check the game server status: Many game servers publically announce when there is an outage of service in some or all regions. Visit the official website or social media profile of the game you play.
Restart network devices: Click on the restart button on the back panel of your router and modem and wait for a few minutes. Check if the connection works on the other devices to verify the network.
Close background apps: Terminate all apps visible in the taskbar and use the Task Manager to disable background processes you don't see running.
Proceed with step-by-step solutions for resolving this issue.
1. Update the network driver
Time needed: 5 minutes
An outdated network driver can create troubles in communication between your PC, home network, and the game server. Regularly update your network driver to avoid packet loss and many other network-related issues.
Click the Windows icon, type Device Manager, and open this tool under Best Match.

Double-click on the Network Adapters section.

Right-click on your internet adapter and select Update driver.

Select the Search automatically for drivers option.
Install the driver update if the Update Driver Wizard finds one.
Restart your PC.
If you are tired of manually updating the network driver, we advise you to look at the Outbyte Driver Updater. This swift and reliable tool will do miracles when scanning and updating all drivers on your PC, giving you more time to enjoy your favorite games.
2. Use the Google DNS
Windows will automatically assign you a DNS server address suitable for your location. However, we discovered packet loss can occur due to unreliable DNS, so we advise you to manually set it to Google DNS, probably the most reliable server.
Using the Windows Key + R shortcut, open the Run dialog, type control, and hit OK.

Click on View network status and tasks.

Click on the Change adapter settings.

Right-click the internet network you use and select Properties.

Double-click Internet Protocol Version 4 (TCP/IPv4).

Enable Use the following DNS server addresses and add:
➡ 8.8.8.8 for the Preferred DNS server
➡ 8.8.4.4 for the Alternate DNS server

Click OK and restart your PC.
3. Restart the network settings
Specific network settings are stored on your PC to help it to communicate with the rest of the network and game servers. If you are experiencing packet loss in games, we advise you to follow the steps below to open Command Prompt and execute commands for restarting the network settings.
Click on the Windows icon, type Command Prompt, and open it.
Paste the following commands and hit Enter after each one:
ipconfig /flushdns
ipconfig /registerdns
ipconfig /release
ipconfig /renew
netsh winsock reset

Restart your PC.
Extra steps
Here are some additional fixes to apply if you still experience high packet loss while playing games:
❌ Disable or change VPN: A VPN can resolve some network-related issues, but if routing through a specific VPN server causes packet loss, you better disable it.
🌐 Use a wired connection: Instead of connecting to your home network via a wireless connection, we advise using an ethernet cable to lower the latency and chance of packet loss.
📞 Contact your ISP: Double-check that you applied the solutions we listed, call your ISP provider, and explain to their support team the situation. They can assist you further in fixing the network.
📱 (Alternative) Use a hotspot: If ISP confirms the issue is on their side, but they are working on resolving it, you can use a mobile hotspot as an alternative way to access the internet from your PC.
What is 100% packet loss in gaming?
100% packet loss means none of the data communicated through the network reached its destination. Gamers mostly experience high packet loss, which is above 2.5%. If gaming on a console, you can learn how to fix 100% packet loss on Xbox Series X, S, and One.
How much packet loss is normal?
A normal packet loss is under 2.5%. Although it can impact your experience, it is less likely to completely disconnect you from the game server, as the high packet loss in games is. In general, packet loss of any size can cause damage, so it is best to do everything possible to minimize it.
Why am I getting packet loss with ethernet?
Although an ethernet connection is considered more reliable than a wireless connection, you can still experience packet loss. Since the link to the home network is considered stable, you get packet loss with ethernet because of an overloaded network, with too many devices using the available bandwidth.
Connect your PC with a different ethernet cable, or connect another device to your router to find the root of the packet loss with the ethernet problem.
Related articles:
Conclusion
Updating the network driver, manually choosing Google DNS, and restarting network settings on your PC will likely resolve packet loss in games. Don't forget first to check your connection and the status of the game server and restart network devices, and close background apps to ensure everything is running smoothly.
Also, disable the VPN or try more reliable VPN software. Always use a wired connection, as packet loss usually occurs with a wireless connection. If none of the solutions work out, and you still experience this network-related problem, contact your ISP and ask them to assist you.
If you encounter any issues or errors while playing your favorite games and require support, feel free to contact us here. Our team is always ready to assist you and ensure your gaming experience is seamless and enjoyable.