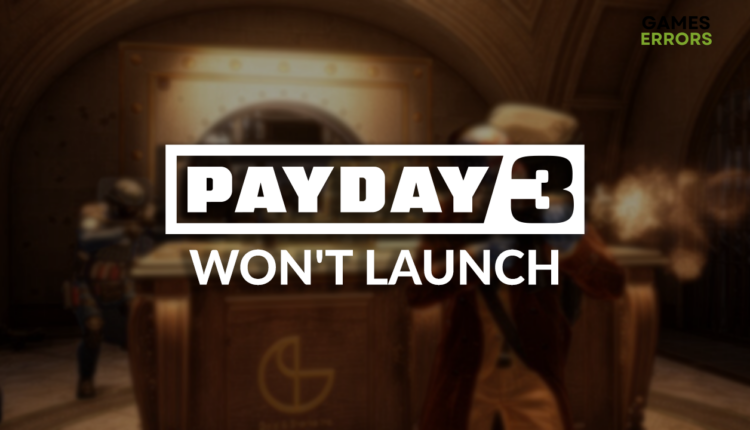 Payday 3 Won't Launch: Here Is What to Do
Do you want to experience one of the best heist gaming experiences? However, you can't even start playing it. We are here to help you resolve this problem! 🚀
Frustration around the Payday 3 won't launch problem is growing, as more gamers occasionally or frequently experience it. We were determined to locate the leading causes for this, so we compiled the list of the most common solutions you can apply to force-launch Payday 3.
If the game launches but isn't stable, learn how to fix Payday 3 crashes.
Why won't Payday 3 launch?
Payday 3 won't launch due to temporary issues on your PC, corrupted game files, compatibility issues caused by background apps, Windows Firewall or antivirus settings, pilled-up cache files, missing Visual C++ dependencies, outdated NET Framework, or temporary files.
How do I force-launch Payday 3?
Begin by applying these checks and fixes:
Restart your PC: This will resolve any temporary issues on your PC.
Verify game files: Every game distribution platform for Payday 3 has this system!
Close background apps: Prevent background apps from causing compatibility issues.
Proceed with the step-by-step solutions for resolving the Payday 3 won't launch issue.
1. Allow Payday 3 through the Firewall
Time needed: 5 minutes
Windows Firewall is the core security feature of your operating system. Needless to say, it should always be enabled to protect your PC from various threats it is exposed to daily. However, if Payday 3 won't launch on your PC, you can add it to the Firewall exceptions list.
Click on the Windows icon, type Windows Defender Firewall, and open it.

Click on Allow an app or feature through Windows Defender Firewall.

Click on Change Settings and Allow Another App.

Select Browse and navigate to the Payday 3 installation folder.
Click on the Payday 3 executable file (.exe) and select Open.
Check the checkbox in columns Private and Public in the Payday 3 row and hit OK.
Restart your PC.
2. Delete cache files
Payday 3 and your game distribution platform, as well as any other app on your PC, store cache files locally so they can start and run smoother. However, the problem begins once these files get corrupted. Eventually, it can cause launching issues, so we suggest you go to the Local folder and delete files.
Use the Windows Key + R shortcut to open the Run dialog, type %localappdata%, and hit OK.

Use the CTRL + A shortcut to select all files in the folder.
Press the Delete key on your keyboard to delete all the files in the folder.
➡ If prompted to confirm, click on Yes.
➡ If some files can't be deleted, click on Skip.

3. Install Visual C++ dependencies
Visual C++ dependencies are necessary for Windows games and apps to function correctly. Usually, they are installed together with the game or through the game distribution platform. However, if the installation was skipped, you can head to the Microsoft website and install them manually.
Open the official page for the Visual C++ Redist Packages download.
Click on the Link and download vc_redist suitable for your operating system architecture.
➡ X86 is for 32-bit systems.
➡ X64 is for 64-bit systems.

Run the installation package and follow the steps.
Restart your PC.
Extra steps
If you are still struggling with the Payday 3 won't launch problem, try to:
🛡 Temporarily disable antivirus: Like Firewall, your antivirus might prevent Payday 3 from launching. If the game launches, whitelist it in the antivirus settings and re-enable protection.
⬆ Update NET Framework: This is another essential framework for games on Windows.
🧹 Perform a Disk Cleanup: Click on the Windows icon, type Disk Cleanup, and open it. Run the cleanup and restart your PC once the process is completed.
🔁 Reinstall Payday 3: If nothing else resolves your issue, try reinstalling the game.
Related articles:
Conclusion
The best way to begin the troubleshooting process of the Payday 3 won't launch problem is to restart your PC, verify game files, and close background apps. Proceed with allowing the game through the Firewall, deleting cache files, and installing Visual C++ dependencies.
Don't forget to check antivirus settings, update NET Framework, and perform a Disk Cleanup. If the game still doesn't launch, we advise you to reinstall Payday 3. Good luck, and let us know how it went!