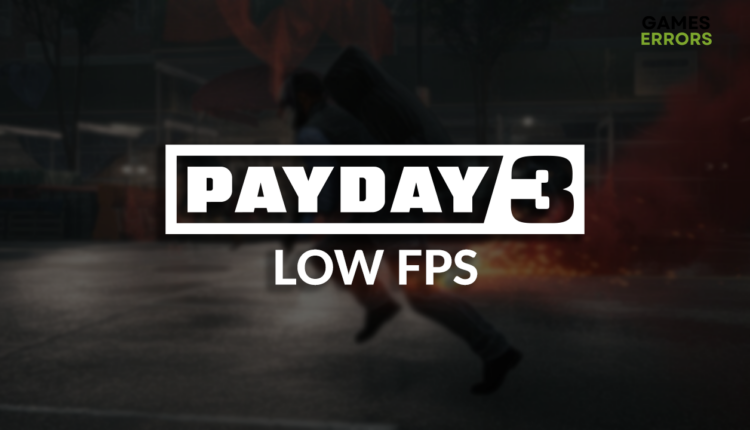 Payday 3 Low FPS: How to Boost Performance
First-person shooters aren't meant to be played with a low FPS. Here are some methods you can apply to boost your FPS! 👌
You are in the right place if you are struggling due to Payday 3 low FPS problem. We spent some time investigating the problem and reached some exciting conclusions. Continue reading to discover what causes low FPS in Payday 3 and what are the most effective solutions for boosting it.
Some players can't even launch the game! If you are one of them, learn how to force-launch Payday 3.
Why is my Payday 3 FPS so low?
Payday 3 FPS is low due to poor system specifications, resource-consuming background apps or startup services, outdated DirectX or GPU driver, demanding Xbox Game Bar settings, pilled-up DirectX shader cache files, disabled Game Mode, or obsolete Windows.
How do I fix Payday 3 low FPS?
Apply some initial checks and fixes:
Here are the best methods to improve Payday 3 low FPS.
1. Update GPU driver
Time needed: 5 minutes
Your graphics card relies on the GPU driver to perform correctly. If you are experiencing the Payday 3 low FPS, the first thing to do is to update the GPU driver. This can be done manually through Device Manager or the manufacturer's website and automatically using a driver updater tool.
Click on the Windows icon, type Device Manager, and open it.

Double-click on the Display Adapters section.

Right-click on your GPU and select the Update driver option.

Select the Search automatically for drivers option.
Install the driver update.
Restart your PC.
There is a way to avoid manual driver updates. Use Outbyte Driver Updater to delegate complete responsibility to this fantastic, swift, and reliable tool. It will scan, monitor, and update the GPU driver whenever needed, so you don't have to!
⇒ Get Outbyte Driver Updater
2. Tweak Xbox Game Bar settings
Xbox Game Bar has neat features like background recording and interactions with your Microsoft friends. Problems, however, begin when these features consume resources, leading to poor Payday 3 game performance. If you are not using these, follow the steps below to disable them.
Click on the Windows icon and select Settings (gear icon).
From the Settings window, choose Gaming.
Disable the Xbox Game Bar.

Navigate to the Captures tab and disable Background recording.

3. Delete DirectX shader cache
DirectX is designed to help PCs communicate with the game engine of their game, which in this case is Payday 3. To operate more quickly, DirectX stores shader cache files on your PC. However, you can delete these files through Disk Cleanup if they are corrupted or pilled up.
Click on the Windows icon and type Disk Cleanup.
Click on the Disk Cleanup tool from the search results.
Find DirectX Shader Cache in the scrollable list, tick the box next to it, and press OK.

Click the Delete files in the pop-up window to confirm the disk cleanup process.
Extra steps
If you still experience Payday 3 low FPS, try to:
🎮 Enable Game Mode: Click on the Windows icon, type Game Mode, and open it. Ensure this feature is enabled, as it optimizes your PC for gaming when you launch Payday 3.
💽 Perform a Clean Boot: This will disable unnecessary startup services.
⬆ Update Windows: Click the Windows icon, type Check for updates, and open these settings. Install any pending updates and restart your PC.
🔁 Reinstall Payday 3: Double-check if you applied all previously mentioned solutions, and if so, proceed with reinstalling the game.
Related articles:
Conclusion
Hopefully, after closing background apps and updating DirectX, you won't experience the Payday 3 low FPS problem. If not, we suggest you check for the GPU driver updates, tweak Xbox Game Bar settings, and delete DirectX shader cache files from your PC.
Remember that there are other methods to apply if you are still unsatisfied with the FPS you get in Payday 3. These include enabling Game Mode, performing a Clean Boot, and updating Windows. The last resort is to reinstall Payday 3.